Francisco Joel Hernandez (@fjhphoto) is a Texas-based portrait photographer. When he's not shooting on location or in the studio, Hernandez also creates and shares a wealth of tutorial content on YouTube. We caught up with Hernandez during Alpha Universe Portrait Month to find out about his go-to portrait kit and to find out more about why he chooses prime lenses over the versatility of zooms on his Sony mirrorless cameras. Be part of Portrait month by submitting your images to #SonyAlphaPortrait on Instagram.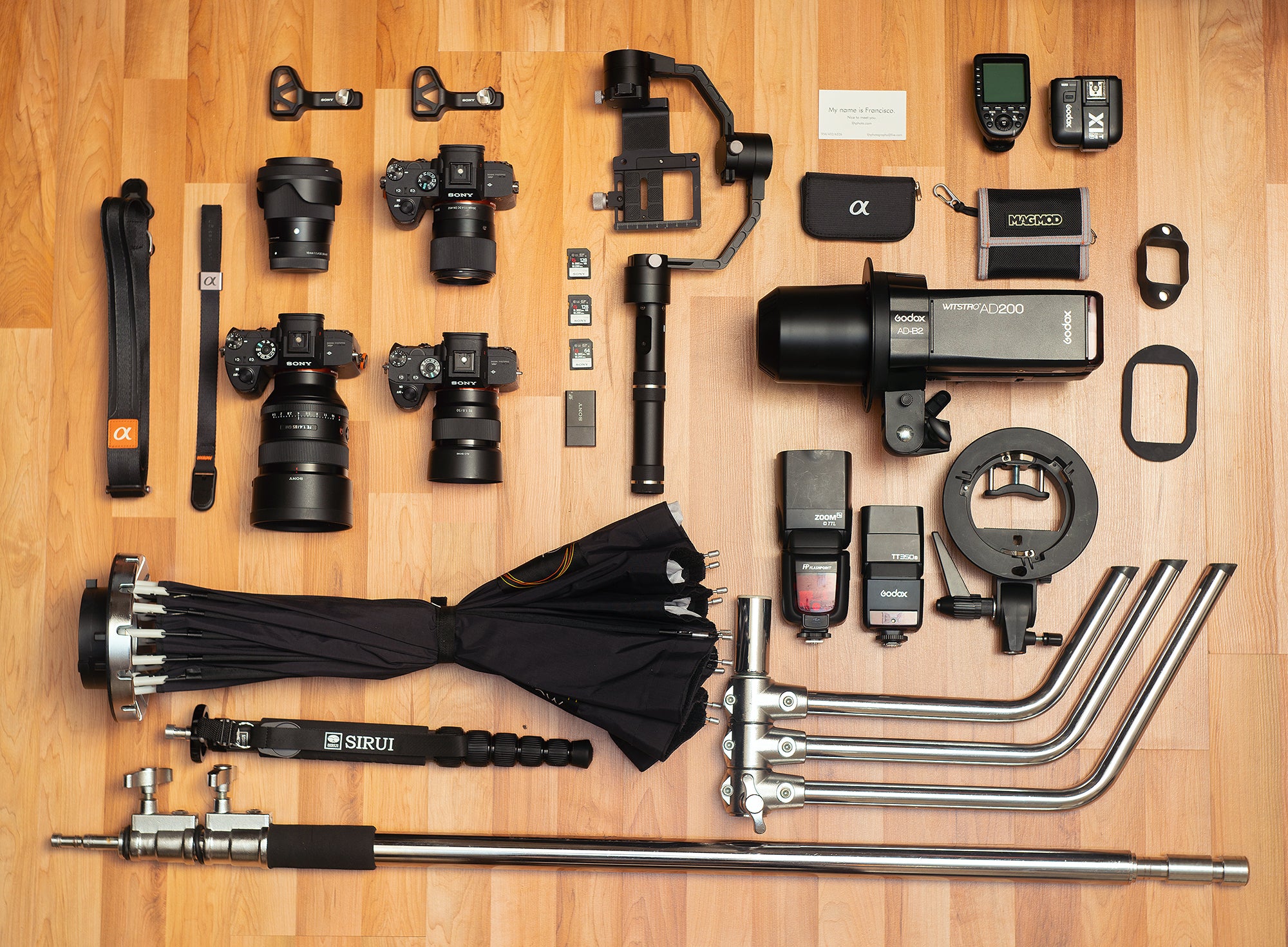 Whenever I take portraits my gear needs to be designed for speed and portability so I can take a variety of different photos quickly at my sessions, but also flexible enough to work slow if I choose to do that instead. Since I create educational content regarding portraiture for my YouTube channel I also pack essentials for nice smooth video. Two Sony mirrorless cameras armed with prime lenses to shoot with and one for video is all I really need for portraits. I do however always utilize off camera flash in my work and have a go to setup for that.
Cameras
Sony α7R III: The α7R III is my main go to camera for my portrait work and it is a portrait photographer's dream. The eye autofocus on the α7R III is the number one feature I use often and on this camera I was happy that it was improved. The ability to grab focus on the eye even if your subject is looking down, away, or if they have shades on is incredible and I've had many times where this feature has saved me from getting an out of focus shot. The 42 megapixel resolution allows me to provide my clients with large prints should they want that and at the same time it gives me images to post process with more precision. The α7R III's dynamic range gives me confidence that I won't have to worry about an underexposed or overexposed shot because I know that by exposing for the highlights I still have all that detail in the shadows to I can bring up.
Sony α7 III: I primarily use my α7 III for video footage when I'm creating content for my behind the scenes videos at my portrait shoots. The improved color science from this camera is great so I can focus on recording and not color grading even though I do have that option. I also take advantage of the camera's five-axis image stabilization in cases where I may have forgotten my dedicated video stabilizer, the long battery life when I forgot to top off the charge after recording a recent session, and that extra low light performance for those times when I want a high ISO but without all the grain.
Lenses
Sony FE 85mm f/1.4 G Master: The Sony 85mm G Master is the very first lens that I take out of my bag because, for portrait work, it's absolutely perfect. The 85mm focal length gives me flexibility in grabbing some tight headshots or full body portraits while still being able to blur the background to get really nice bokeh, which is something that I truly love to showcase in my work. It creates depth within the subject's portrait due to the combination of the compression at 85mm and the wide aperture of f/1.4. It's worth noting that this lens creates tack sharp images wide open and that is always much appreciated.
Sony FE 50mm f/1.8: When I feel like I need a little bit more of the scene in my portraits, I'll grab the 50mm. When I use this 50mm I can connect more with the subject, which is really helpful in getting nice candid photos. I will also use this lens when I'm limited in space, but still don't want to shoot too wide. The nifty fifty is one of Sony's most affordable lenses, yet the performance of it is awesome and it feels like a more expensive lens than it is.
Sigma 30mm f/1.4: I use this 30mm f/1.4 for video because it allows me to get a wide shot that isn't too distorted while having a maximum aperture of f/1.4 that can help me create a nice shallow depth of field and focus the viewer's attention. I tend to use the lens with my α7 III on my Zhiyun Crane V2.
Sigma E Mount 16mm f/1.4: I use the 16mm f/1.4 in cases where I am either in a tight spot or just want to grab even more of the scene that I am working in. It offers a maximum aperture of f/1.4, which is beneficial in low light when I am shooting towards the end of the day.
Accessories
Sony G SD cards & the UHS-II SD Memory Card Reader: Saving time while taking photos is key and the same should be said about transferring those photos to your cards and computer. Having fast read and write times allows that time saving and for that reason I'll have my primary card slots on my cameras with Sony G SD cards while also utilizing the UHS-II SD card reader on my computer when it comes to transferring.
Sony Pinky Grips: These grips make my slightly large hands feel right at home and I use two for both my main and backup camera. I like these because they make my Sony cameras fit better in my hands while not sacrificing the small form factor. Zhiyun Crane V2: This stabilizer is a bit old, but it does what I need to which is stabilizing my video and it does so very well. It also has a payload that I always stay under when I use my α7 III and 30mm f/1.4 combo with this crane which is practically all the time.
Dual Godox AD200s with ADB2: This flash combo is my absolute favorite to date. It gives me 400 watts of power, which is beneficial here in South Texas where the sun is always beating down. The 40-watt LED modeling lamp that comes with this combo makes shooting portraits at night beyond easy as I can see exactly where the light will be. Since this setup consists of 2 Godox AD200's I can separate the lights to make a two light setup or separate them into parts which makes packing easier when I travel.
38" Glow Parapop: This modifier gives me the best of both worlds by being both portable, which makes moving on location fast, as well as providing nice soft flattering light for my clients. It sets up quick in a matter of seconds and folds down even faster in just 1 second.
Godox X1T and Godox X1Pro: When I know I am going to be working with several lights or just want to control my single light with simplicity in mind, I will use the Godox X1Pro Transmitter. However, if I absolutely need a hot shoe on my transmitter, that is where the Godox X1T Transmitter would be my first pick.
TT685 and TT350S and MagMod gels: These two speedlights are the perfect compliments to my dual AD200 setup. I typically use these when I need a subtle rim light or whenever I want to add color to my scene by attaching them to my MagMod gels. The TT685 and TT350S are amazing in that they both have internal transceivers so I can easily control them using my Godox transmitters or using them as transmitters themselves.
Flashpoint C-Stand: For extra durability and whenever I don't want to worry about my light falling over, I will use this stand. Back when I was using normal light stands, I would always be extra cautious on windy days since my assistant would need to hold the light down and keep the modifier in its position which could get very tiring. It wasn't until I used this C-stand that I realized she could jump right on it and focus all her strength to holding the modifier in place while her weight was keeping the light down on the ground.
Sirui monopod: This monopod is lightweight and fits perfectly into my travel bag. I'll use it mainly whenever I travel but there are times when I need to move very quickly locally and that is when I will choose this monopod over my C-stand.
Peak Design Slide Lite & Cuff: My Peak Design straps are not only comfortable around my neck when I shoot, but the design itself is made to be very sleek. When I first saw someone with a Slide Lite I thought it was either going to be comfortable or stylish – one or the other. However I was delighted to find it was both.