Jay R. McDonald (@jayrmcdonald) is a Calgary Alberta-based commercial photographer/videographer and co-founder of RoamCreative.ca. His work consists of lifestyle, portraits, landscapes, travel, adventure and more. He captured this scene during social distancing and told us the story behind the shot, and we wanted to get a look in his gear bag to see the Sony Alpha camera, lenses and accessories he relies on for his work and how he uses them. Jay gives us a guided tour gear of his run-and-gun kit below.
Photographer & videographer Jay R. McDonald (@jayrmcdonald) on the two zooms, two primes and the Sony Alpha camera that's "attached to my hip."
It's the moments in between, the thoughts that are fleeting and the lost feelings, that matter the most when all is said and done. Life as we know it can be turned into our very own "memoire magazine" if we have the right tools to do so. What if you had the right gear, to capture history in passing? They say a magician never reveals his tricks, but luckily for you, I'm terrible at magic and can't keep secrets. My name is Jay R. McDonald and I like to tell stories through stills. I've built my career off of travel and destination marketing, commercial, weddings, elopements, and everything in between. This is the gear I use to do it, heavily influenced and inspired by my "big brothers" in photography, @Davey_gravy and @MarcWebster. Fellas, thank you for letting me borrow and try your gear, every step of the way…now welcome to the ultimate "run & gun" photography kit.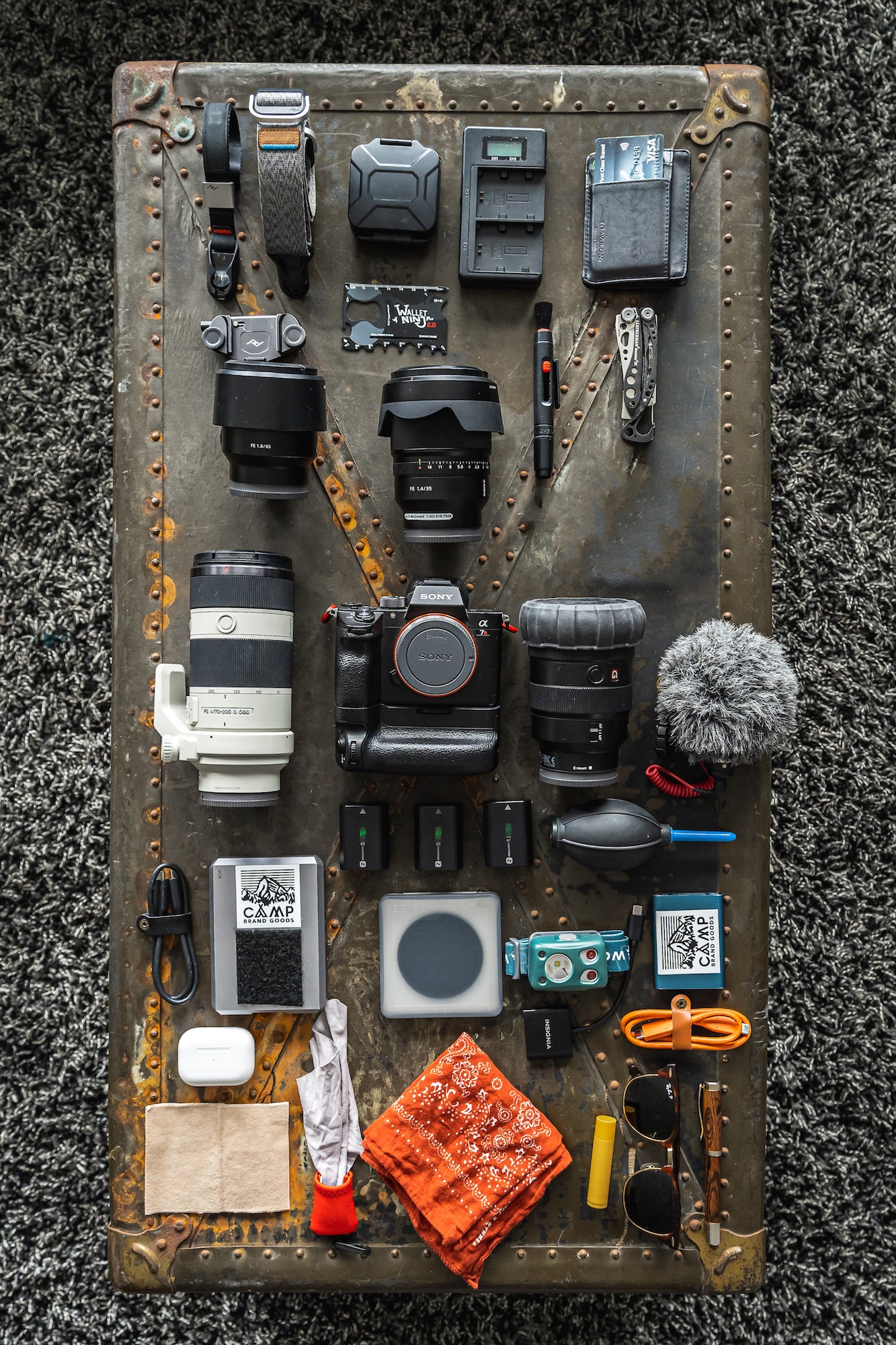 Camera
Sony α7R III: This camera is my baby, my "ride or die," Excalibur, the One. This α7R III and I have been attached at the hip (sometimes literally, using the Peak Design Capture Clip), since the day I got it. Perhaps I have developed an acute case of separation anxiety and co-dependency, due to the vast capabilities this body holds and the joy that it provides. One thing I love most about photography is how it opens doors and breaks down barriers between people. For example, if I walked up to you on the street out of the blue and said "Hey, I think you look really cool," you might respond with something along the lines of "Hey thanks, now get the hell away from me." However, if I did the same, with a camera in my hand, (particularly the instantly-recognized Sony α7R III) you are more likely to respond with "Hey thanks! Cool camera, are you a photographer?" Because there is nobody alive that doesn't like a great picture taken of themselves and this is the body that allows me to take it.
Being able to shoot in uncompressed RAW allows me to deliver larger than life images to commercial clients or heavily crop in on a better frame I've likely missed along the way. With long-lasting battery life and extreme low light capabilities, this body allows me to continue shooting well into "blue hour" after the rest of the kids have gone to bed. Silent shooting at up to approx. 10fps gives me the edge on catching moments of true human emotion, such as a proposal or wedding, without robbing the experience of its intimacy. Lastly, the manageable size and ultra-lightweight α7R III, allows me to travel freely and shoot on the go, without breaking my back (a heavy bag feeling, we all know too well).
Lenses
Sony 35mm f/1.4: The first and most-used piece of glass found in my bag, this lens has forever been my go-to "workhorse" lens. I can't seem to get enough of the 35mm framing and love the ability to drop the aperture for low light situations, smooth bokeh and clean depth it provides. I tend to lean towards pulling this lens out for anything portraiture and/or lifestyle.


Sony 16-35mm f/2.8 G Master: Wide enough to capture the "hero shot" and most epic of landscapes, yet versatile enough to punch in at a fully zoomed range of 35mm for filming tight details. This lens is nimble on my gimbal and holds a reserved seat in my bag because of it.
Sony 70-200mm f/4 G: Tight and light, that's why we keep this telephoto zoom in my bag. Weighing in at a feathery 840g (without tripod mount), the 70-200mm f/4.0 allows me to capture frames from afar, without running back and forth to the car. Now I'm sure most reading this would ask why I opted for the f/4.0 as opposed to f/2.8. I've chosen to do so, due to the immense amount of travel that my photography requires. When you're on the go, every ounce counts. And hey, why do I need the f/2.8 when I've got sony's incredible dynamic range capabilities in my back pocket? Jack that ISO, let's go!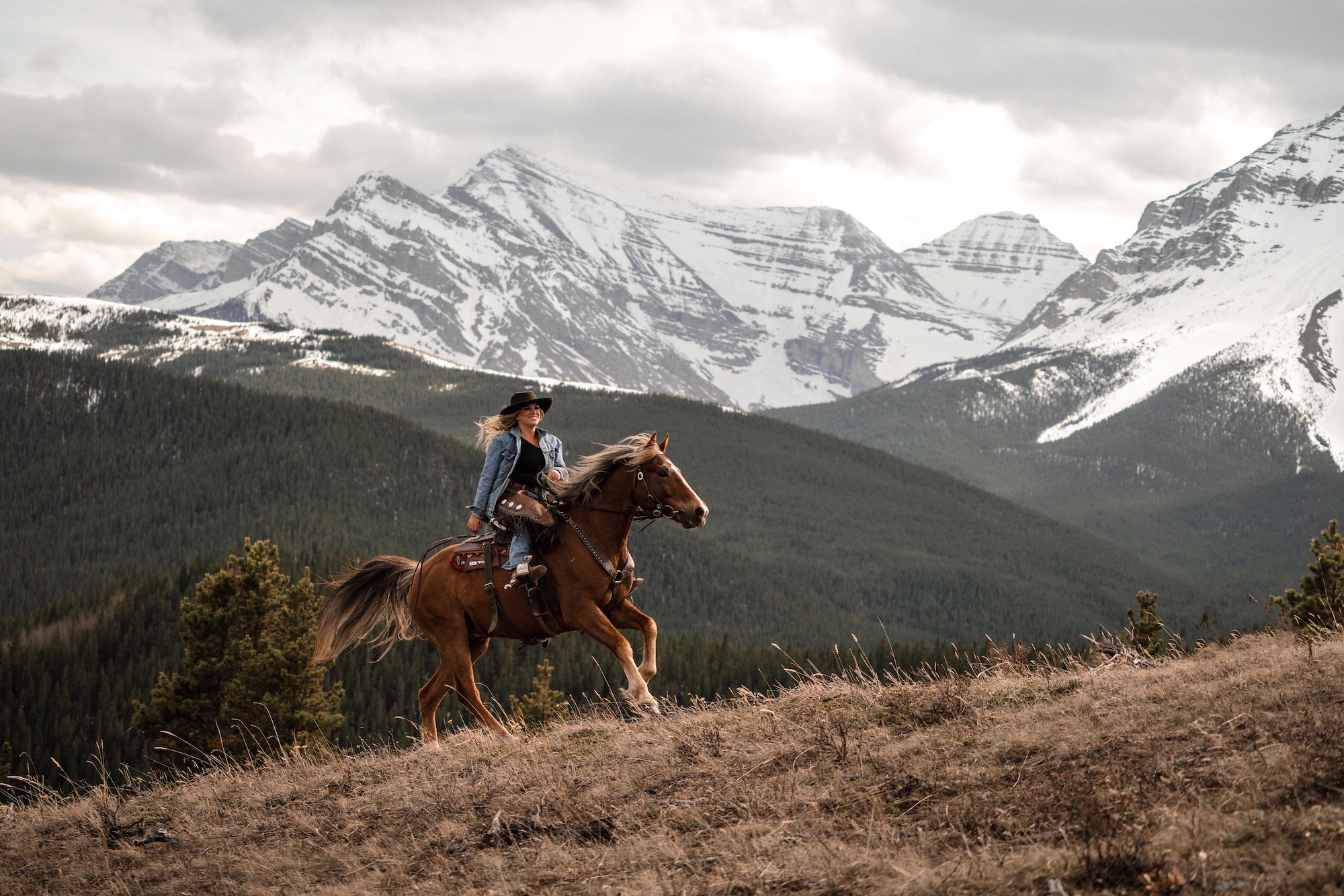 Photo by Jay R. McDonald. Sony α7R III. Sony 70-200mm f/4 G. 1/1250-sec., f/4, ISO 125
Sony 85mm f/1.8: Get that bokeh, without going "broke-h". All the compression without the depression. The last lens in my kit is the 85mm f/1.8. This lens is affordable, extremely compact and focuses faster than I do, after washing down my morning ADHD medication, with a light roast AeroPress coffee (that's really fast). I keep this lens around for beautiful portraits and undesirable environments, that only the compression, wide-open aperture and tight framing that the 85mm prime provides.
Accessories
Camera Bag: Every creative's kit starts with the right bag. I have tried what seems to be every bag ever made, from a waxed canvas rucksack to the ultra-futuristic tech-focused shoulder vessels (so advanced they make the Jetson's jealous), they call backpacks. I strongly believe, the tried and true Ona "Camps Bay" Bag reigns supreme. From -35°C winter sunrise missions in the Canadian backcountry to hiking craters in the Negev desert of Israel, I have taken this bag everywhere with me, across the world and back; and it has never failed me once. With adjustable inserts, enough room to fit a 70-200mm telephoto lens, quick release clips for fast access, a tech sleeve large enough to fit a 15in laptop and water-resistant waxed canvas, this bag is a no brainer. I particularly love that Ona makes bags that are functional and aesthetically pleasing, yet don't scream "I am a camera bag, please steal everything inside of me." This is crucial for any photographer or traveling creative on the go.
Peak Design Cuff & Slide Straps: Quickly adjustable and even quicker to interchange, thanks to the anchor links and "dual quick adjusters". My Roam Creative team and I, all use these same straps so that we can change gear and swap cameras safely, on the fly.
SD Card Water Resistant Hardcase: A non-negotiable for any creative. Protect your assets!
Dual Slot Battery Charger: My charger of choice because the LED screens allow me to feed my O.C.D. and monitor charge levels in real-time.
RFID Blocking *front pocket* Wallet: Crucial for myself and any traveller to protect your personals, due to its front pocket-friendly size and RFID blocking technology.
Peak Design Capture Clip: Perhaps my favourite accessory to have in or on my bag. Being able to clip my camera and let go confidently, allows me to warm up my hands on those frigid cold days and shoot freely on events such as long hikes, without having to pull my camera in and out of my bag repeatedly.
Credit Card Sized Multi-Tool: The amount of time's I've heard "bro, do you have a coin?" from a friend looking to reset their gimbal plate or otherwise has diminished entirely since I began carrying this wallet ninja with me everywhere I go.
Lens Pen: Because we've all eaten chicken nuggets before a shoot (right?) and nobody likes fingerprint smudges and dirty glass.
Leatherman Skeletool: You never know, when you're in the backcountry. It only takes being unprepared once to never leave this out of your kit. Pro-tip, these are not airport friendly.
Vertical Battery Grip & Three Extra Batteries: While it's not always on my body, the vertical grip has saved my wrists countless times, during long marathon-style shoots, such as weddings and events. I also keep three fully charged batteries at all times. Two for your body, one for your buddy; we've all got one that's bound to ask.
Rode Video Micro with "Dead Cat": Have to stay vlog ready.
Dust Cleaning Air Blower: Nothing ruins a party like a dirty sensor.
2TB SSD External Hard Drive & 5TB Back Up External Hard Drive: Back up your work. And then back up your backups that have been backed up. I keep an SSD working external hard drive along with a larger 5tb back up external hard drive. Both with cords wrapped neatly in leather "cord tacos" because we are adults and we like to keep things organized here.
Polarizing Filter: Some days are brighter than Champagne Papi's future and you've got to do something about it. Always on hand to get rid of glare and reflections.
Rechargeable Headlamp: Crucial for before and after golden hour, on sunrise and sunset missions. Also great, for when you're hunting batman in the dark night.
Apple AirPods Pro: Thanks to their miniature size and noise-cancelling features, these are a game-changer for working or sleeping on planes and or public spaces.
Spare Patch Of MoleSkin: Nothing will end the fun of a sunrise hike like a meaty, angry blister. Bring a spare patch of moleskin tape with you from now on, you will thank me later.
Lens Cloth: Have to keep things clean.
Bandana: I always keep one on hand, to keep the forehead and hands dry, during high-pressure shooting situations.
Polarized Sunglasses: Protect your eyes, you're worth it.
Burt's Bees Lip Balm: Because It's always on hand. I would be lying to myself and you if I didn't include this in my "What's In My Bag" article. I live in Alberta, Canada and winters here crack up your lips faster then eggshells in a bakery. In the recent words of Canadian Prime Minister Justin Trudeau, keep it "moist".
Refillable Hand Crafted Wood Pen: Perhaps an odd addition to highlight in my bag, however, this pen is one of my most prized possessions, gifted to me from my favourite high school teacher. Nothing beats being prepared when it's time to touch pen to paper!
Honorable Mention
Lastly, the final three remaining items that are not ALWAYS in my bag 24/7, but deserve to be mentioned are the following: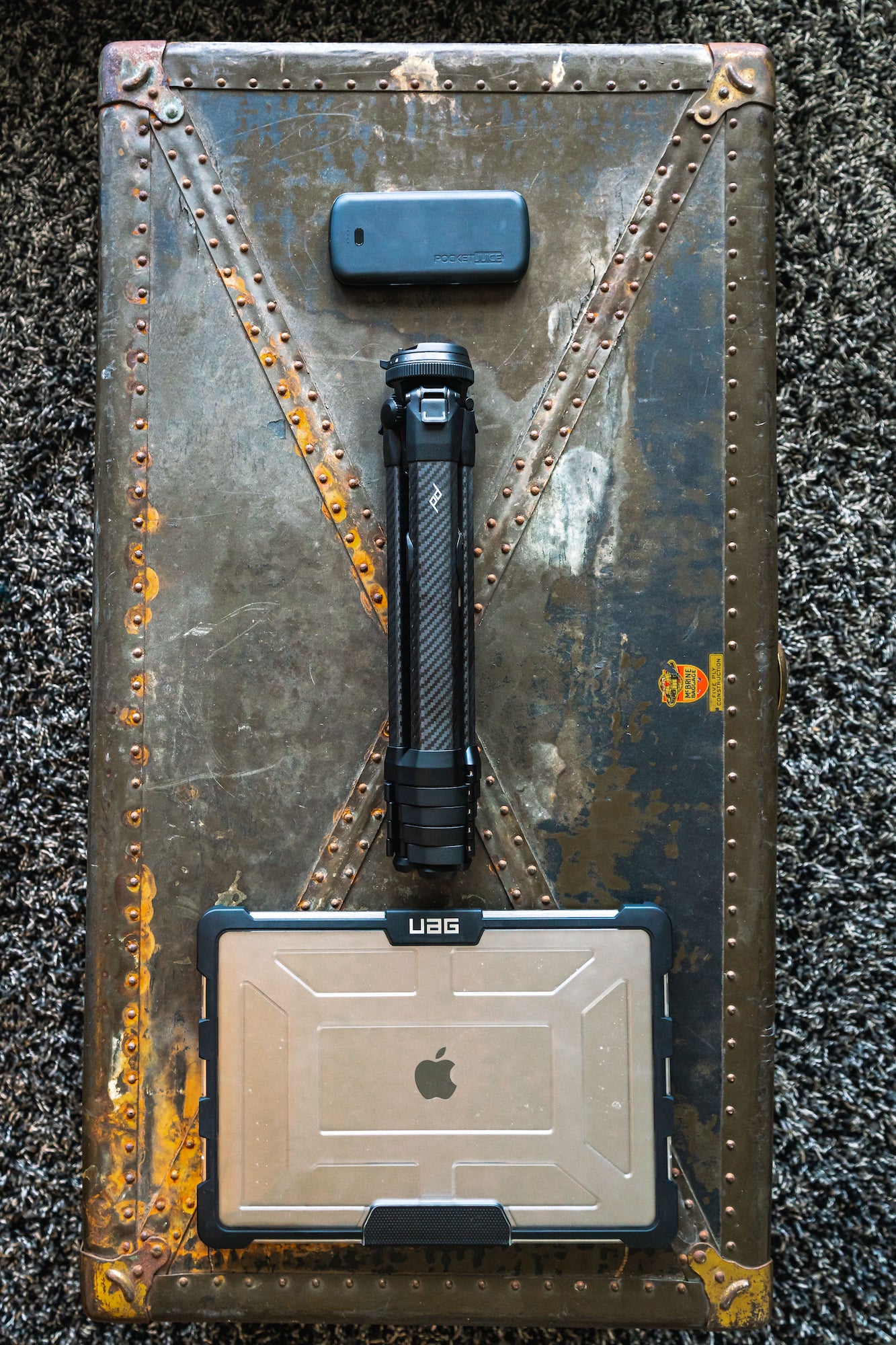 Extra Battery Power Pack: Let's face it, we live with our phones. If it dies, you die. Therefore I always equip my bag with an extra power source carrying at least 3 full charges.
Peak Design Travel Tripod: I don't love carrying a tripod with me everywhere I go, however, nothing hurts more than watching a great long exposure or Astro opportunity slip by. So, when I do have one with me, it's the Carbon Fiber Travel Tripod.
15in MacBook Pro with Urban Armour Gear Case: A lot of travel, means a lot of wear and tear on your gear. I love the Urban Armour Gear Plasma Case because it's visually appealing and more protective than my mother. It's also been a great conversation starter in airports and public places.