As a traveling photographer (you can find me @worldpins), I am always looking for new ways to cut down on clutter and pack as light and efficiently as possible. Over the years, I have condensed my gear kit to include only the most essential items to get me through days of shooting. This week, I will be traveling to Thailand with the Sony Alpha Imaging Collective and have packed my favorite pieces of gear for the trip.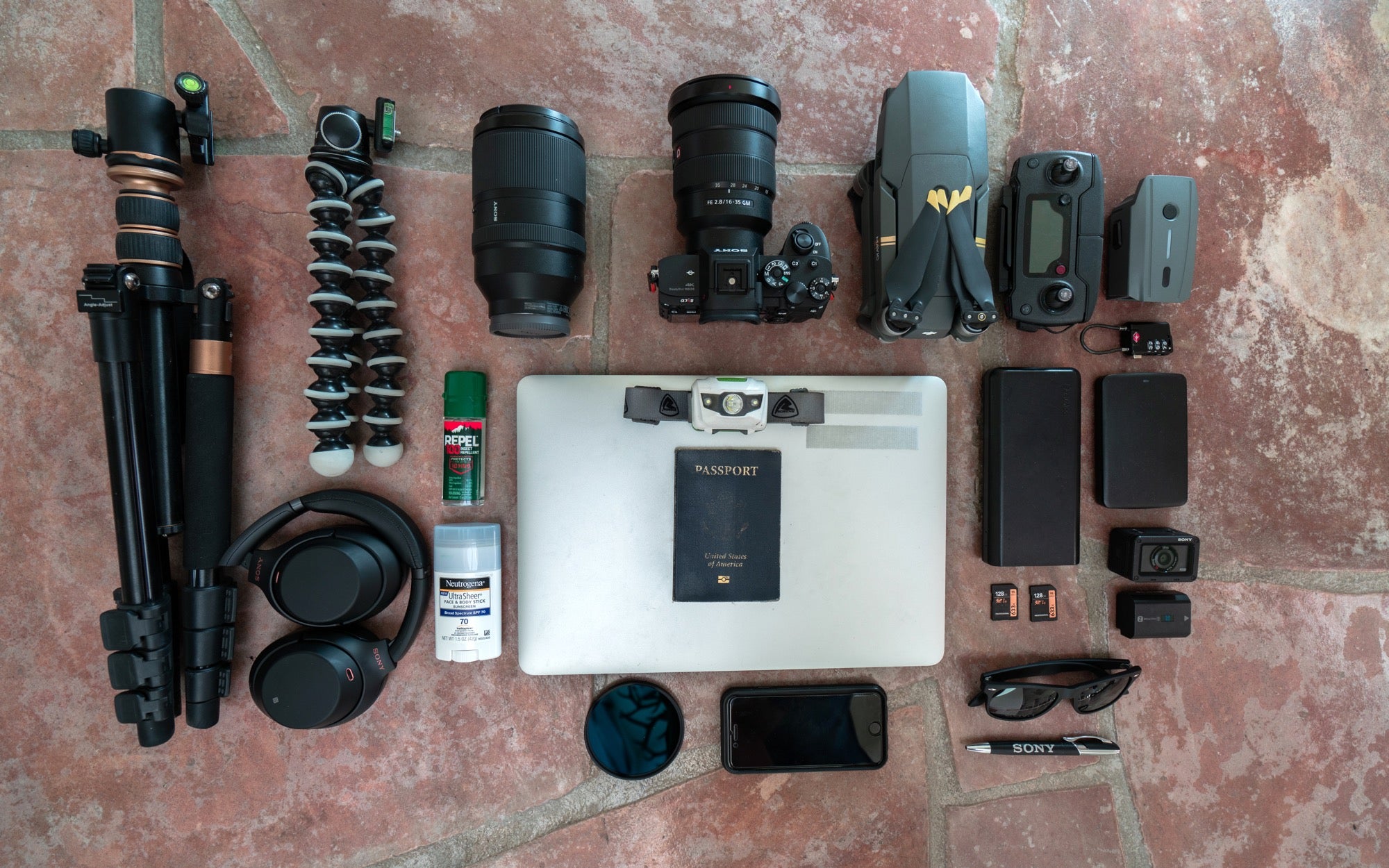 Lenses
Sony 16-35mm f/2.8 G Master: The 16-35mm lens has always been my favorite and most used lens in my bag. It gives me the flexibility of capturing expansive landscapes and astrophotography with its wide f/2.8 aperture. The lens is incredibly sharp so I can crop in if needed using the APS-C mode and still maintain a clear image. The wide aperture also allows me to get subject separation with an amazing bokeh even at 16mm. This is perfect for focusing on specific details in the surroundings without having to use a prime lens to achieve a similar effect. In Thailand, I plan on using this lens for the majority of my shots. I am also looking forward to using this lens during the Thai Lantern Festival where the wide aperture will be crucial for capturing the scene in low light.
Sony 70-300mm f/4.5-5.6 G: The Sony 70-300mm is an amazingly versatile lens that is also lightweight and portable. This zoom lens allows me to capture small details in my surroundings that are often overlooked with wide angle lenses. Bringing a zoom lens is a great way to force yourself to see the world from a different perspective and look closely at the landscape around you. The lens' optical image stabilization makes it possible to capture sharp handheld shots even at 300mm. I plan on mainly using this lens in the countryside of Chiang Mai to capture wildlife in the jungle.
Cameras
My first step into the mirrorless world was with the Sony Alpha α6000 and its 16-50mm kit lens. That setup proved to me that it doesn't take a bulky DSLR to get great shots with amazing dynamic range. Some of my favorite photographs have been the result of carrying my α6000 in my jacket pocket and taking it with me wherever I went. Over the years, I have expanded my gear bag to include the new Sony Alpha α7R IV and the 16-35mm f/2.8 G Master lens. This lens and body combination has been ideal for my landscape photography and for shooting in just about every other situation imaginable.
Sony Alpha α7R IV: My main camera body that I will be using in Thailand is the α7R IV. I first had a chance to use this camera at the annual Sony Kando Trip in Sunriver, Oregon and was blown away by its 60 megapixel sensor and added weather sealing. I love having the ability to crop in 1.5x using the APS-C mode and still have 26 megapixels of picture quality to work with. I often find myself shooting close to the water so it's great knowing that my camera will be safe even if it gets splashed or rained on with its improved sealing. In Thailand, I am looking forward to using the α7R IV to capture everything from expansive landscapes to Muay Thai boxing. The 10 fps shooting mode will come in handy while photographing the boxers to avoid missing any of the action. I love how I can start the day shooting sunrise, switch to a zoom lens to capture fast moving action, and end the day by shooting astrophotography all within the same camera. I am really looking forward to taking this camera to Northern Thailand to see what images I can capture.
Sony RX0: I am bringing the RX0 with me because it's the perfect waterproof camera that I take with me wherever I go. I plan on using it to get close up shots with Thai elephants without having to worry about getting my larger camera dirty. I also hope to use the camera to get unique perspectives close to the water and capture fast moving objects with its 960 fps super slow motion. Its small size allows me to put it right against the ground to find different perspectives of the same scene. It's such a versatile camera that I never leave on a trip without it!
Accessories
Sony WH-1000XM3: I recently got the Sony WH-1000XM3 and have been amazed by the noise cancelation and audio quality. These headphones are the perfect companion for long flights and they make traveling much more enjoyable. The wireless design also helps to reduce clutter and save on space in my backpack. I'm excited to use these during the long travel days of the trip.
Extra Memory Cards: It's essential to always bring backup memory cards in case any corrupt during the trip. I always try to back up my photos to my external hard drive as soon as possible to avoid any data loss.
Extra Battery: I am also bringing one extra Sony camera battery to use during the trip. The Sony Z batteries (for my α7R IV) are amazing and often last me an entire day of shooting so I rarely need to use the second battery, but I have one just in case.
Macbook Pro: My computer goes with me wherever I go and I love being able to edit while traveling. The Macbook Pro has a memory card slot so I can quickly and easily import photos and backup files to an external hard drive. I edit my RAW camera files using Capture One 12 software and I always try to keep an extra copy of my photos stored in the cloud.
Mosquito Spray: Deet spray is great for repelling mosquitoes and other insects when traveling in the countryside of Southeast Asia. There's nothing worse than setting up for a shot and being covered in a cloud of flies and other insects. Northern Thailand is also in the malaria zone so it's a great addition to the gear kit. (NOTE: Deet can damage cameras and lenses as well as some kinds of clothing. Be careful when using it!)
DJI Mavic Pro: As a photographer, I am always looking for new perspectives and a drone is an amazing way to achieve this. This drone is compact and lightweight so it is a perfect companion on trips.
Portable Battery Pack: I love bringing along a portable battery pack to quickly and easily charge my gear on the go. The battery pack is especially useful on long plane rides to charge phones and other electronic devices. My battery pack is 26,000 mAh so I rarely need to worry about plugging it in again for several days.
Baggage Locks: It's best to err on the side of caution when traveling with camera gear so I bring along a TSA-approved combination lock. These locks are a good deterrent to pickpocketing especially when walking in crowded streets.
Travel Tripod: Portable tripods are essential for night photography and shooting long timelapses. I recommend getting a tripod that can collapse down to 14" to pack it easily in a carry-on suitcase. I am also bringing a Joby GorillaPod tripod for shorter timelapses and long exposure photography. These tripods are great for quickly setting up and taking the shot and can be easily carried in a backpack.
Neutral Density Filter: Neutral density filters help to reduce the amount of light that reaches the camera sensor. I am bringing the 9stop Manfrotto ND filter for the my 16-35mm Sony lens. This will allow me to record videos in a slower shutter speed and achieve a more cinematic look.
Pen: Pens are great to have on hand for filling out customs and immigration forms on the airplane and writing down notes while traveling.
Headlight: Headlights are perfect for photographing at night and seeing in emergency situations. I always make sure to bring fresh batteries before my trip and pack the headlight in an easy to reach spot of my bag.
Waterproof Jacket: The weather in Southeast Asia can often be unpredictable so it's best to dress in layers and change depending on the conditions. I'm bringing a Columbia rain jacket that zips into its own pocket. This helps to save room while traveling with a small carryon and backpack.
Passport: My passport is usually the first thing I pack and store in my backpack while traveling. I am always checking to make sure I didn't lose my passport to avoid the dreaded stop at the embassy.