By Stevin Tuchiwsky & The Alpha Universe Team. Photos by Stevin Tuchiwsky
Stevin Tuchiwsky is right at home in the backcountry with his camera and nothing around for miles except a sprawling landscape. Scrolling through his images on Instagram (@stevint) makes you want to drop what you're doing, grab a camera and head for someplace, anyplace, where you can see a whole lot of sky. Instagram is full of plenty of pretty scenics, but Stevin's stand out. They're more thoughtful and more studied. He's not just aiming the camera, he's creating a composition that engages with the viewer and brings them into the scene. Before he set off for Iceland with fellow members of the Sony Alpha Imaging Collective and Sony Artisan Of Imagery Chris Burkard, we connected with Stevin to get some of his tips for landscape compositions.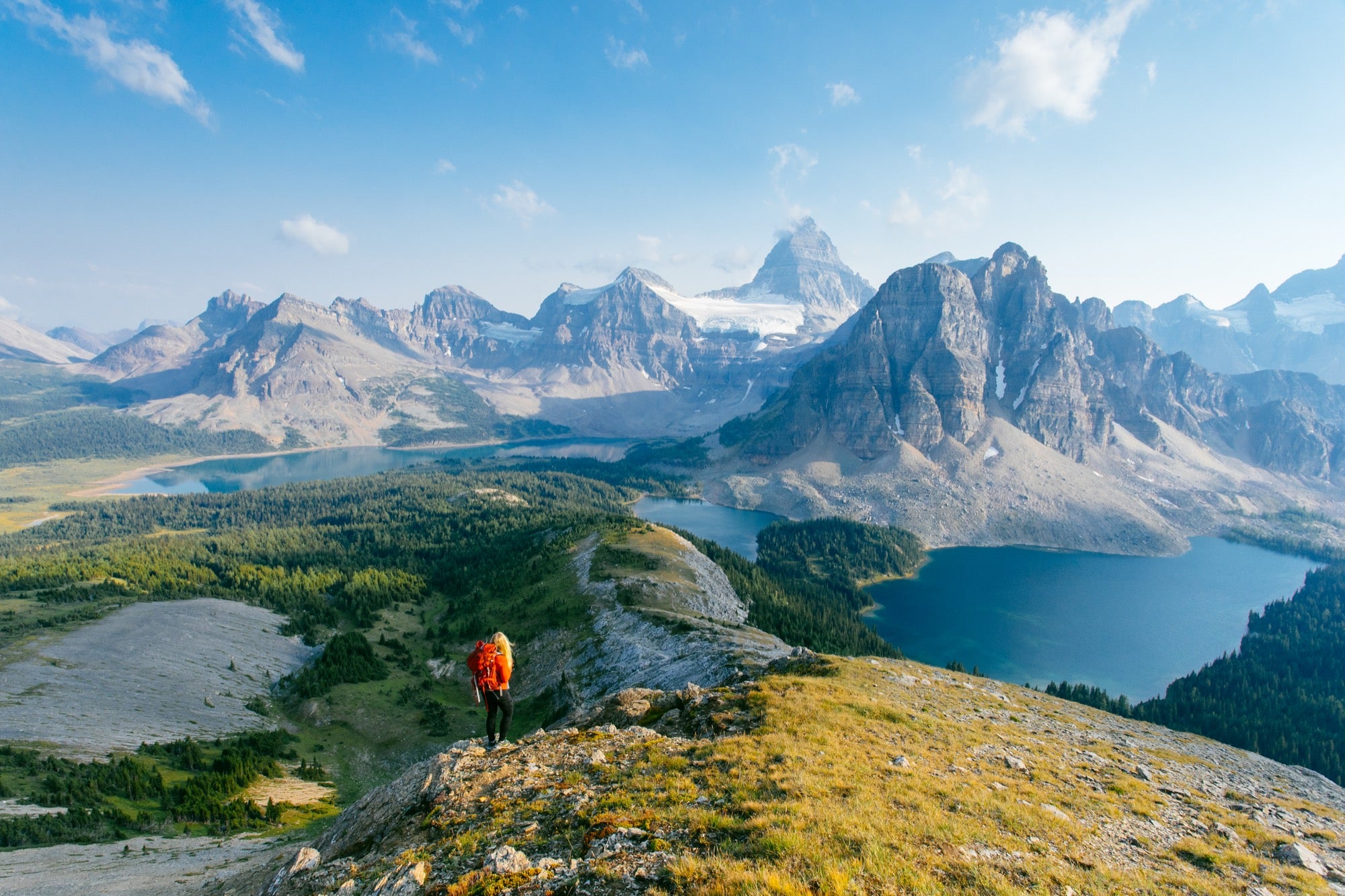 Sony α7 II. 1/250-sec. f/11, ISO 400.
GENERAL TIPS
Be Patient When Shooting
Slow down and take your time when you come to a great scene. Give yourself time to take it in. There might be an obvious composition, which you should take, but then take a moment and look for other possibilities.
The light will directly impact any composition and change an image dramatically even over the course of a few minutes. Watch the light and be open to different possibilities as it's changing.
As you compose your shots, don't rush and try to get the exposure and composition as close as possible in camera. This will help you to see how small changes in camera position can have a big effect on the scene. You can do a lot in post with cropping and tonality, but you can't change the camera position.
Don't Just Shoot For Social Media
Instead of just thinking about the usual framing for social media, try various compositions and framing combinations. Change your angles – try horizontal, vertical and square compositions while shooting. Sometimes while I think I like a particular composition as I'm shooting in the field, when reviewing images afterwards another composition may stand out more. Don't be scared to shoot multiple images of the same scene in different ways. Having that freedom is a huge benefit of digital photography.
Take Advantage Of Your Camera's Capabilities
Cameras have come a long way. I always advocate getting the composition right in camera, but today's file sizes (the α7R IV has a 60 megapixel sensor!) can help you down the line. Being able to crop multiple compositions from one image can be incredibly useful when you're unable to get close enough or compose an image a certain way you want in the field.
Also, don't be afraid to push the limits of the light when you're shooting. Some of the most dramatic landscape photos can be made at the edges of the day when the light is low and changing fast. I shoot with Sony Alphas and cameras like the Sony α7R III and α7R IV can produce high ISO, low noise images in these situations. My point is, your camera is an incredible machine. Use it!
Everyone's perspectives and take on the landscape is different. Here are some things I look for when I'm shooting. Hopefully some of these techniques will help you, but I'm not suggesting this is what you must do. You should always follow what you think best suits your style.
EXAMPLES
Changing Perspective
Here's an example with two images of the same location where changing perspective led to different framing and images with very different emphases.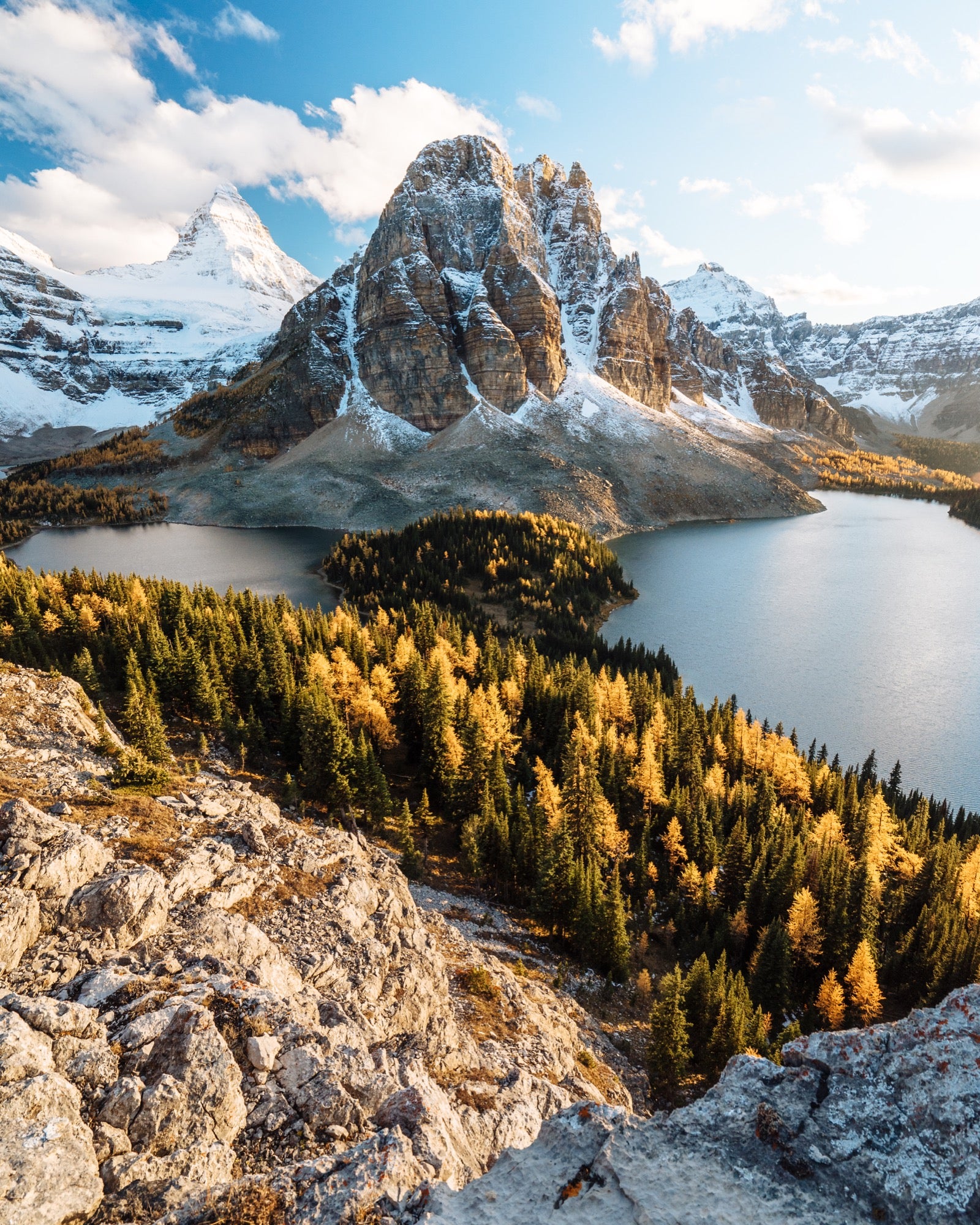 Sony α7 II. Sony 16-35mm f/4. 1/50-sec. f/9, ISO 400.
While being closer to the lakes in the foreground, I shot this image in a vertical format to have more focus on Sunburst Peak.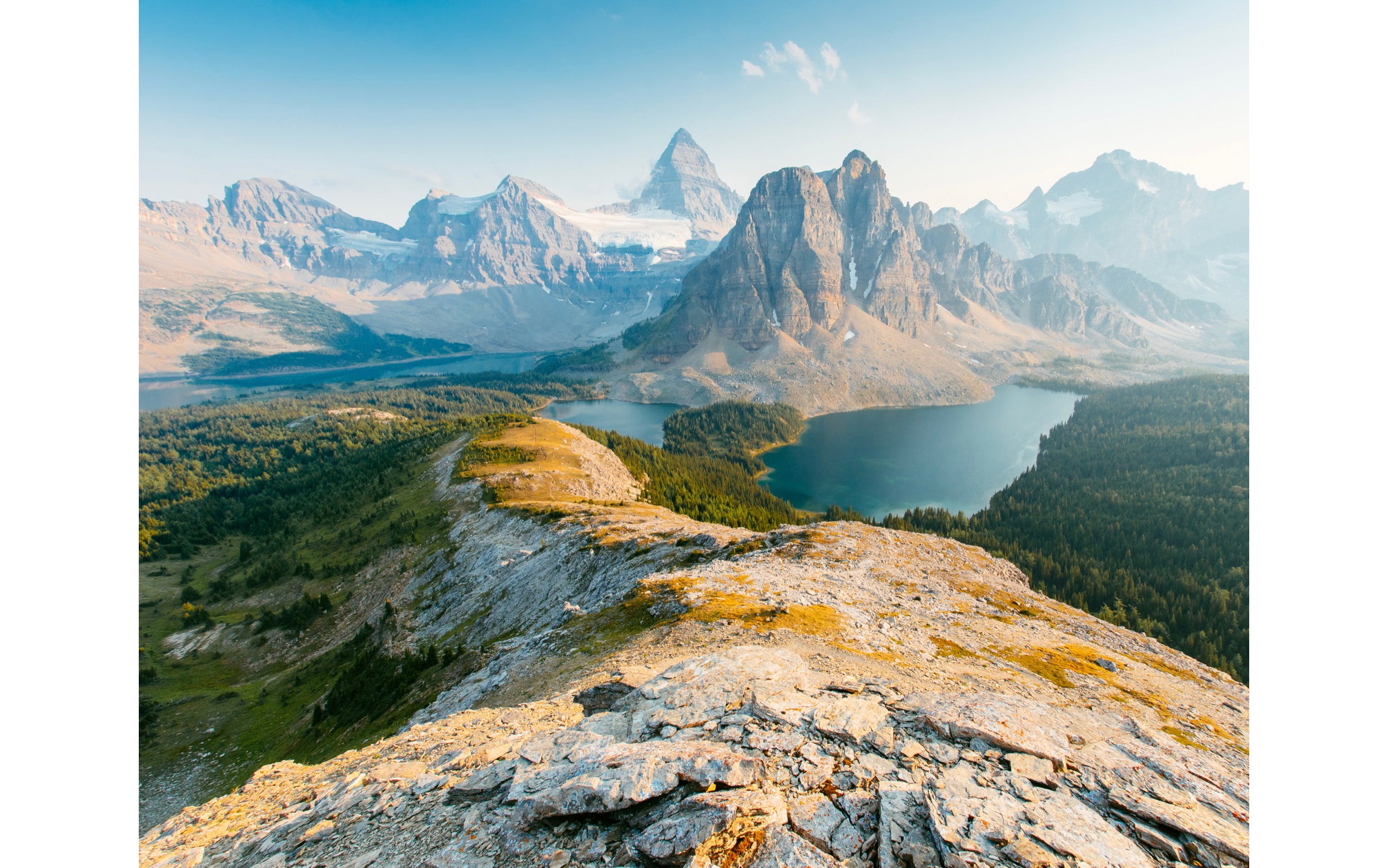 Moving further up on the trail I came to a higher vantage point where I shot this same location in a horizontal format. This created a more panorama perspective and instead of drawing the viewer to a particular point within the frame, it created more of an overall view representing the vastness and scale of the scene.
Rule Of Thirds, Leading Lines & Balance
These images also show how I think about compositional elements, like rule of thirds and leading lines, and how I try to create balance within the frame. I sub-consciously layer my photos sometimes to create more depth.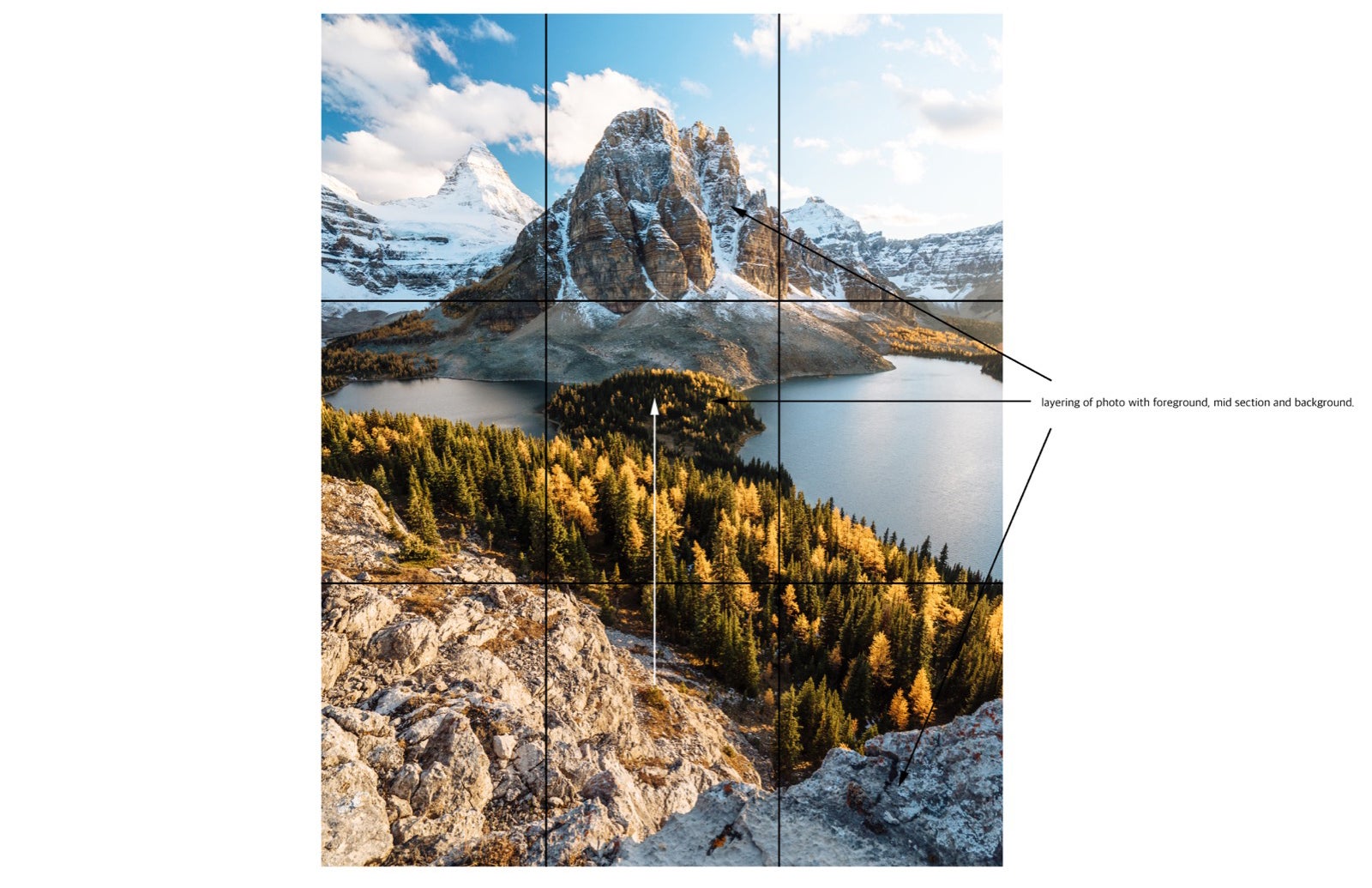 In the vertical image you can see how I got low to the foreground to get into the image, and then the trees lead the eyes to Sunburst Peak.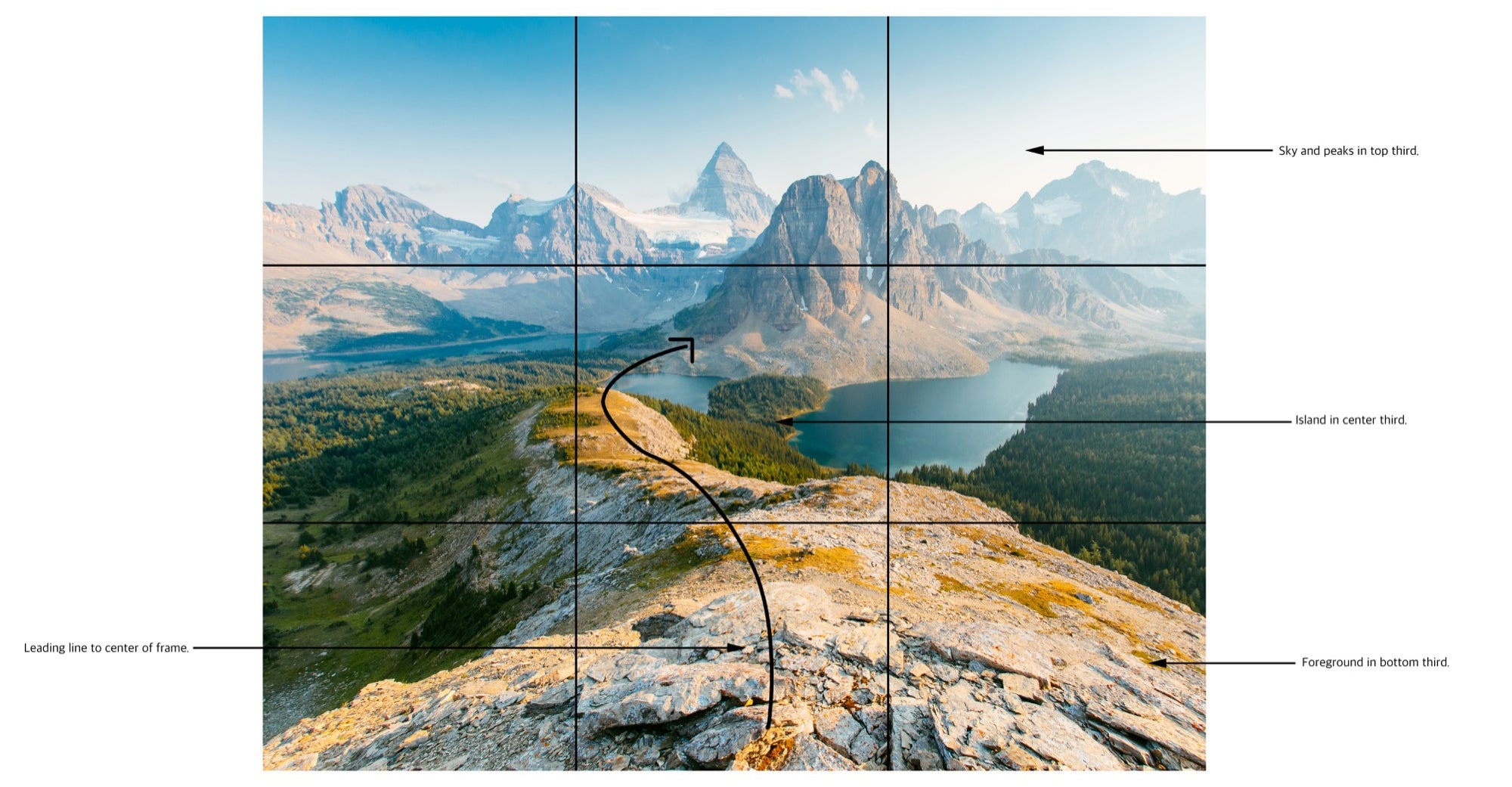 In the horizontal image I use the ridge to lead your eyes away into the distance of the view.
Add A Human Element To Create Scale And A Sense Of Connection
Placing a person in a photo can be beneficial. When I do it, I want the presence of the person to compliment the photo without taking away from the beautiful landscape. Also, when it works for the photo, having a person in the frame makes it unique and truly yours. The person in the frame also gives a scene scale. Without the human in the photos below, you wouldn't get a sense of how big the ice cave is, or that the trees are giant sequoias.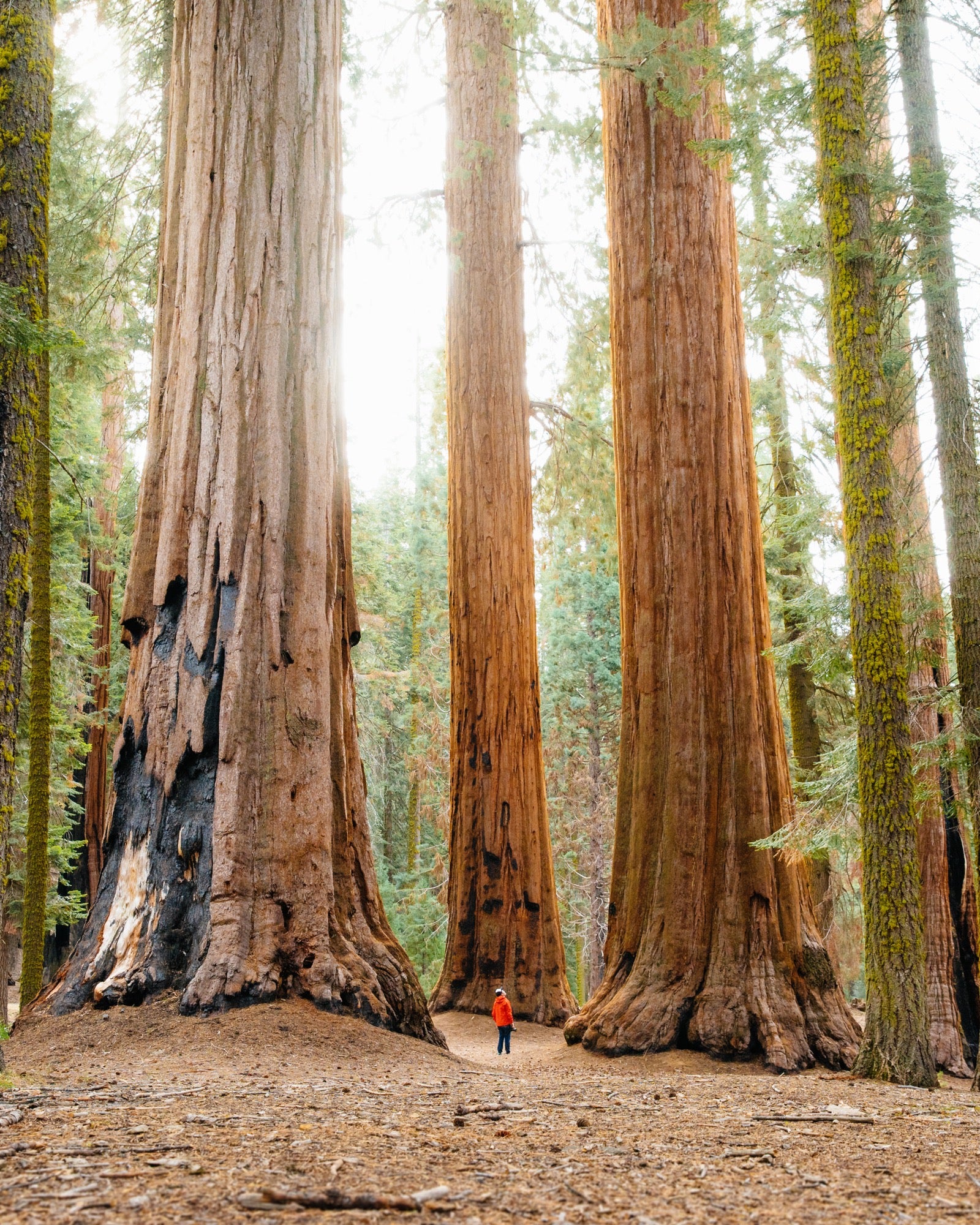 Sony α7 II. Sony 24-70mm f/2.8 G Master. 1/250-sec. f/6.3, ISO 500.
In the sequoias photo I tried to find an area where I was down a bit on a slope shooting up at my subject to accentuate the grandeur of the scene.
Bringing It All Together
Here's an example that shows several of these tips together. Instead of shooting vertical for social media, I made a horizontal composition. This framing allowed me to capture the breadth of the scene. The leading lines, from the right of the image diagonally to the left, bring the viewers through the entire frame.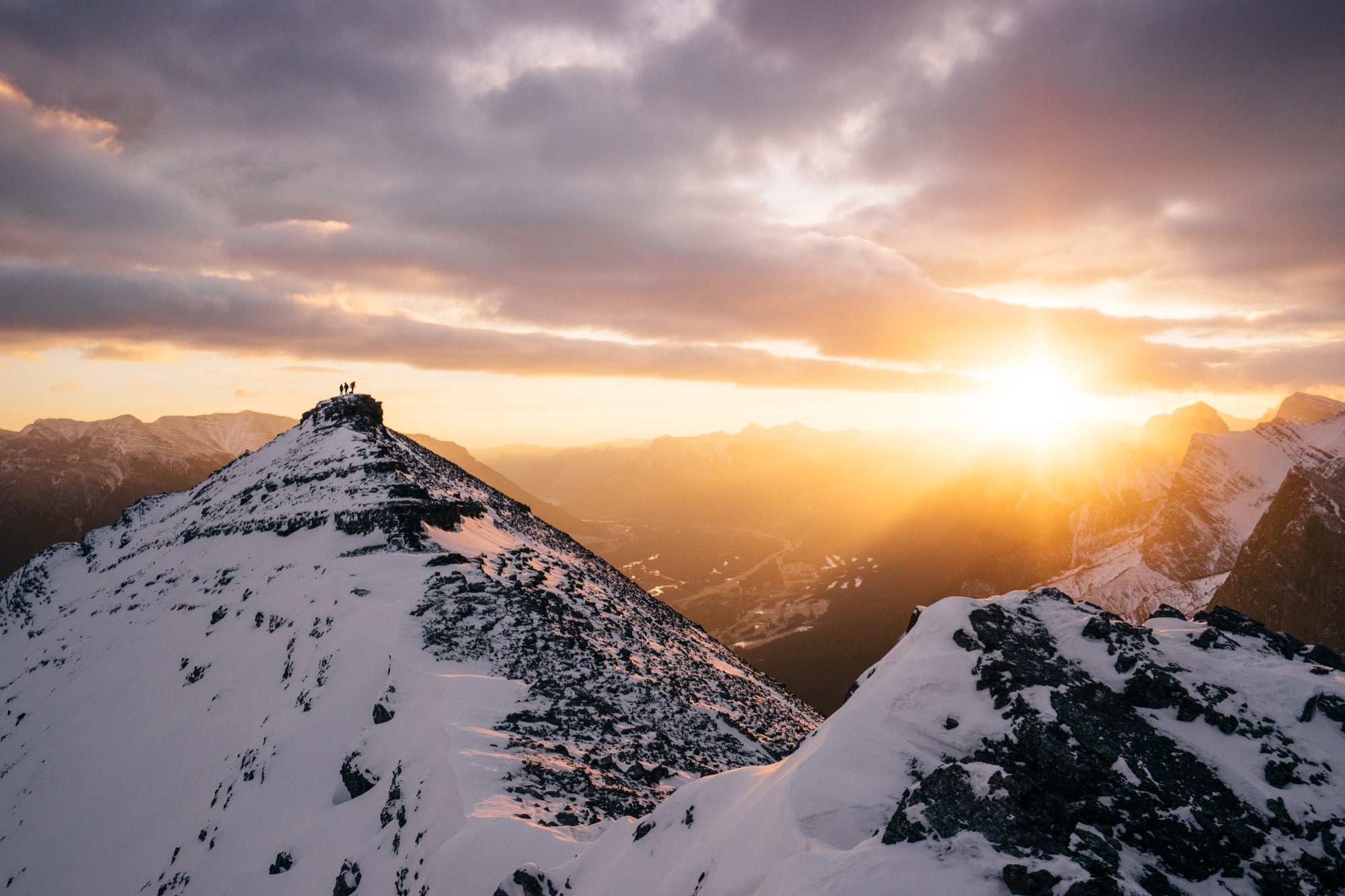 Sony α7 II. Sony 16-35mm f/4. 1/60-sec. f/7.1, ISO 400.
This is also a perfect example where being patient with the light can add to the composition. I waited for the exact moment when the sun was just above the ridge in the background. In addition to the graphic element, the low-angled sunlight accentuates the areas of light and shadows, creating a more dynamic affect in the photo. A high-contrast situation like this is also a test of the camera's capabilities. When you have the dynamic range to capture the range from sunlight to the shadowed mountains, you can create a dramatic photo.
TRY SOMETHING DIFFERENT
Get Creative With Your Tools
Sometimes you can imagine a composition that will be really special, but you don't have the right gear. Instead of walking away without the picture, maybe you can do it differently. I don't shoot underwater photography photos enough to justify an underwater housing, so I got creative. This image was actually shot using a small fish tank bought at a local superstore. I floated the tank in the water and held my camera inside it to achieve the under/over composition.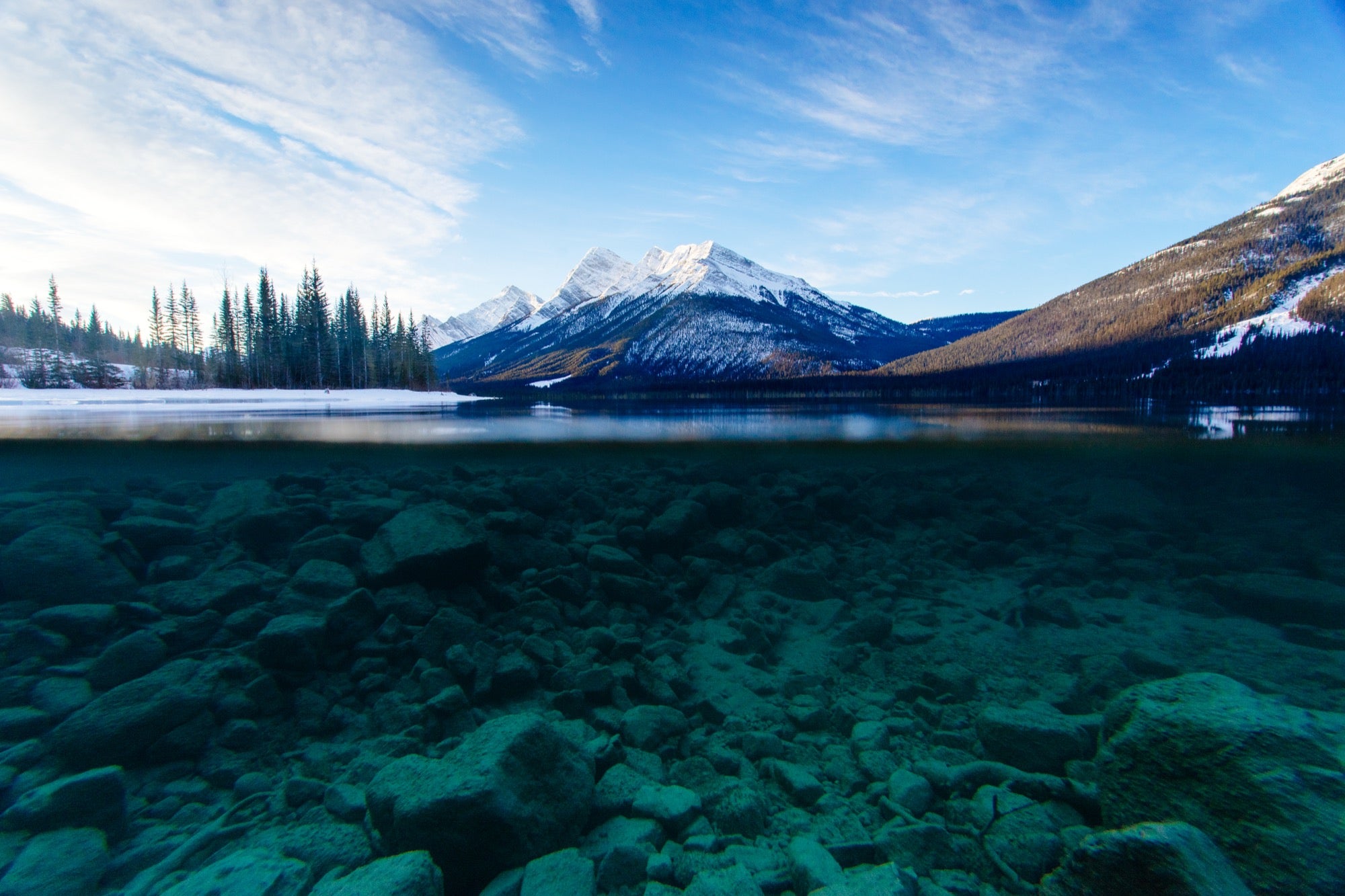 Sony α7 II. 1/125-sec. f/11, ISO 400.
Again, applying the rule of thirds and shooting horizontal made it appear that you're looking at the scene wearing goggles seeing above and below the water's surface. Also, this image shows how to take advantage of the camera's capabilities. The dynamic range of my Sony camera enabled me to shoot one image and then pull the shadows up from the lower portion of the frame while exposing for the sky.
Get Up Higher
Aerial photography can provide a whole new perspective and way to compose images. Sometimes it's a matter of making a climb up the trail to get to a high vantage point, but other times you can try shooting from a small airplane if it's possible. In both of the photos below I was in a chartered airplane. If you're shooting from the air, always check the rules and regulations for aerial photography, especially if you're considering using a drone.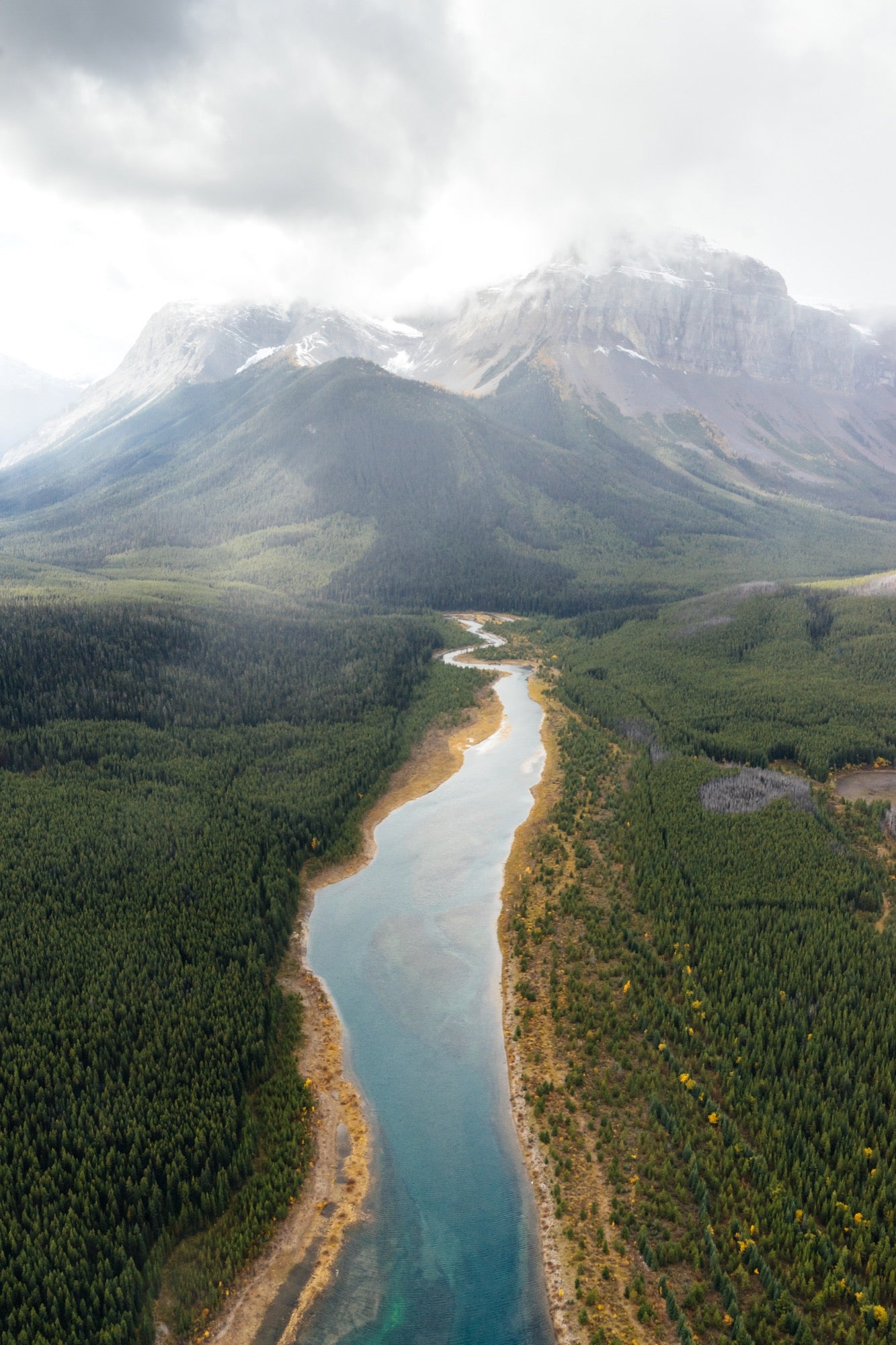 Sony α7 II. Sony 24-70mm f/2.8 G Master. 1/640-sec. f/9, ISO 640.
This vertical composition is from a flight over the Canadian Rockies. There are a lot of natural features that can help create an interesting composition in the mountains. In this photo I used the river as a leading line into the distance to draw the viewers' attention into the distant peaks.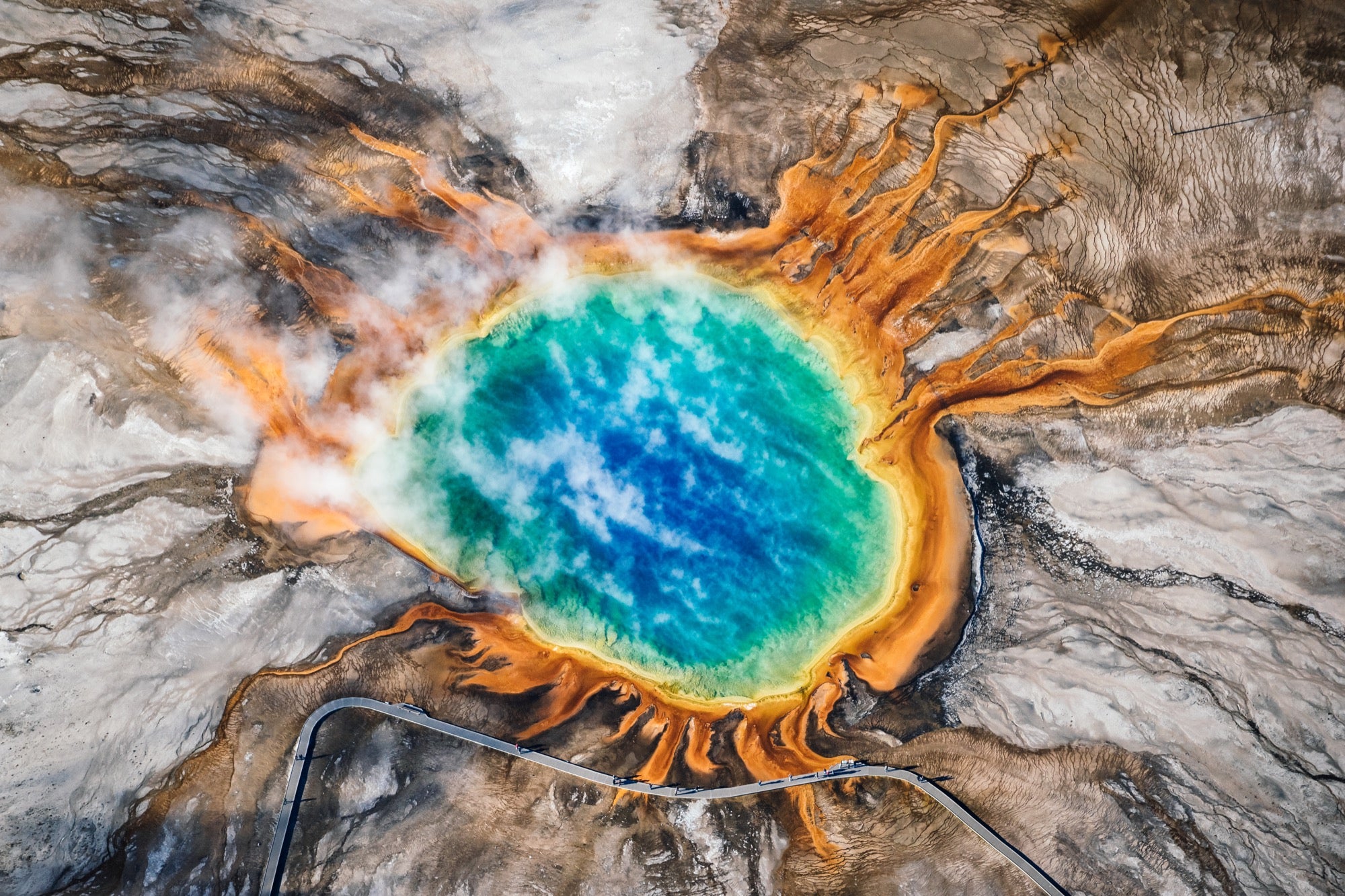 Sony α7 II. Sony 70-200mm f/4 G. 1/1250-sec. f/9, ISO 640.
While you can't get the whole sense of the Grand Prismatic Spring in Yellowstone from the ground, being able to compose it from the air allows you to see the scale and also the magnificent colors.