Throughout this week we're featuring astrophotography content, and so far we've featured the Sony Alpha gear Andrew Eggers packs in his bag for astro as well as Autumn Schrock's gear and settings for astrophotography. Keep reading to see how Stan Moniz has been photographing the Milky Way with a glowing phenomenon.

The waters of the Southern California coast have been glowing with bioluminescence due to the current red tide in the region. Capturing this phenomenon with your camera requires some work, and capturing it with a clear shot of the entire Milky Way included in the frame requires even more effort. Photographer Stan Moniz (@stanmoniz) of the Alpha Collective challenged himself to capture both, and he's done that plus so much more. Check out the photos and videos he took on three different nights out on the coast, with each day's results getting more and more creative, and learn how he did it using his Sony Alpha gear.
See the different photos and videos Stan Moniz (@stanmoniz) of the Alpha Collective has created by capturing the Milky Way and bioluminescent waves with his Sony Alpha gear.
Day 1
"It's very rare to have a clear night along the Orange County coast because there's a lot of cloud coverage and fog. So when the red tide was really powerful and really active I was just lucky enough to have a clear sky for several nights – AND with the new moon. So the first night I went out to see what I could capture. This first photo is a single shot I took with the Sony α7R III and Sony 24mm f/1.4 G Master. I just wanted a staple shot that really showed the Milky Way and the bioluminescent waves that could possibly be printed or serve as inspiration to other photographers."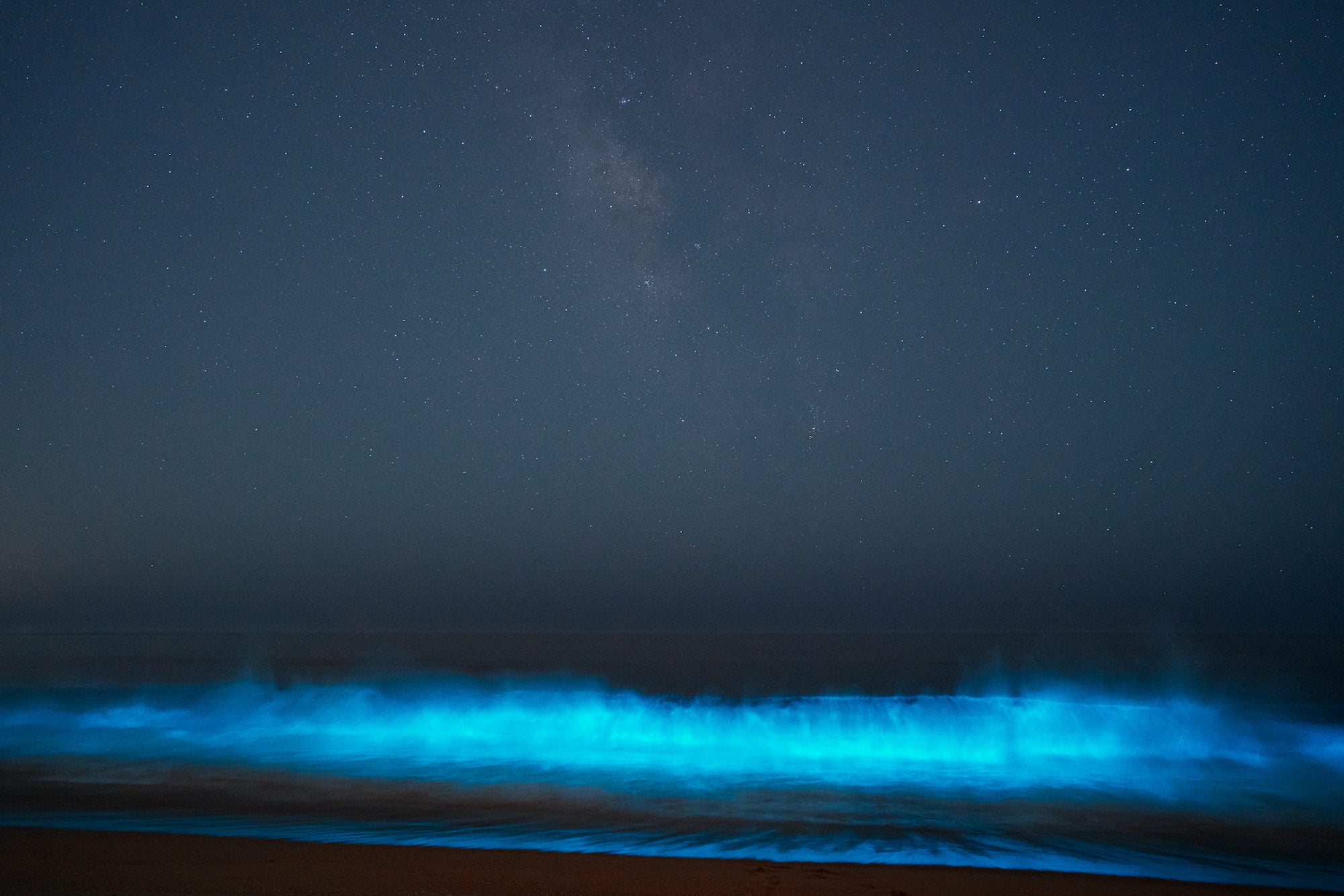 Sony α7R III. Sony 24mm f/1.4 G Master. 5-secs., f/2.8, ISO 6400
"After getting those shots I thought it would be sick to get the bioluminescence with me standing in it. I wanted a little bit wider of a perspective of the land, so I decided to use the Sony 20mm f/1.8 G. I was by myself so I couldn't tell where I was going to be in the frame. I wanted to be just a little to the side of the Milky Way. I set the intervalometer function on the α7R III and went out there and stood in one spot for five seconds. I would move 10 steps to the right and take more shots. I did this for about an hour. Composition is everything and if I was a little too much to the left or right, the shot just wouldn't be the same. There's a balance you have to go for so I stood there for about an hour, moving every 5-10 minutes."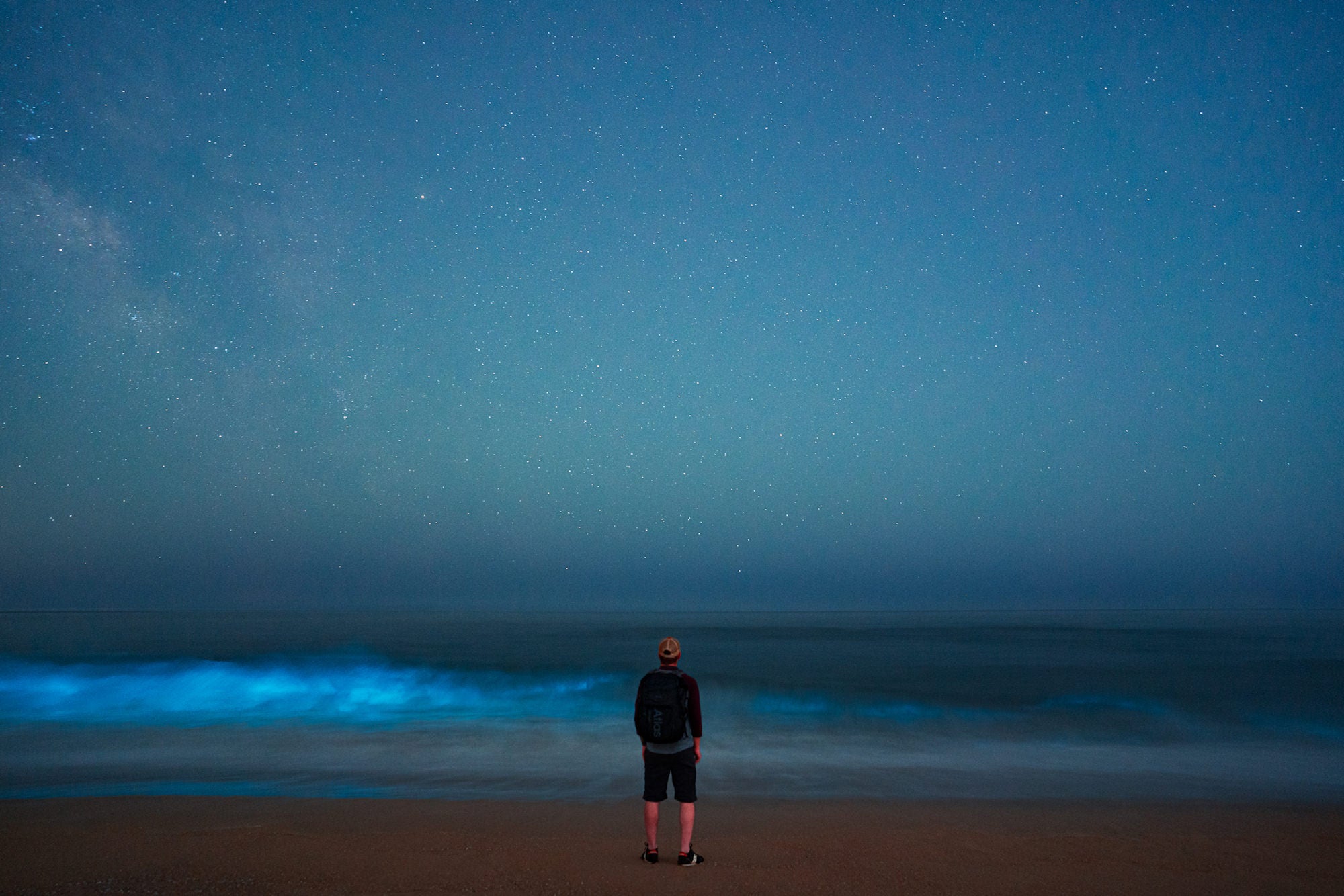 Sony α7R III. Sony 20mm f/1.8 G. 5-secs., f/2.8, ISO 6400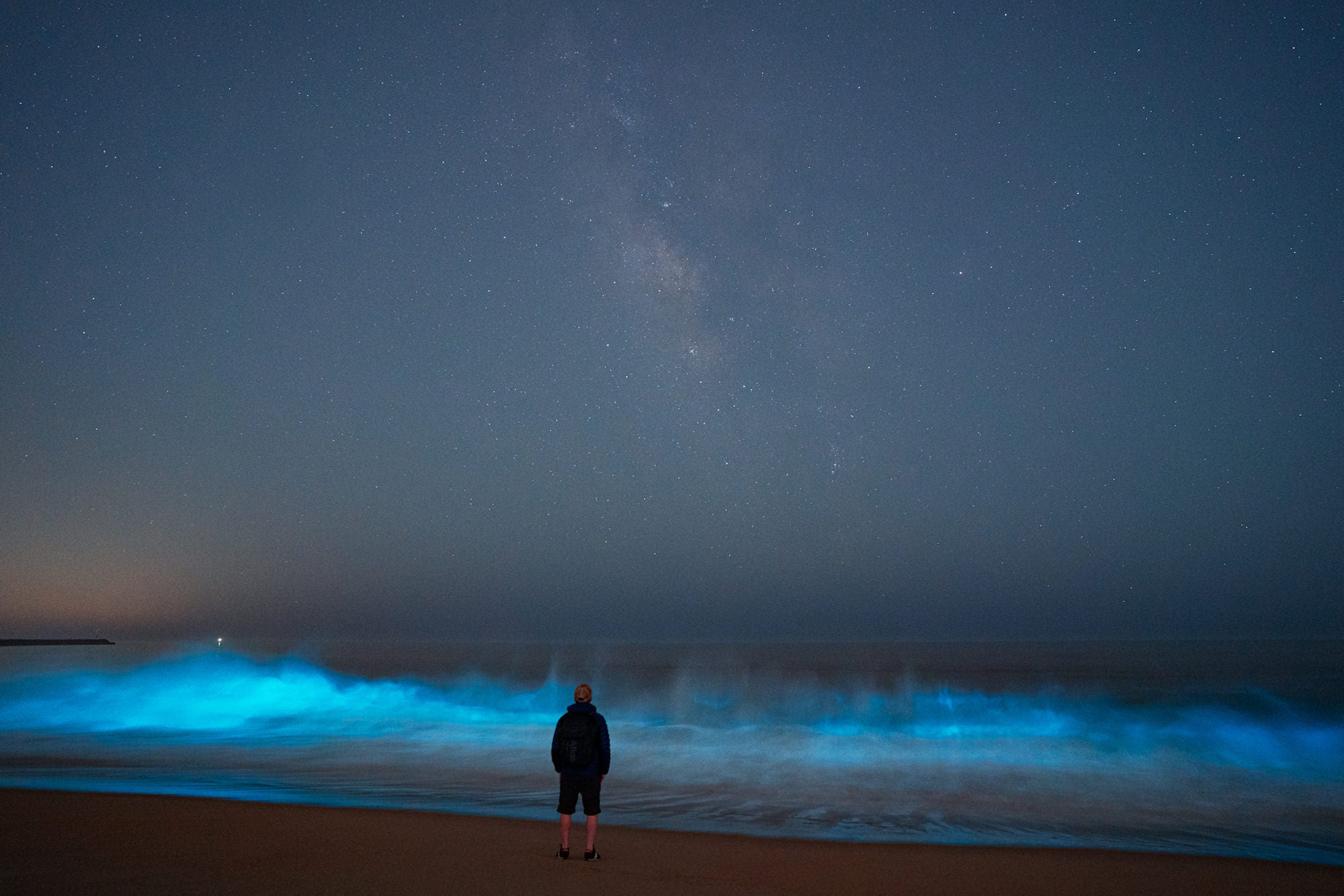 Sony α7R III. Sony 20mm f/1.8 G. 5-secs., f/2.8, ISO 6400
Day 2
"After playing around with those different shots the first night, I started to feel comfortable with the settings and set out a few nights later to try something more creative. I knew that there was a rocky coastline I could go to and I used the app called Photographer's Ephemeris where you can find the landscape and see where the Milky Way is. It's a great tool for outdoor photographers to plan their shots. The waves were big this night and with the rocks I knew there would be some great activity. I went out around 2:30 in the morning when I was the only one out, so it was social distancing to the max."
"I took these photos with my α7R III and Sony 55mm f/1.8. I wanted to get that explosion of the glowing waves on the rocks with the Milky Way, and so I chose the 55mm f/1.8 to get the compression of the Milky Way behind the rocks. Also the tide was so high that I couldn't go wide or I would be in waist-deep water. There's a lot of light pollution coming from Laguna so I used a filter called a Hoya StarScape that eliminates sodium vapor produced by city lights. When you're facing south from the Newport Coast you can kind of see that glow from Laguna Beach and it interferes with the core of the Milky Way so that filter makes a huge difference."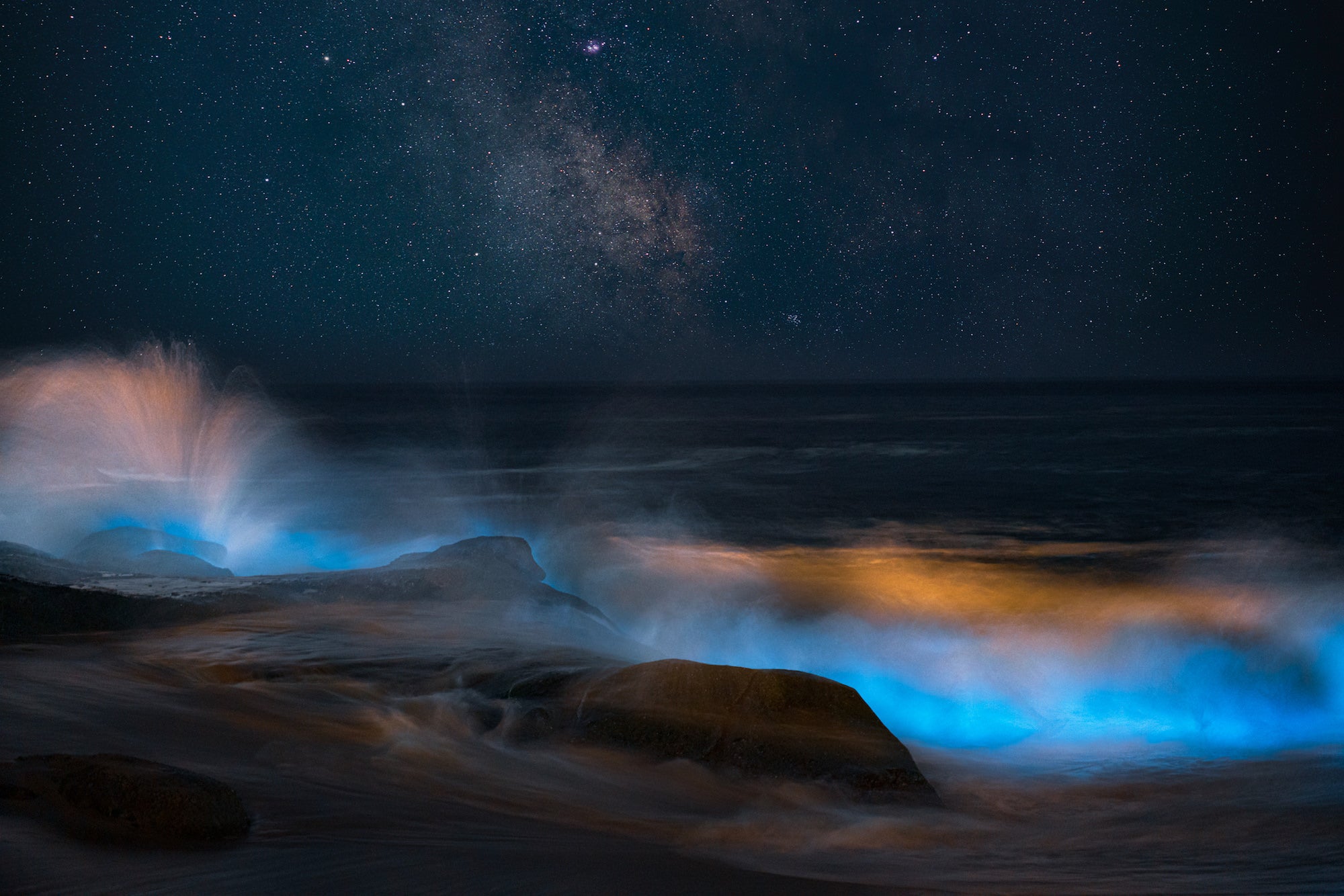 Sony α7R III. Sony 55mm f/1.8. 2-secs., f/2, ISO 6400
Moniz wanted the shot to have as much movement as possible, but without looking too milky. He was using the intervalometer function on his α7R III and landed on an exposure time of 2 seconds at f/2 and ISO 6400. It took him a couple of hours because each time a new set would come in he would start the timelapse function to take 5 or 6 shots and then stop it. He had to do this because he knew if he kept hitting the shutter button with this finger the camera shake would ruin the shots. He also had his white balance set on incandescent.
"I took about five images and stacked them for noise in Photoshop. I knew going in that the Milky Way wouldn't be quite strong enough for the camera to fully pick up, so I would have to combine images. I auto aligned them in Photoshop and to get the look I wanted. It's a shot I've wanted to get for so long – even without the bioluminescence! Just to get the Milky Way alone at that beach is almost impossible. Everyone went out after I posted that photo and it was too foggy. It's all about timing and doing your research on the weather, the light and the surf. To get it with the bioluminescent waves took it to another level."
White shooting these photos Moniz also captured some footage of the stars and waves with his Sony α7S and a combination of the Sony 55mm f/1.8 and Sony 24mm f/1.4 GM lenses. He compiled some of his favorite clips into this video.
Day 3
The next time Moniz went out he was ready to take his creativity a step further. This time he was actually going to go into the water at night with his α7S II and 24mm f/1.4 GM and an Aquatech Water Housing to capture the glowing waves against the night sky from within them.
"Surf and astrophotography have definitely shaped the creative I am today. It wasn't until this night that I found out that combining both these worlds could produce such extraordinary and unique images. When I went out again at 2am under the moonlight, the surf and bioluminescence were just on another level. I captured this crazy photo inside of a barrel that is a dream shot come true. Utilizing the unsurpassed clean ISO capabilities of the α7S II, I was able to crank up the ISO to 10,000 while capturing these images at 1/25-sec. It's truly astonishing how well this camera picked up that electric blue bioluminescence while even capturing a few stars in the night sky. This will forever be a memory forged in time."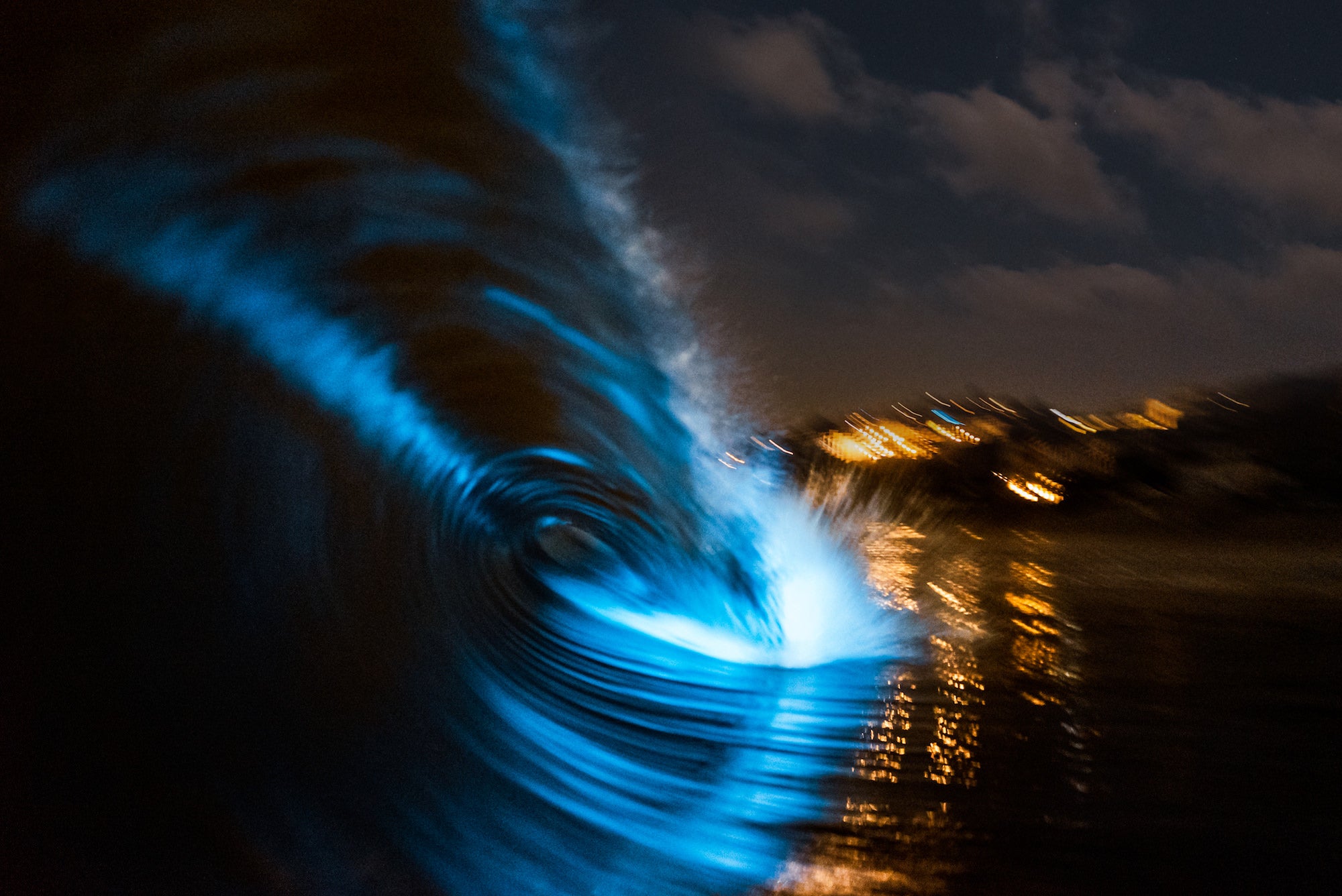 Sony α7s II. Sony 24mm f/1.4 G Master. 1/10-sec., f/1.4, ISO 10000
Moniz also recorded video footage on this night and compiled it together to show off the glowing waves from all angles, inside the water and out.
"Having a firm grasp on the art form of surf photography and filmmaking, I wanted to bring back imagery from this amazing natural phenomenon from in the ocean itself. Words can't describe where this experience of a lifetime took me that night. I seriously felt like I was on another planet! With nearly a full moon on hand I knew my best bet to bring back epic clear 4K footage was with the α7s II armed with the faster lens I had on hand – the Sony 24mm f1.4."
"Cranking the ISO up to 32,000 and shooting with a constant open aperture of f/1.4 I locked focus on the stars above to maintain a consistent focus. Lastly and most importantly I sealed my camera off in my Aquatech α7 Water Housing and off I went. An unforgettable session that lasted from 2am to the break of dawn."