As we roll into 2020 AlphaUniverse.com is taking a last look back at some of the best of 2019. The Sony Alpha Imaging Collective is known for pushing limits and creating images that show their unique perspectives, and they certainly held up that reputation throughout 2019. We wanted to hear more about their work from the past year, so we asked them to choose the image from 2019 that was most meaningful to them. See the photos that some of the members chose below and the story behind what makes each so important to the photographer.
In the first of two articles, AlphaUniverse.com is taking a last look back at some of the best of 2019. We're showcasing the best photos from the Alpha Imaging Collective and why each was so meaningful to the photographer.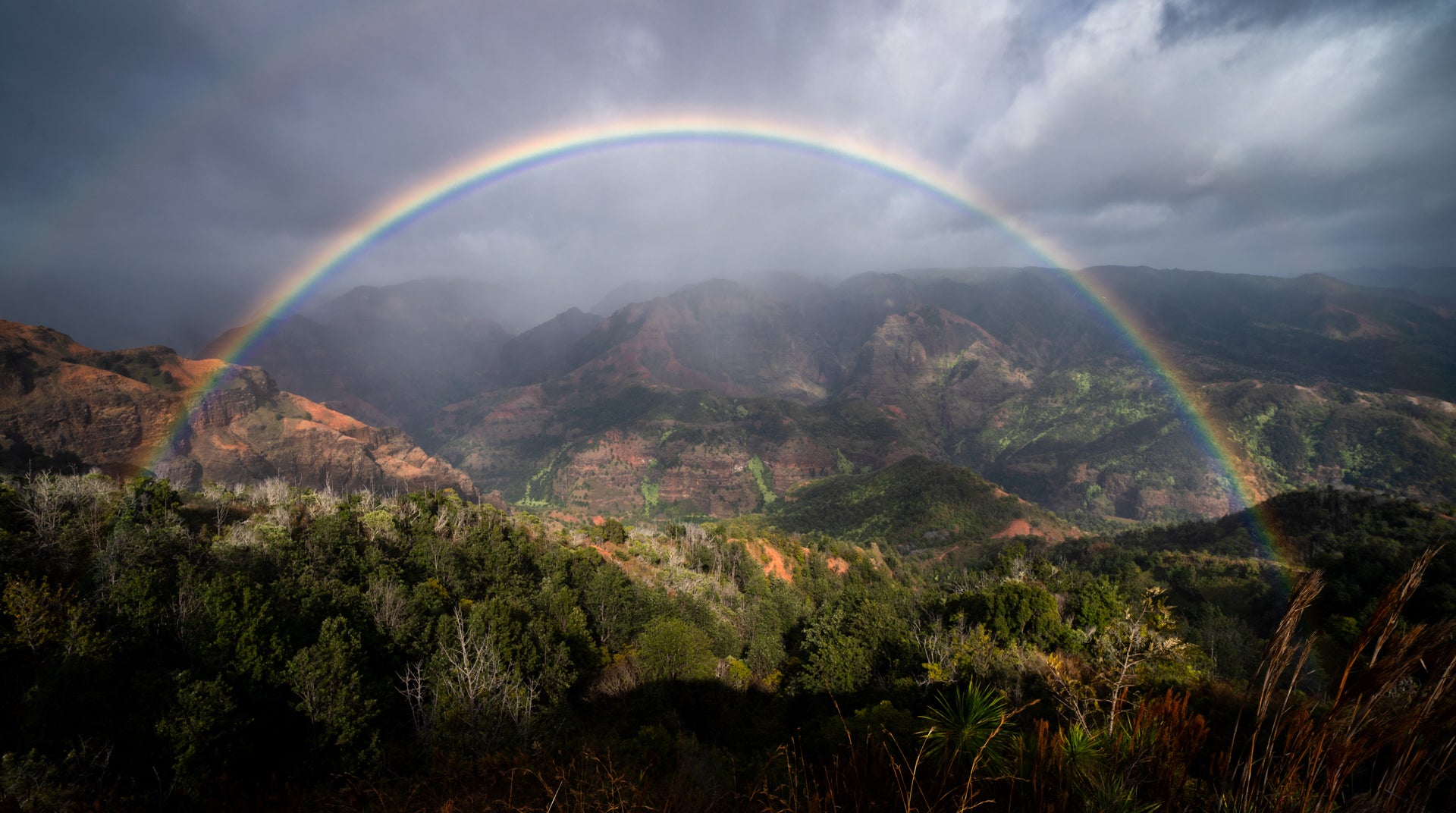 Sony α7R III. Sony 12-24mm f/4 G.
"We were in Hawaii with the #BeAlpha Challenge winners. We drove up a mountain to get incredible views but soon realized that plan changed due to cloud and rain. We decided to drive down the mountain below the clouds to see if we had any other opportunity for any shots below the clouds. We pulled off to the side of the road and hiked in a little to find this massive rainbow unfolding before our eyes. Sometimes the backup plan is the shot. This was a key reminder that patience is critical in photography or film. Sometimes something not working out is meant to be and actually leads you right where you are supposed to be."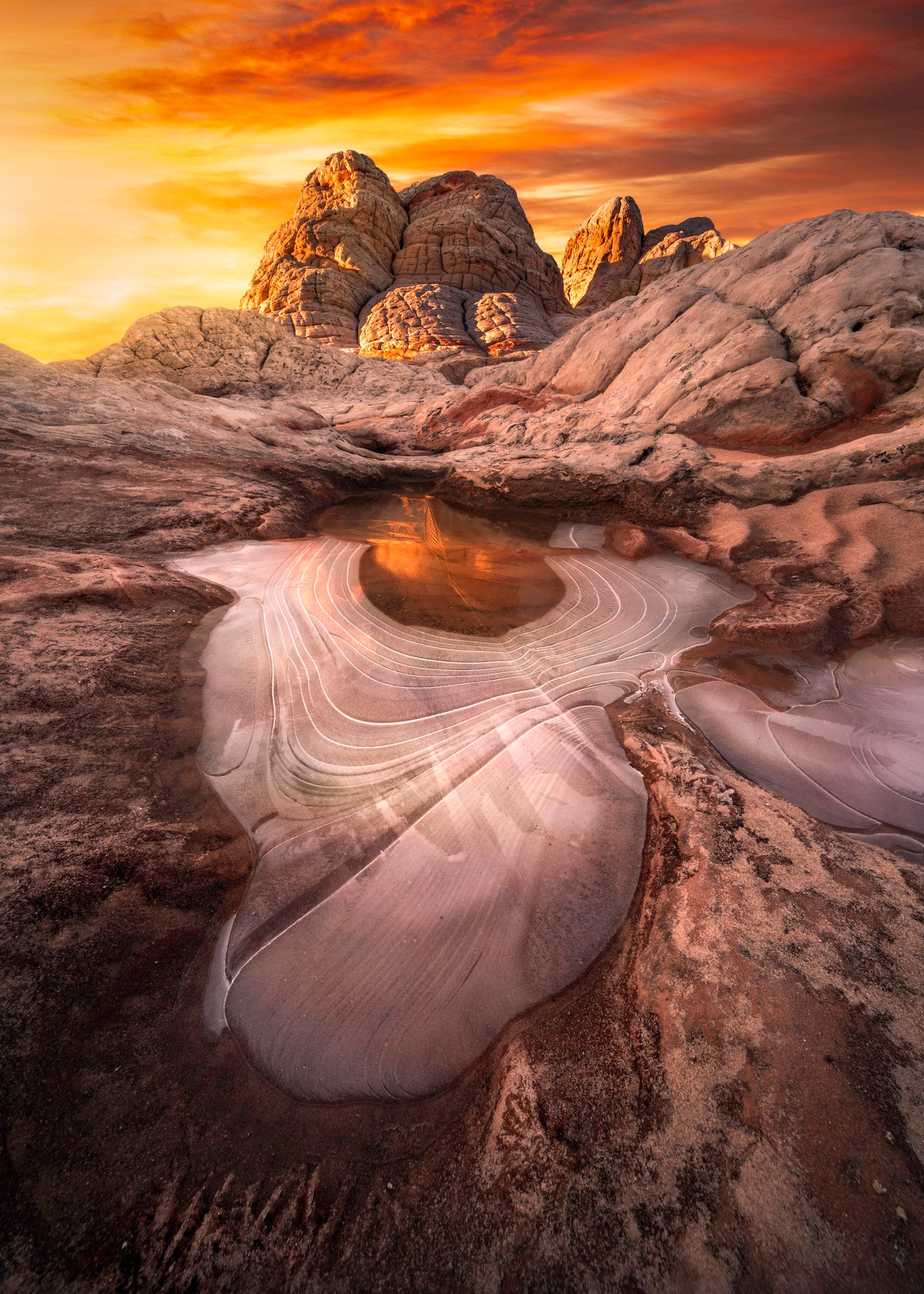 Sony α7R III. Sony 12-24mm f/4 G.
"After camping overnight in freezing temperatures, I headed out in darkness to capture sunrise. After taking a few other shots I started heading back to the car and walked by this amazing ice pattern in the sand, I scrambled to grab this shot before the light got too bright. I had been watching the weather for months to get just the right conditions in this location. After waiting out a storm that lasted three days, I finally got the opportunity to drive out to this remote location. It was so special to be able to capture this spot with such unique ice patterns, and who knows if I will ever see this rare phenomenon again!"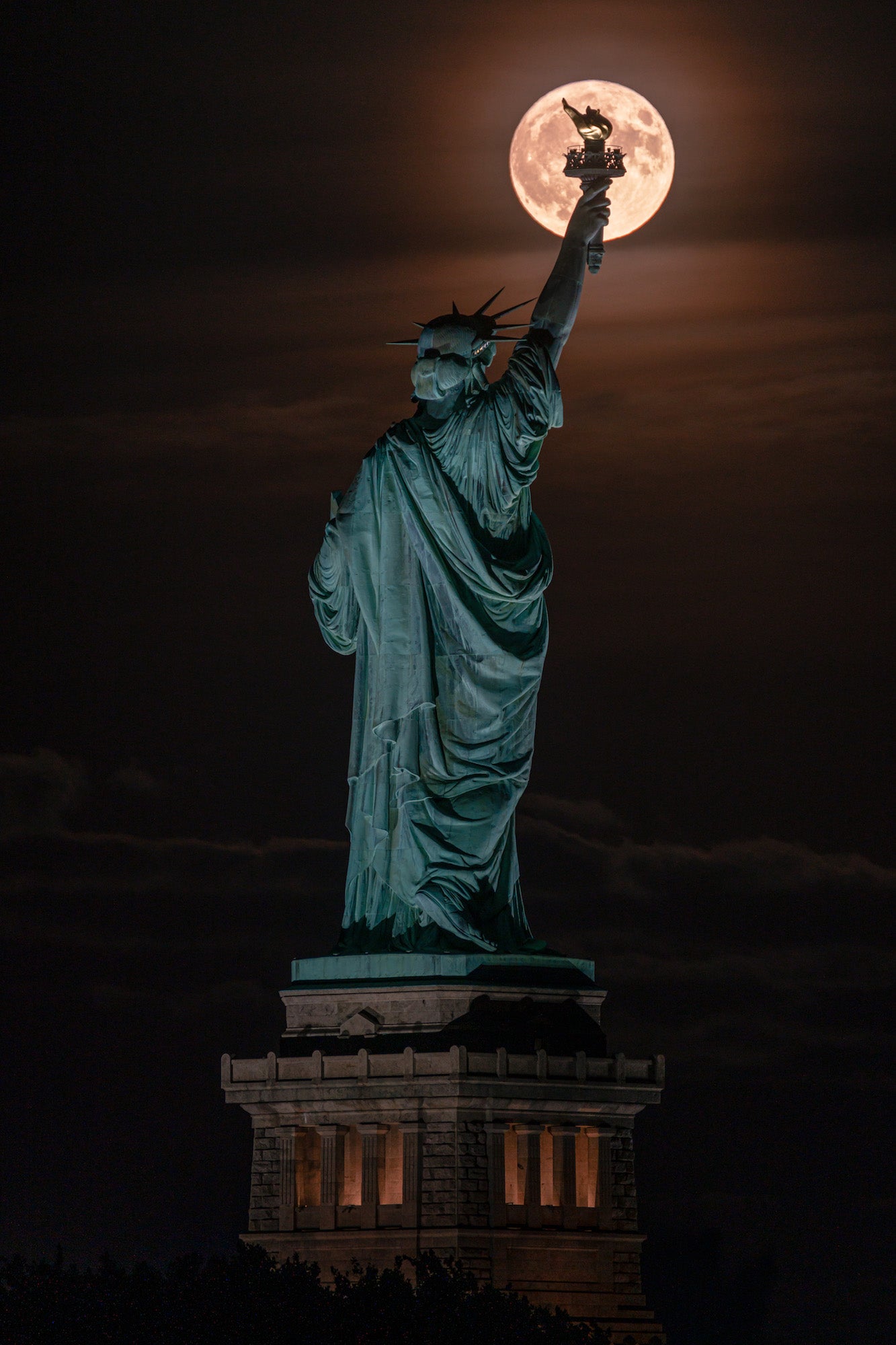 Sony α7R IV.
"When the moon or sun lines up with such iconic landmarks as the Statue of Liberty, it is always a crowd pleaser for the NY photography community. I've wanted to get this shot for sometime now. I use an app called PhotoPills to plot and schedule when such instances occur. I had plotted the location and time of when the moon would rise. The only concern was the cloud cover and whether we would be able to see the moon or it would be obstructed. At first the clouds were thick and covering the sky but as the time approached they cooperated and allowed me to get the shot. The moon rises pretty quickly so you have to move around continuously to make sure you have the line up correctly. It was a fun night as there were a large group of us there and constantly shifting to make sure we got the line up we wanted."
Dan Marker-Moore (@danorst)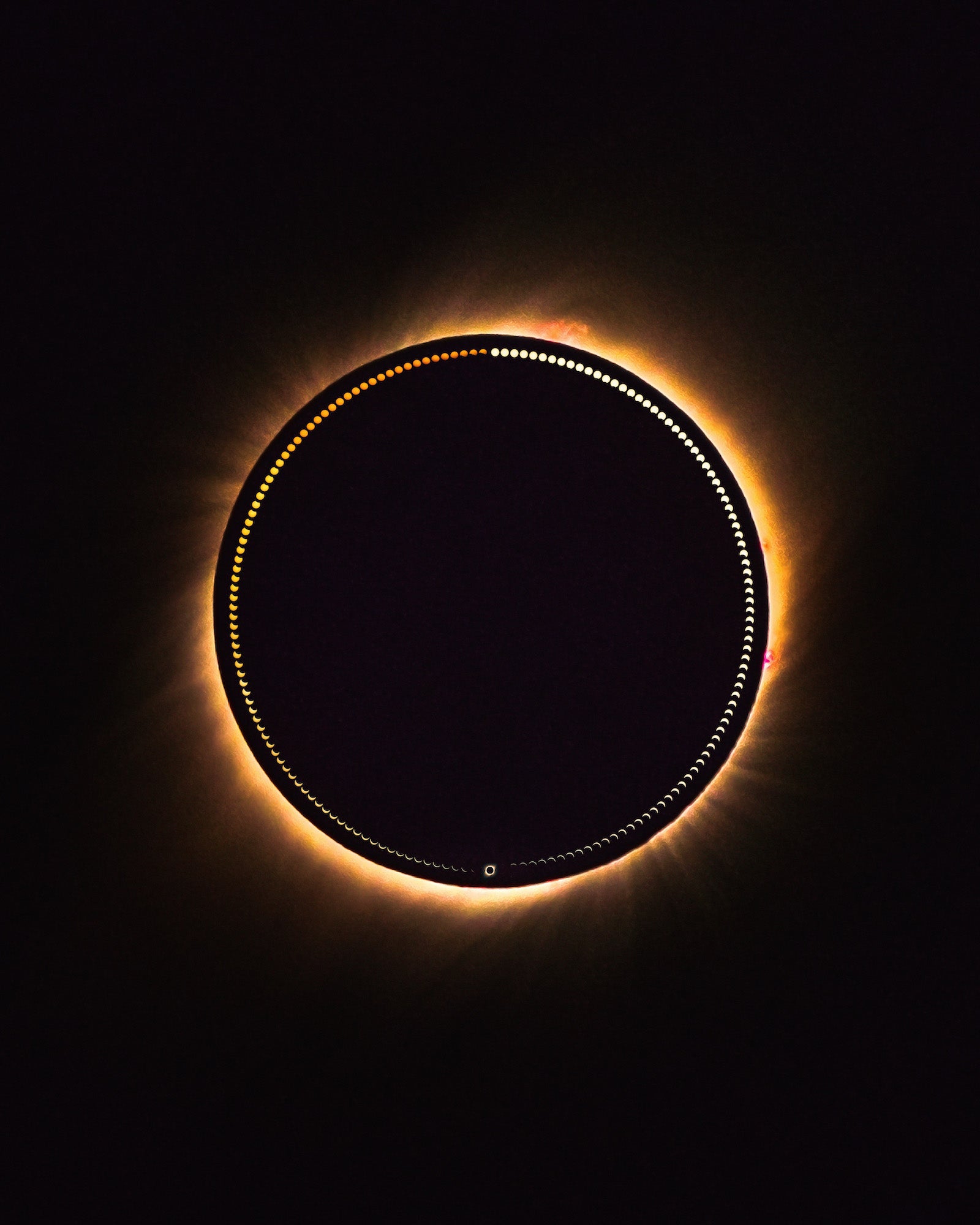 Sony α7R III. Sony 100-400mm f/4.5-5.6 G Master.
"This shot is a composite of photos taken of the total eclipse taken in Chile 2019. Totality is seen in the rim and inside are the stages from before the eclipse until sunset after the eclipse. It was the culmination of a long journey and a mountain of post work." (You can see the staggering collection of gear Dan Marker-Moore took with him to shoot timelapse, stillls and 4K video when he and fellow Alpha Imaging Collective member Mike Meyers (@mmeyers76) journeyed to Chile for the eclipse HERE.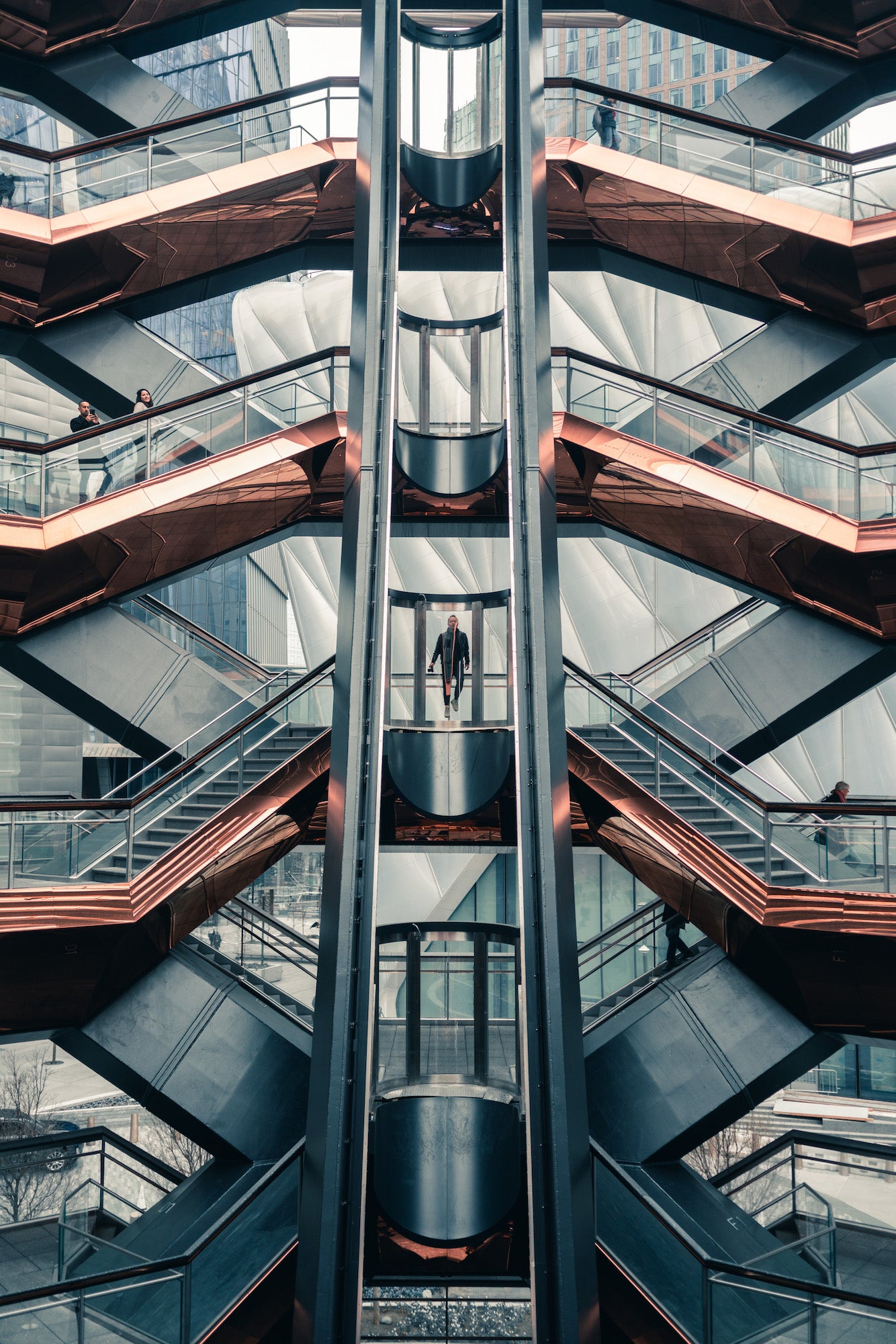 Sony α7R II. Sony 35mm f/1.4.
"It was the start of 2019, and my friend suggested we go check out the then-new Vessel at Hudson Yards. What I loved the most were the beautiful architectural lines created with metal that evoked an out-of-this-world feeling (thus, the name) as you walked through the structure. I told my friend Yuxi to Stand on the other side of the Vessel and levitate where the elevator door was. We took two shots and this was the one I liked the most. I love architecture, and have always loved to incorporate it into my images. When the chance to shoot at the Vessel came up, it was a chance to celebrate great surrealist architecture through my photography in a way that made it be the most important story conductor in the picture."
Autumn Schrock (@autpops)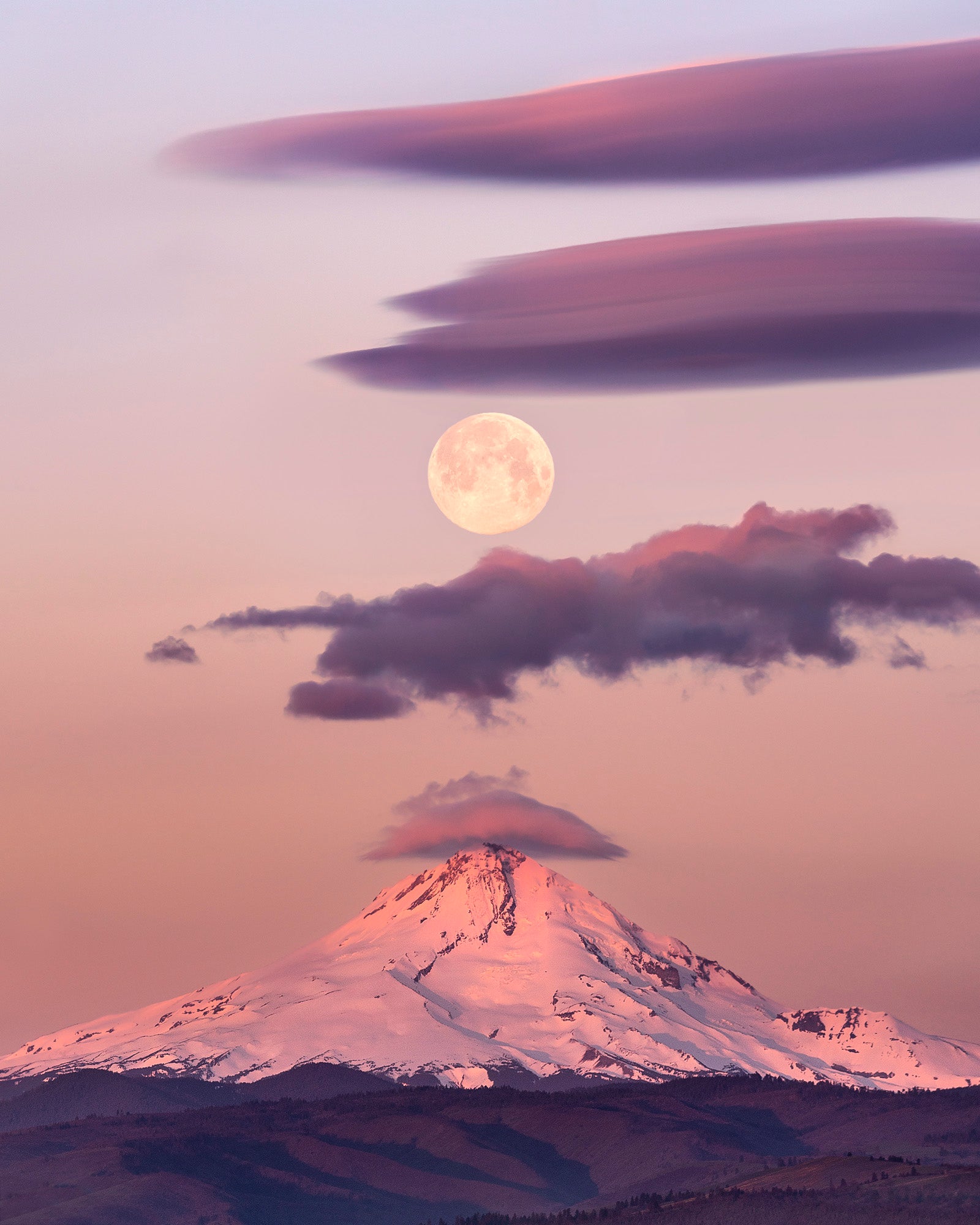 Sony α7R III. Sony 70-200mm f/2.8 G Master.
"I hadn't actually planned for this photo to happen when I set out on a shoot, I was just in the right place at the right time. I discovered that the moon could align over Mount Hood the night before, so I set an alarm for sunrise. I captured an exposure for the mountain and an exposure for the moon and combined them in post. As I sat and watched the alpenglow kiss the summit of Mount Hood, I knew that I was witnessing something incredibly special."
"The moon has always been remarkable to me, but it's become an extra special subject in my work over the past few years. It reminds me that there is more out there than my familiar surroundings, and it's helped to give me a new perspective on many aspects of my life. This photo in particular helped push my career along this year and has become my most well-known photo."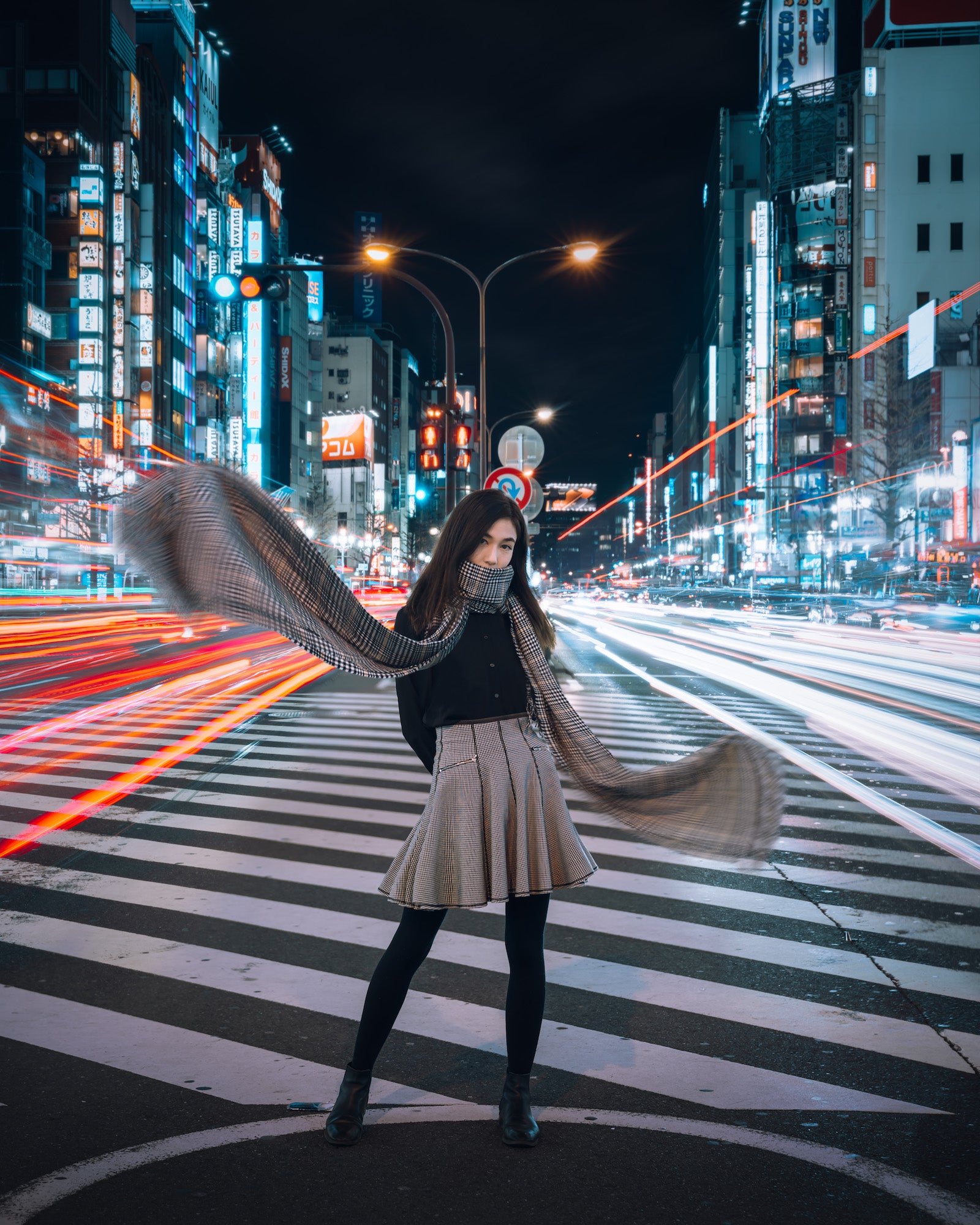 Sony α7R III. Sony 24-70mm f/2.8 G Master.
"This was taken during the #AICdoesJapan trip. In order to take this shot in Shinjuku, I had to set up a tripod to capture multiple frames for post-composition. I manually focused on her and photographed her three times (one standing normally, one holding the scarf up, and one holding the scarf down) while the crossing was empty and then took several shots thereafter of cars and buses driving past. I composited all the photos together in post. I've been wanting to experiment with more light trail shots with people in them. I had always wanted to shoot in the streets of Tokyo and I originally planned for a simple standing shot, but she had a scarf that we were able to work in. It's invigorating to experiment with new photography techniques and better when others are willing to experiment with me even if it meant looking silly."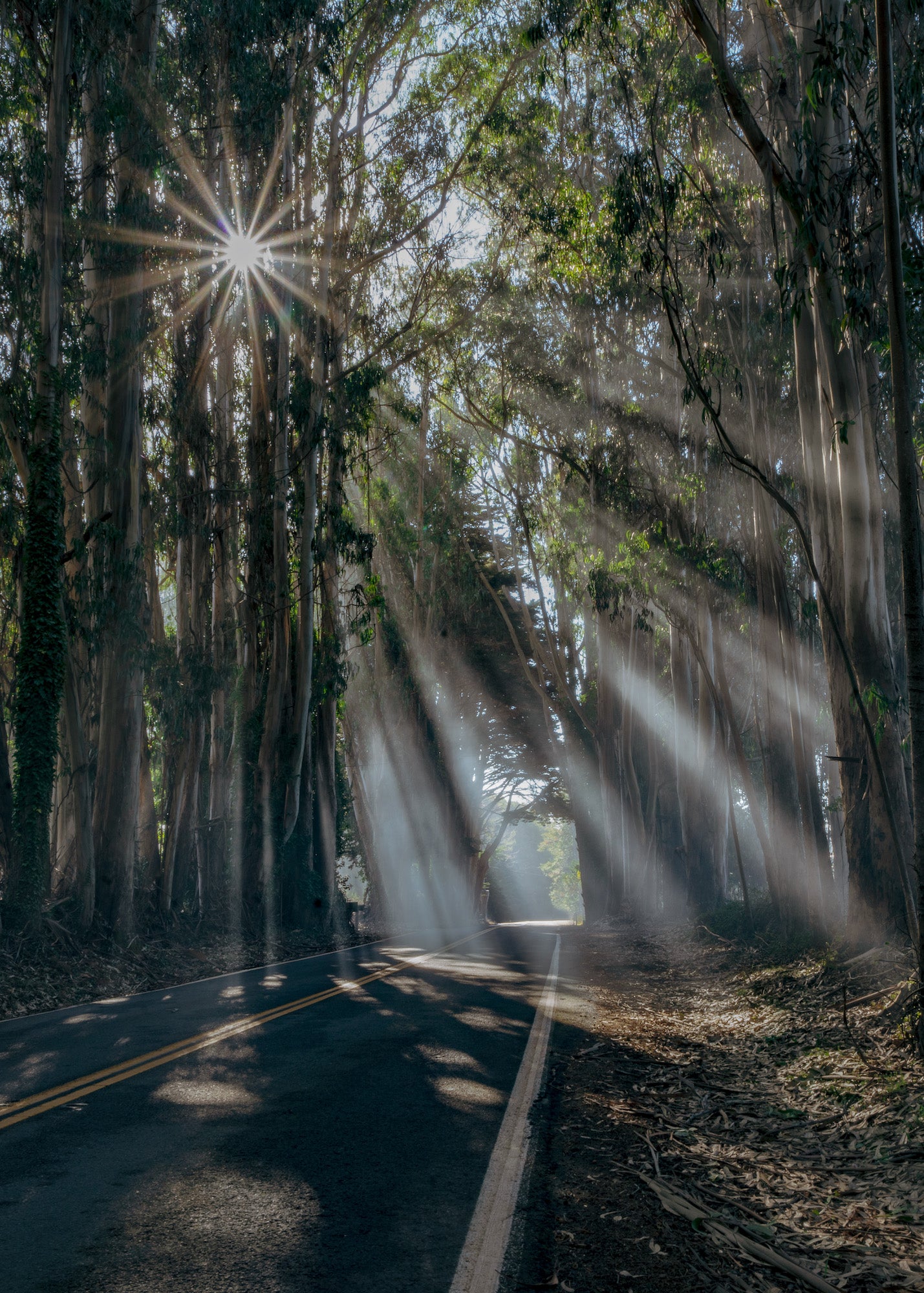 Sony α7R III. Sony 12-24mm f/4 G.
"Fort Bragg is where my wife and I go when we need relief from my wife's cancer journey. It is our sanctuary. We were driving up Highway 1 when we saw the light rays coming through the trees. The rays enlightened us. It was as if nature was saying it's going to be OK."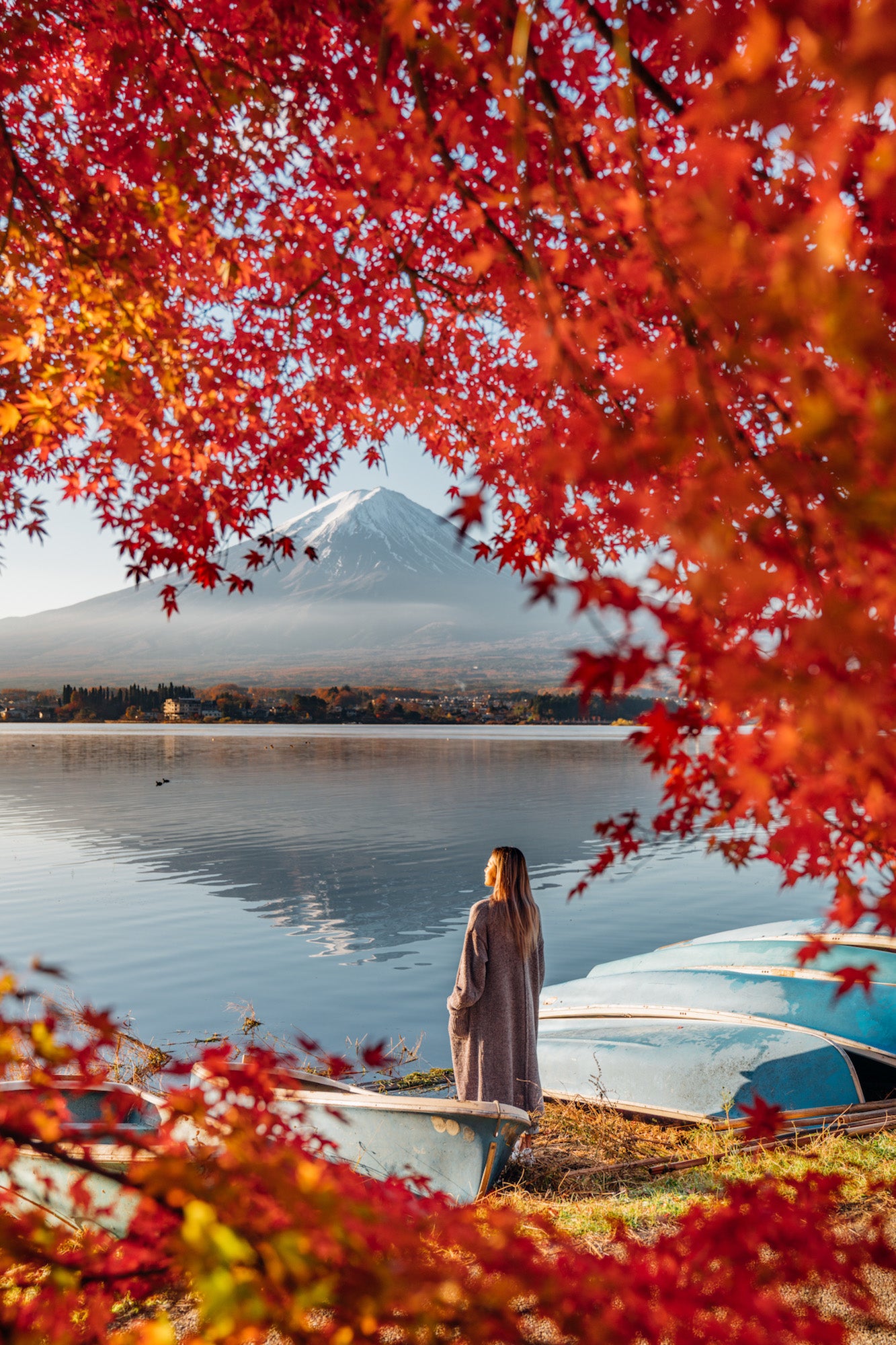 Sony α7R IV. Sony 24-70mm f/2.8 G Master.
"Driving around Kawaguchiko in Japan in search of the perfect maple tree, we came across a small, but fully vibrant tree at Lake Oishi. The morning was cool and brisk, and Mt. Fuji was fully visible. I wanted to capture everything that inspired me to travel to Japan which were Mt. Fuji, Fall, my wife, and the lake. It all came together here in this frame. This is a shot i have envisioned for over two years and the reason we traveled there. It's always special when you get to share that experience with a loved one."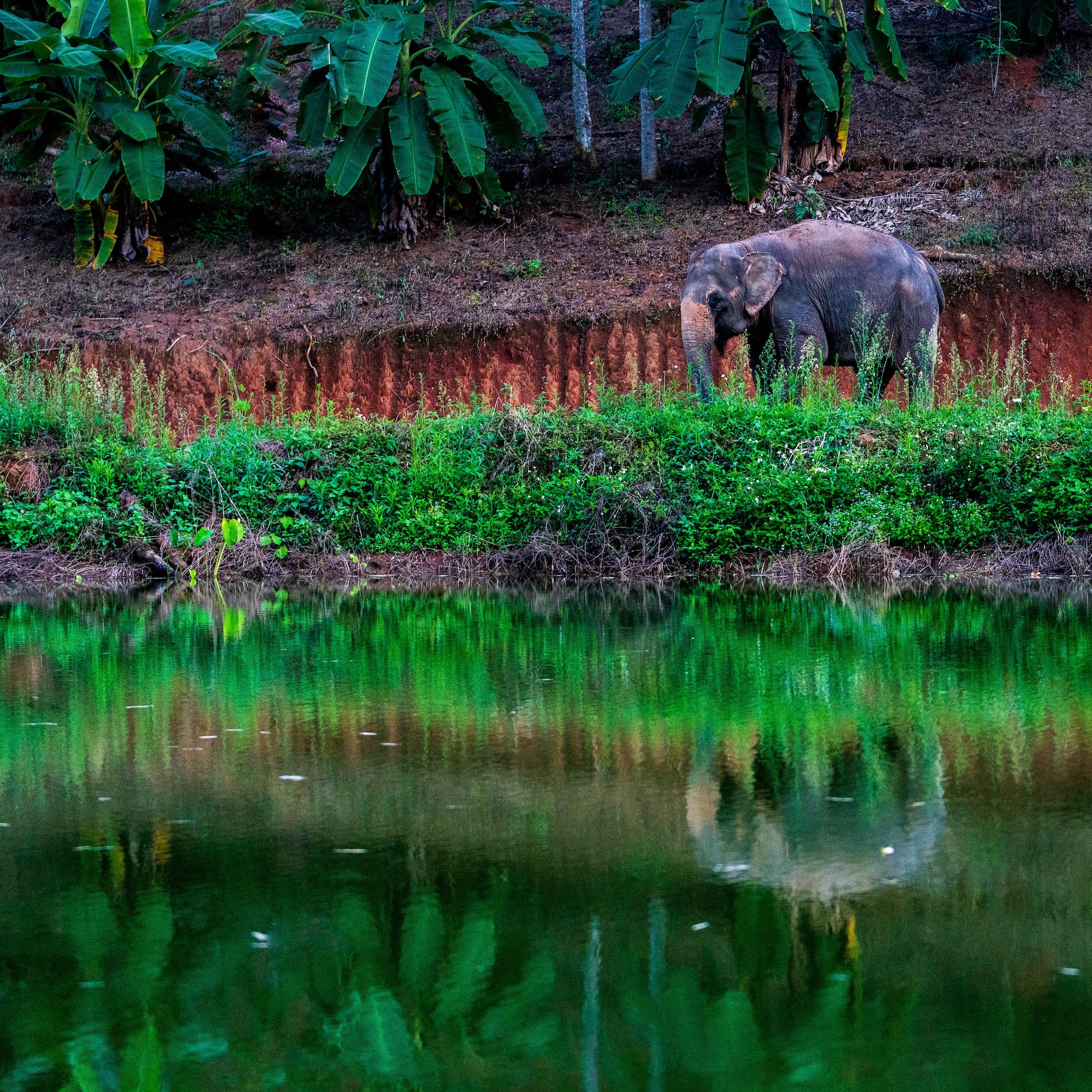 Sony α7R IV. Sony 70-200mm f/2.8 G Master.
"I had another shot in mind as I watched this elephant walking off in the distance, but I felt like there was a better shot to make down by the water. The light was disappearing almost as fast as this elephant was walking and the window of opportunity that I had to capture its reflection in the water alongside the path. I decided to leave my original spot and risk getting no shot at all as I ran down the hill to the water's edge. It was darker by the time I got down there, but I didn't have to raise my ISO too high because of the fast 2.8 aperture in the lens, and confidence that I could recover most of the details in the shadows in post-processing. This photo was made possible because of the powerful tech I had in my hands to capture the moment that day as I changed my approach. I use gear I trust to deliver in any situation, so I can focus on the composition and story I want to tell which is most important to me."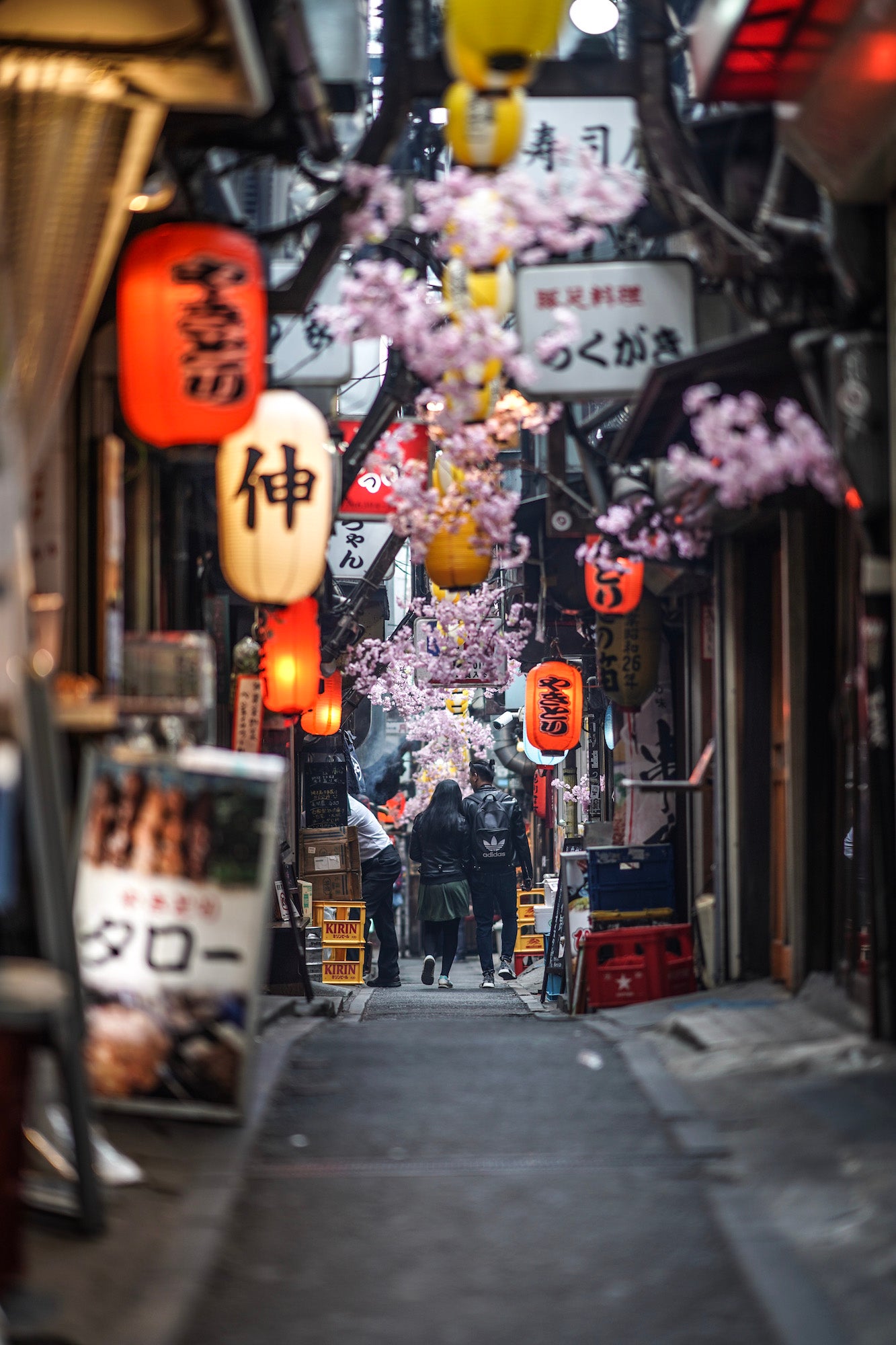 Sony α9. Sony 85mm f/1.4 G Master.
"I was roaming Tokyo with the Alpha Imaging Collective. The alleyways are accentuated by beautiful lantern lights which dangle from above, along with cherry blossoms. Standing at the end of one alley, I saw a couple arm-in-arm in the distance. I positioned myself as centered as I could, and chose a vantage point that I felt provided the best background while focusing on the couple in the distance. There was a soft, diffuse light penetrating from above and I appreciated the manner in which it accentuated the couple. Something about the diffused light and smokey alleys almost added an element of nostalgia, combined with the lanterns and cherry blossom decor which cradled the alleyway. The 85mm G Master lens at f/1.4 enabled me to capture the couple crisply, with the creamy, smooth bokeh of the alleyway, cherry blossoms and lanterns in the background. It was the beautiful background separation that I was seeking."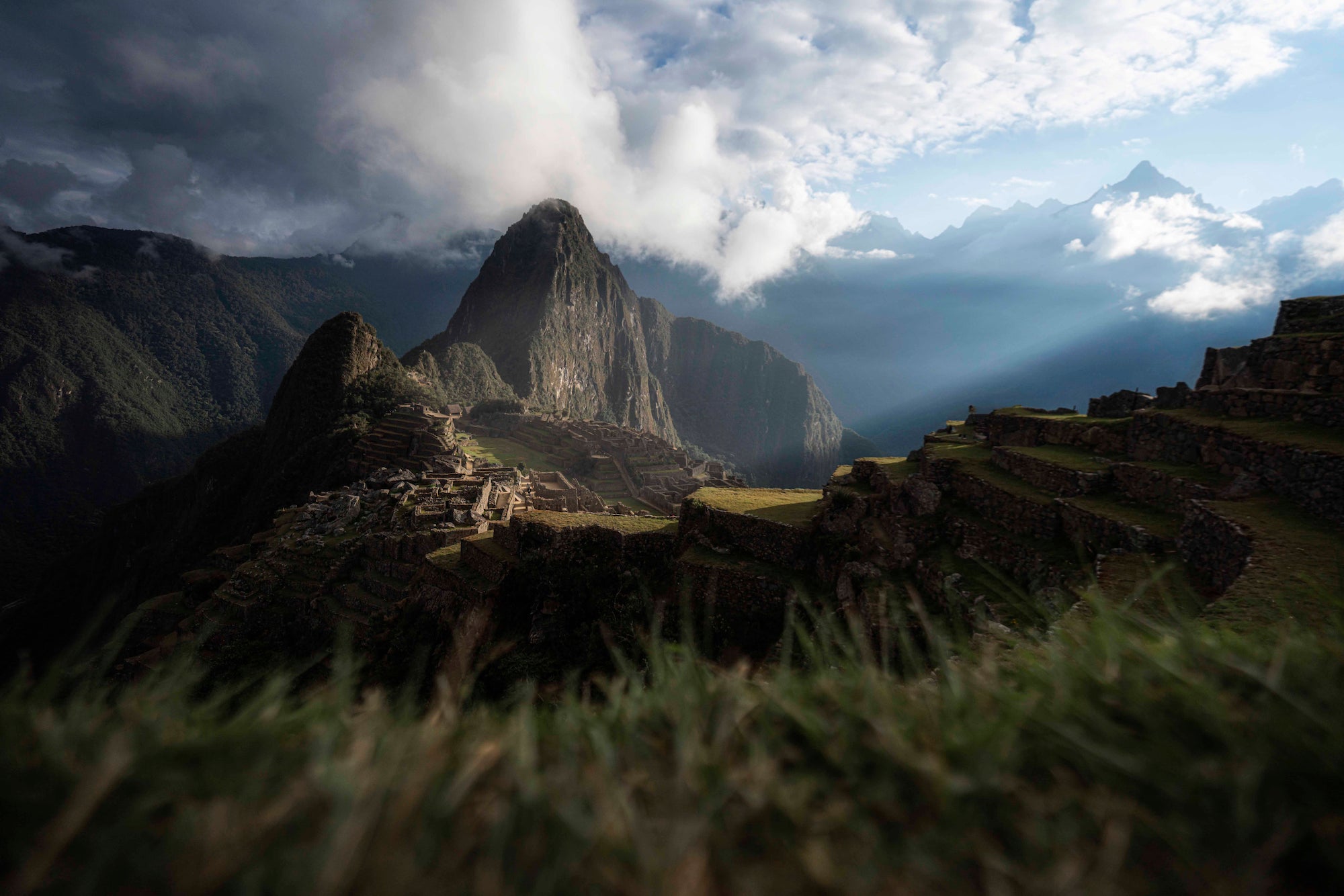 Sony α7R III. Sony 16-35mm f/2.8 G Master.
"Ever since I was a little kid, I always wanted to visit one of the great wonders of the world. So this trip to Machu Picchu was a huge bucket list check off item. I always see images of the same composition from this location however I rarely see it at a low angle. The foreground can add a lot to an image."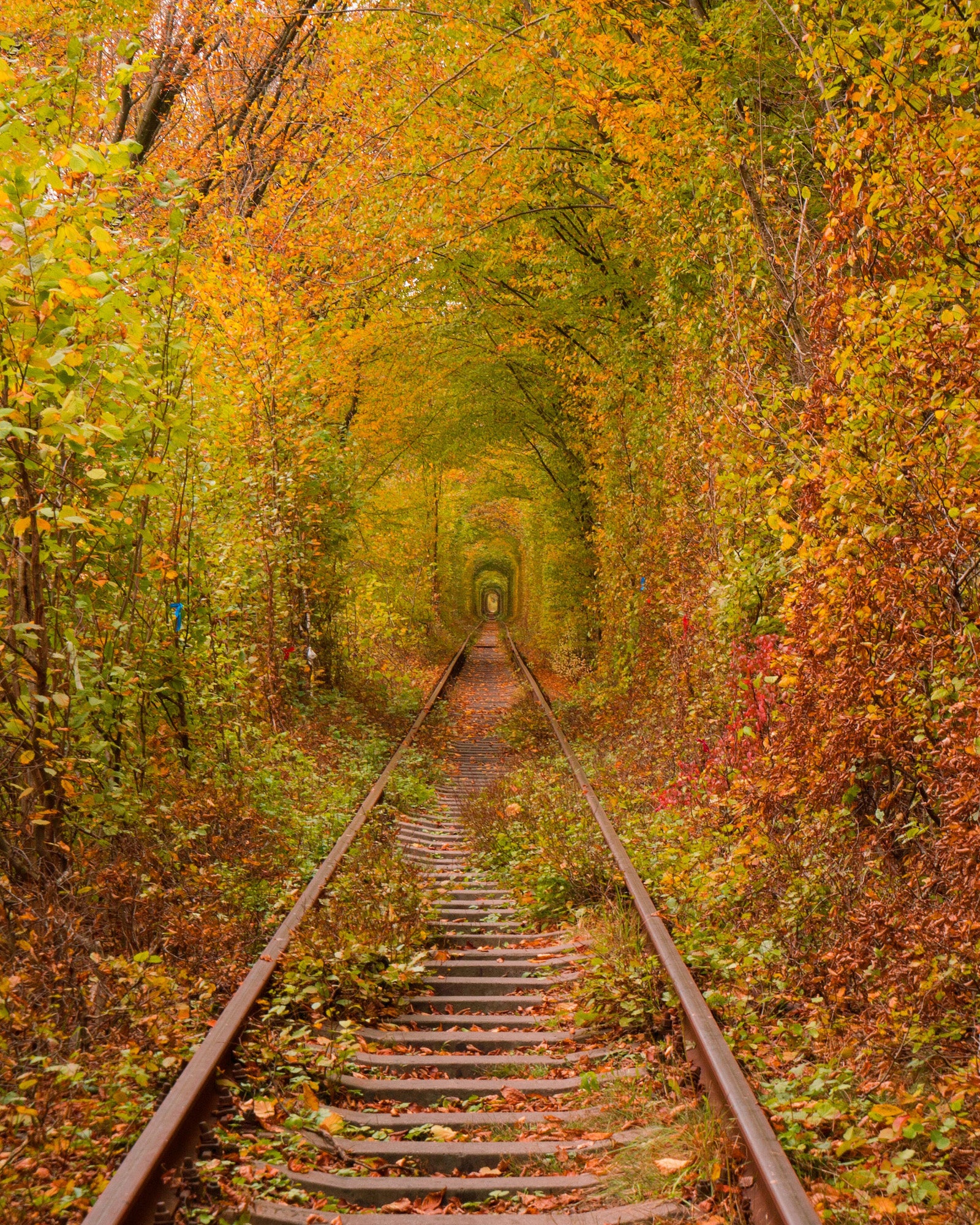 Sony α7R III. Sony 16-35mm f/2.8 G Master.
"From the capital of Ukraine, Kiev, I journeyed for two days on local buses and by foot to reach the tiny rural Ukrainian town of Klevan where this photo was taken of 'The Tunnel of Love.' This is a tree tunnel formed over many years by the passing of trains. Luckily, when I was there it was the peak of fall which resulted in stunning fall colors."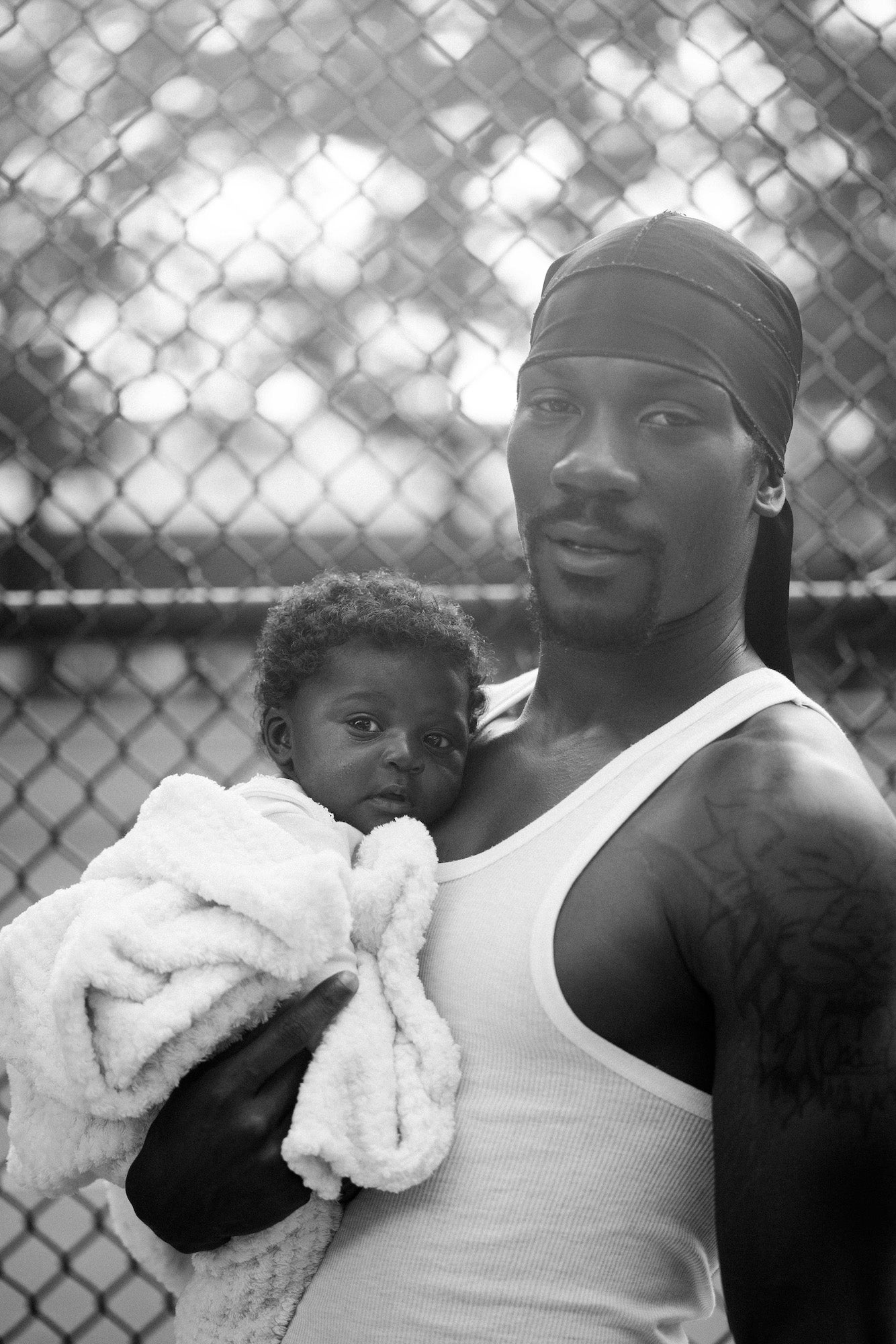 Sony α7R III. Sony 70-200mm f/2.8 G Master.
"Watching this father walk down the street with his family in my neighborhood, reminded me of the memories I had with my dad when I was a little one. I stopped him and told him it would be an honor if I take your portrait, and the rest is history. My family has always been my source of inspiration. So earlier this year when my dad suffered a massive stroke, it not only devastated me but my entire family. Photography became even more important to me, and what you can control."