Don't fear change, embrace it. Trying something new can easily lead to exciting and new perspectives that you otherwise wouldn't have had. Alpha Collective member Max Boncina (@max.bon) learned this on a trip to Morocco. Having never been there, he decided that it would make for a great destination for photography and a chance to try something completely new. Over the course of the trip, Boncina's goal was to test new boundaries, welcome new challenges and gain a new perspective through his photography. He attacked this goal by committing to an entirely different form of photography than what he's used to (Boncina is usually found delving into subway tunnels and other urbex environs) while also adding a new (for him) lens, a 16-35mm f/2.8, to his 55mm f/1.8 prime, and in a place he's never been. Essentially, Boncina was wiping his photography slate clean to see where he'd end up. Read more about his experience below.
"I am definitely no street photographer, but I welcomed the challenge. If I want to grow in my craft I know I can't restrict myself to one genre or style, but instead I should attempt them all." -Max Boncina
Sony α7R III. Sony 16-35mm f/2.8 G Master. 1/400-sec., f/4, ISO 100
The two women sat as they readied their wares. The azure tones of their djellaba, a long, loose robe, were a striking pop of color amidst the ochre hues of the North African homes. They hoped for a sale as the dawn light gently illuminated the streets of the Medina. I stood still and marveled at the street scene before me. Slowly I pointed my camera to capture it all. Yet the mirage suddenly vanished before me…the women had anticipated my movements and with alacrity they shielded their faces and torso with their cardboard sitting mats. I was stunned. My intention was never to focus on the women themselves, but rather to capture this quiet corner of Marrakech in its entirety. I realized I was a stranger to the norms of street photography in this exotic locale. My adventure was about to begin and I wondered; would I be successful in achieving my goal of street photography in Morocco?
A little background about me – I am an adventure seeker and my photography reflects that. From subway tunnels in Barcelona to abandoned nuclear plants in Belgium, I yearn for such experiences. On a recent trip to Morocco I realized I would be at a great disadvantage since I am not used to capturing the everyday scenes of city life. What do I know about the most challenging of all photographic genres? I am definitely no street photographer, but I welcomed the challenge. If I want to grow in my craft I know I can't restrict myself to one genre or style, but instead I should attempt them all. Even if I fail, at least I'll still learn something. I was further bolstered by my recent purchase, the Sony 16-35mm f/2.8 G Master. This versatile lens would be added to my arsenal for this trip, which already consisted of the Sony 55mm f/1.8 and the Sony α7R III.
My hotel was in the very center of the Medina. The urban development was over 1,000 years old and an amalgam of cultures, colors and sounds. From calls to prayer, to mopeds zig-zagging in between pedestrians, to smells of argon oil, to the bluest of blues, this was sensory overload for this native New Yorker. I felt joyously overwhelmed. Once I discovered the hotel rooftop, I saw it held the most sublime vantage point over the city. I first tried the wide angle 16-35mm, but it just made all the buildings look minuscule. The scale was completely off, so I switched to the 55mm. I used the Rule of Thirds to place the most compelling structure, Koutoubia Mosque, off-center and in the left space of the frame. I smiled. Is there any better feeling than when you know you "found" a great shot? The photo now told a story, evoking a rooftop scene from Aladdin or maybe Arabian Nights, you tell me…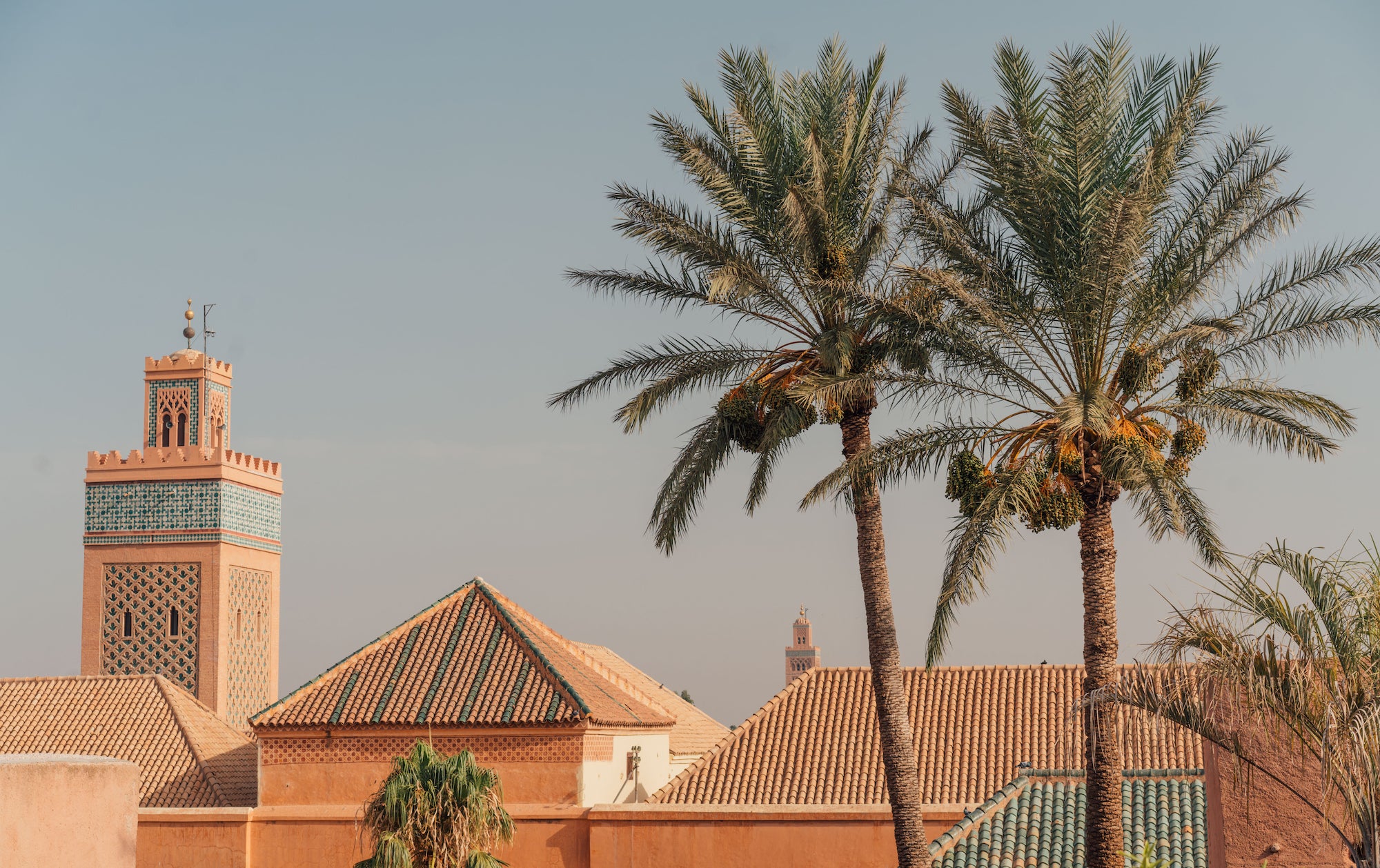 Sony α7R III. Sony 55mm f/1.8. 1/500-sec., f/7.1, ISO 100
With no backpack, only my α7R III in hand and a sling bag for the smaller 55mm, I was now ready to explore at ground level. I set forth with no plan, just a vague sense of some landmarks. This in direct opposition to the abandoned locations I photograph. Only through meticulous research and reconnaissance prior to the shoot can these missions be successful. In urbex photography poor planning can lead to dangerous outcomes far worse than just bad photos. I turned away from the hotel and towards the Koutoubia Mosque. A few alleys later the tourists had melted away. I was ready for the "Red City" to unravel its secrets and treasures to me. I slowed my walk and waited. Along came a wizened man with his traditional garb. I followed him and saw he was heading through one of the ten historic gates or "Bab". A fellow citizen was walking in our direction. I let her pass, not wanting anyone else in the frame. He was the star. I opened the aperture to put the focus on him.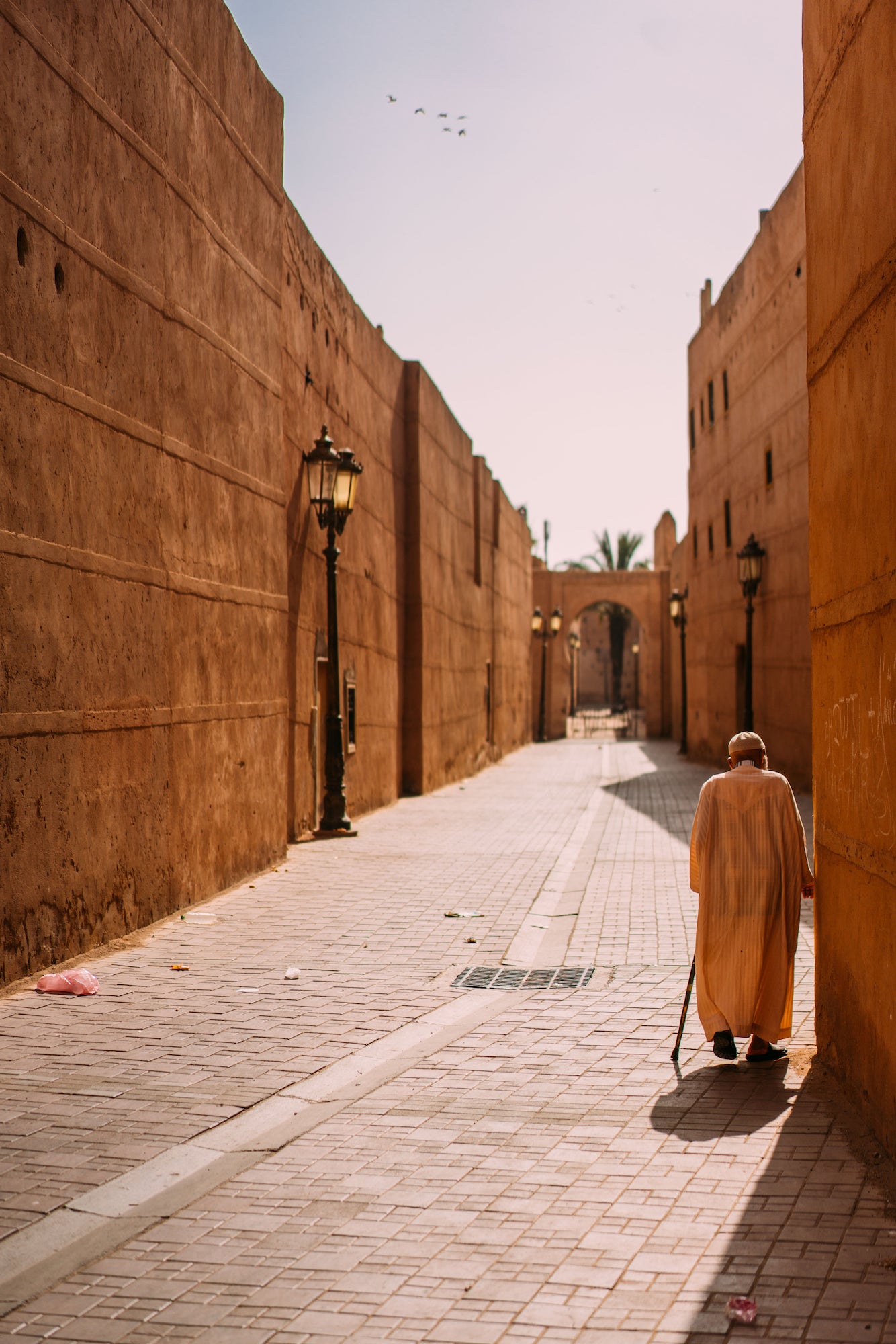 Sony α7R III. Sony 55mm f/1.8. 1/8000-sec., f/1.8, ISO 100.
As night fell, I returned to my rooftop sanctuary. I had remembered how on one side of the roof was a view of the authentic, raw part of the old town. Few tourists here, just the locals, their shops and the narrow winding lanes. The din of the day had subsided and I could even hear distinct words from my perch. The thick darkness spread like ink. The only beacons of light were the storefronts. I decided to use their light as my "flash". Needing only the perfect subjects, I waited. Patience was once again my best friend. The Sony α7 is famed for its low light prowess. Fully confident, I opted for no tripod. I wanted to feel the camera in my hand. Furthermore, I knew I had be quick and decisive with that trigger. I pushed the ISO to 1,000 then 1,200 then 1,600 to balance the shutter speed. I wanted the passersby to be frozen, no blur whatsoever. To aid me further I set the speed to Continuous Hi+ on the drive menu. At 9.18 frames per second, nothing would escape me. As the two friends walked arm in arm, I let the shutter fly.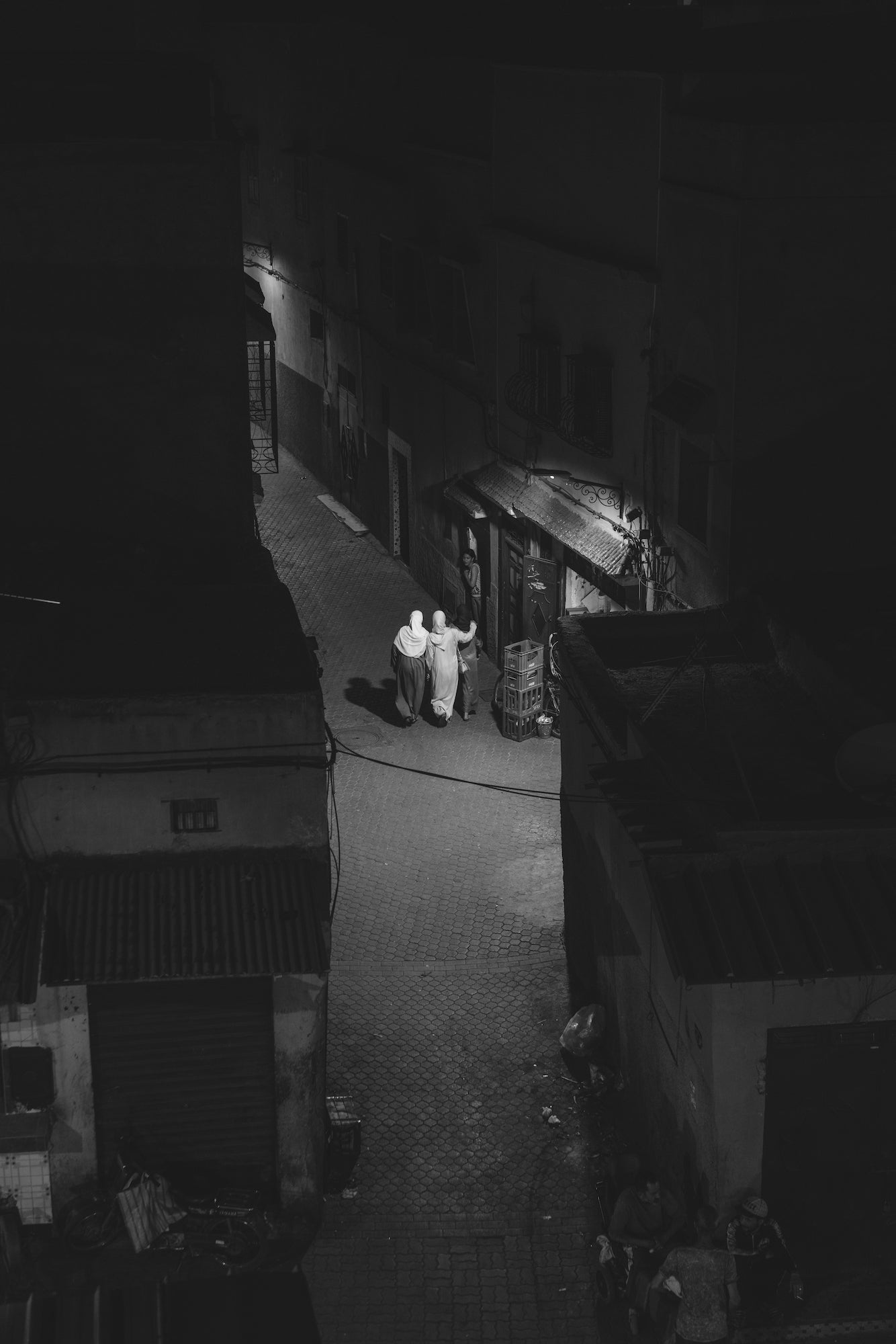 Sony α7R III. Sony 55mm f/1.8. 1/40-sec., f/2.8, ISO 500.
A friend had offered to take me outside of Marrakech for a day trip to the beach. As we drove along the local highway, I turned and yelled, "Stop!" One does not see a "Goat Tree" every day. Yes, a "Goat Tree". Evidently the goats around these parts are attracted by the fruit produced by the native Argania tree. They climb and precariously stand on the branches, delighting in the savory bounty. I soon realized that the 55mm lens will not capture the story here effectively. I switched to the 16-35mm G Master lens. If I had to choose one Sony native lens, this is the one for me. I think it's the ultimate lens: super wide, crisp and with great bokeh. And for this shot I needed its corner to corner sharpness and high resolution. There were goats everywhere in my frame, center, left, right, top, bottom, yet the sharpness did not waver. As I walked away, I was surprised to see the goat herder approach me. I realized that he wanted a tip. My New York mentality made me pause but then I realized that this hard working farmer deserves some monetary compensation. After all the shot was priceless. So I learned to abandon my mindset from home and adapt when in a foreign country and learn the cultural norms.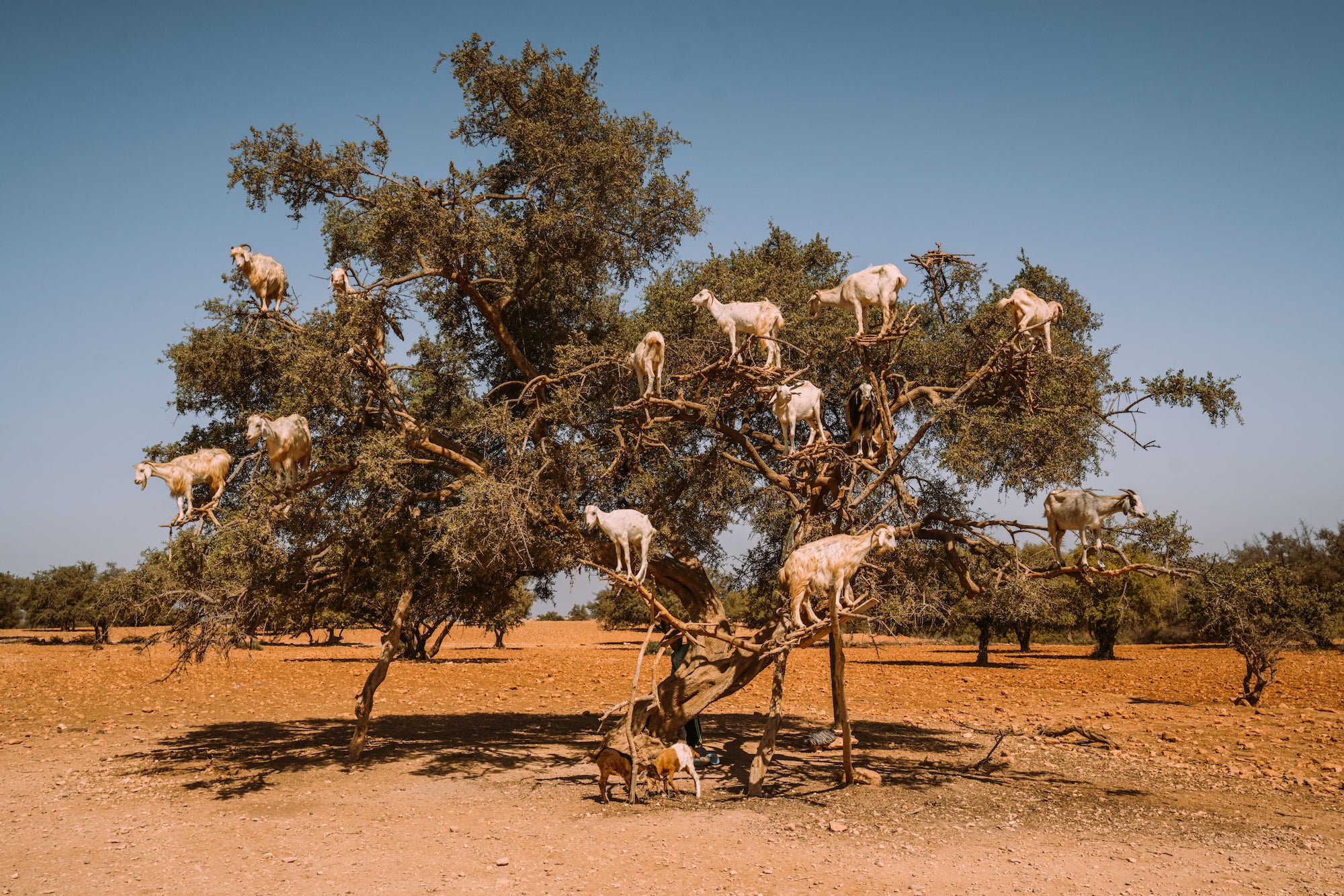 Sony α7R III. Sony 16-35mm f/2.8 G Master. 1/2000-sec., f/7.1, ISO 400
Although I was greatly encouraged by my first 24 hours, I also recognized the need for improvements. When photographing on a quiet street, being unnoticed is paramount. Therefore a loud shutter release button had compromised several opportunities. A quick scroll through my camera menu and I had located the silent shooting option. Strange at first, the customary "click" a noise dear to most photographers.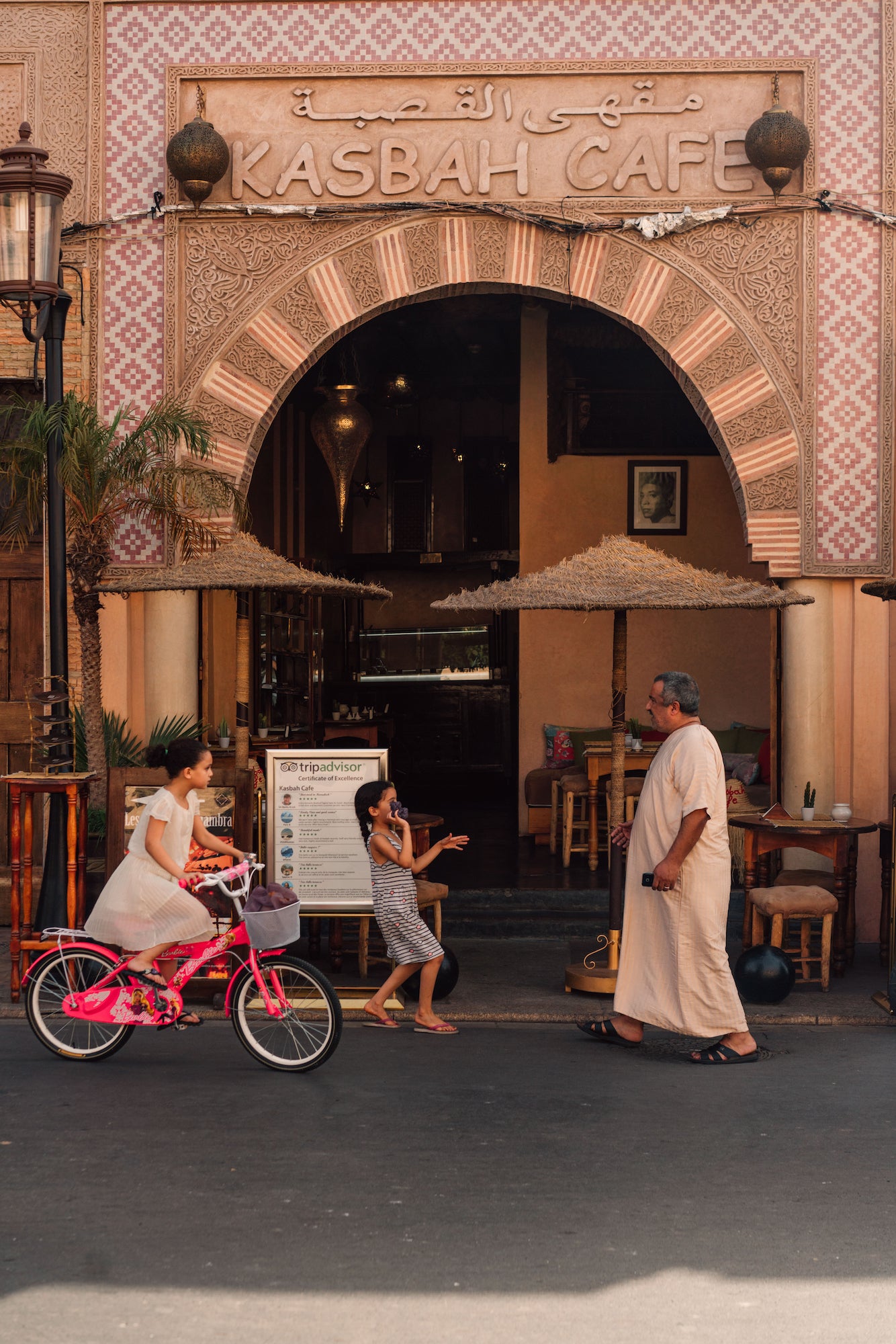 Sony α7R III. Sony 16-35mm f/2.8 G Master. 1/1600-sec., f/4, ISO 100
Yet in street photography, speed is just as necessary as silence. I pride myself for always shooting in manual focus mode, but my hubris had also cost me several opportunities. A street pigeon flying perfectly into view or a daughter running into her father's arms happened at such speed that I was not able to adjust the focus in time. The moments forever lost. In my usual world of urbex photography the "subjects" I photograph never fly away. The many crumbling buildings I shoot have been abandoned for many months, if not years. However, in street photography the subjects are constantly moving so I switched out of manual. Of the three autofocus modes, I began to favor the Continuous Auto Focus (AF-C) mode because if the subject moves the camera adjusts and locks on the subject once more. In addition, use of the Focus Hold button will lock on and stop the focus from bouncing around. All these options were instrumental in obtaining my favorite photo of all. Finding interest in the ornate and richly colored doors found throughout Morocco, I stopped and used my wide angle Sony 16-35mm f/2.8 G Master to capture it all in this narrow alley. At the very moment of pressing the shutter the door opened; a boy furtively peered out. Had the α7R III's autofocus done it? Captured it all? Of course it did. Man, do I love this camera!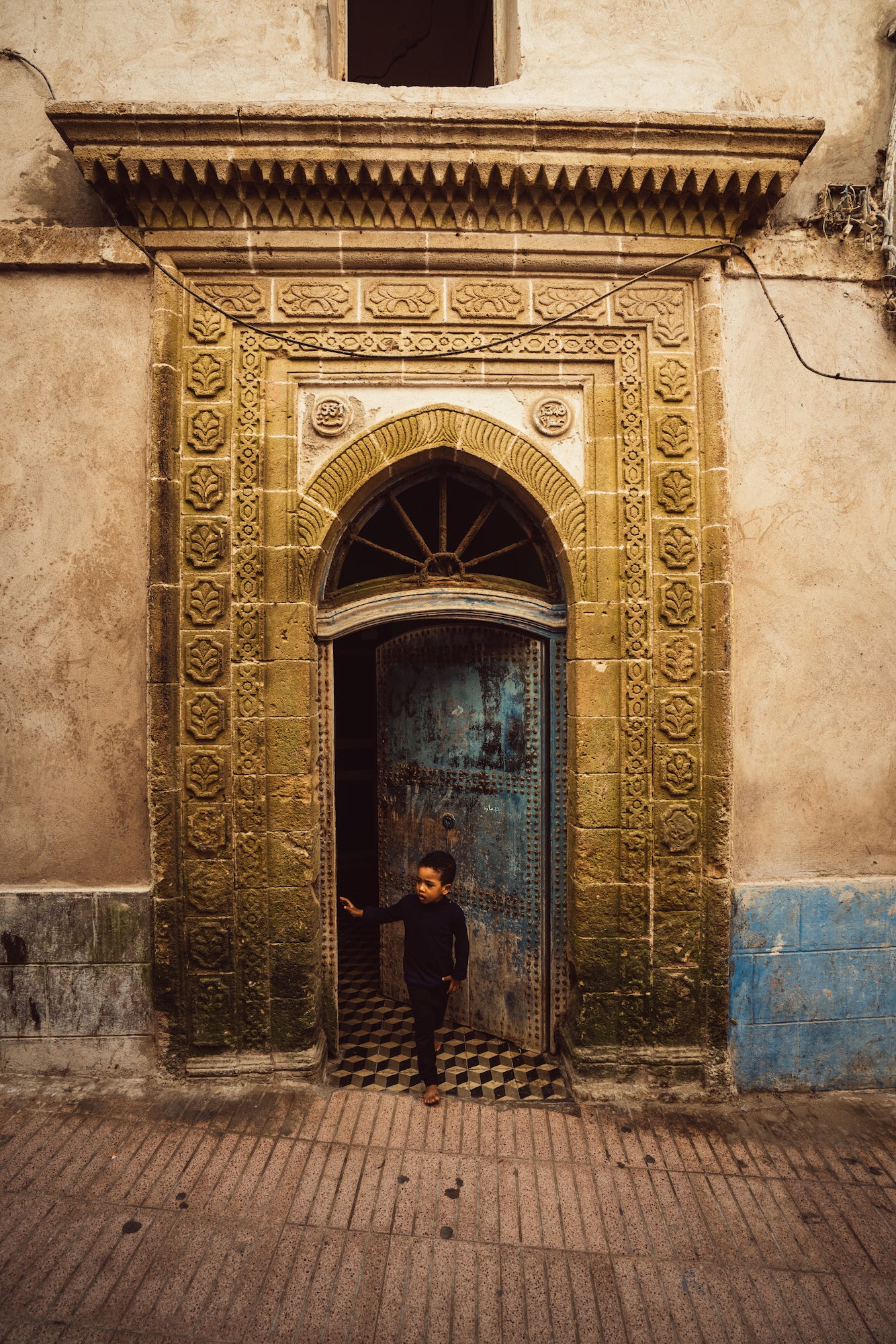 Sony α7R III. Sony 16-35mm f/2.8 G Master. 1/160-sec., f/4, ISO 125