When stay at home orders were first put into place across the country, we caught up with travel photographer Erin Sullivan (@erinoutdoors) to see what she was doing during this time indoors. The Alpha Collective member had started the #ErinsGreatIndoors project creating miniature outdoor scenes, and challenged others to create their own and post using #OurGreatIndoors. She explained how the idea came to be on the Alpha Universe Podcast, and it's been featured by CNN Travel and more. It has also earned the attention of brands, and Honda is one that reached out to her to collaborate after seeing the project on Instagram. With a toy car and a miniature driver, she decided to chase the sunset on the classic Laundry Coast Highway. We just loved this series and had to know more, so we connected with Sullivan for the details.
See the mini-outdoor image series Alpha Collective photographer Erin Sullivan (@erinoutdoors) made for Honda and her wildly-popular #OurGreatIndoors challenge.
"Honda's agency reached out because they were doing a #CreativeAtHome campaign and had seen the #OurIndoorsProject on Instagram," explains Sullivan. "It super aligned with what they were doing so they approached me to see if I could create something for them."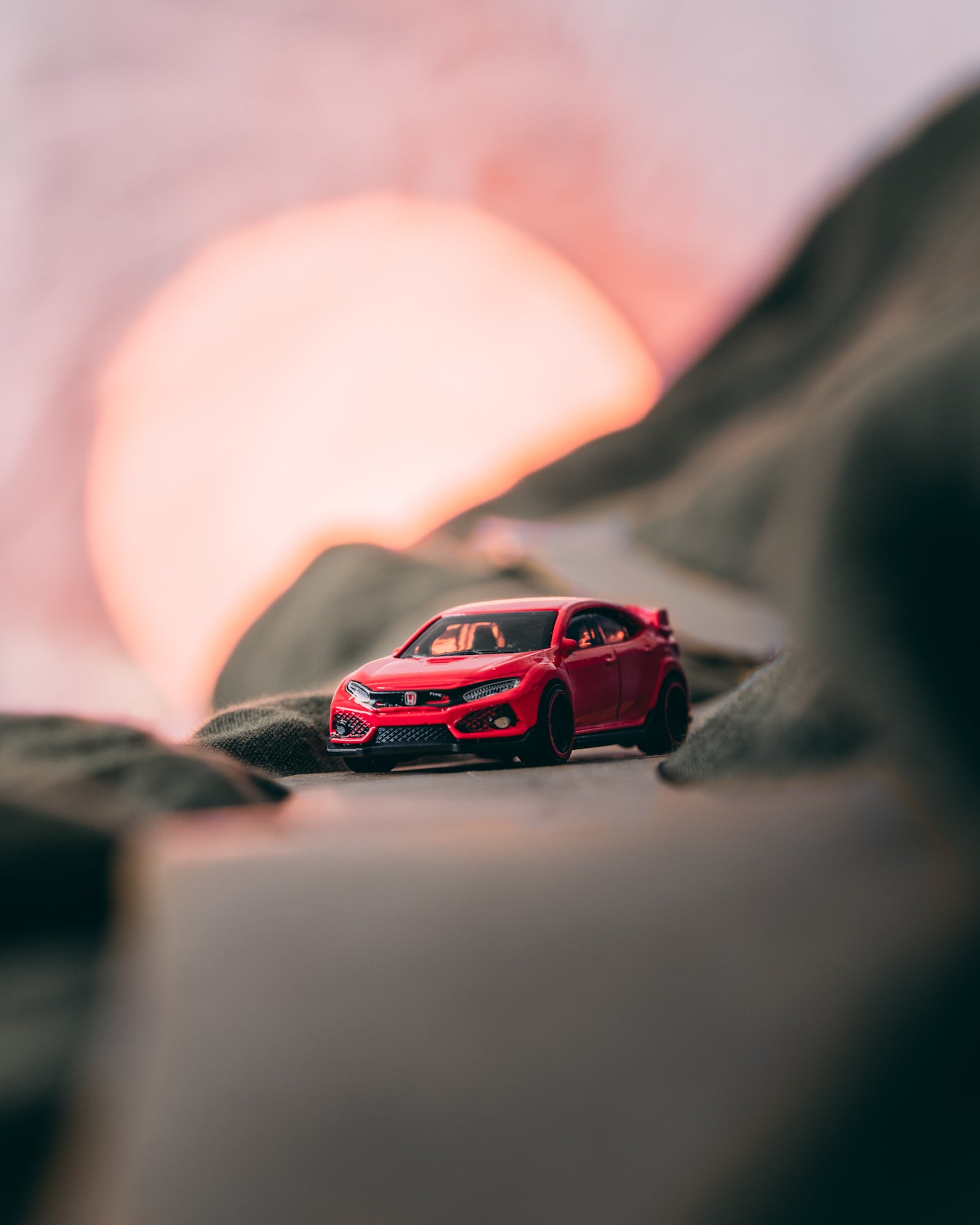 Sony α7R III. Sony 90mm f/2.8 Macro G. 1-sec., f/6.3, ISO 100
"The hot wheels car is bigger than the tiny figures that I had, so in a way it was harder to come up with something and abstract the scene to make it look like something that it's not. I was trying to think of what I would be able to do that abstraction with, and I ended up using clothes, fabrics and sheets. I piled it up to try to make it look like the PCH. I added plastic wrap to the fabric I used for the water, and then covered some books with a paper bag to make it all look more real. I just used the natural light and a lot of it is experimentation and just moving things around and trying it all out."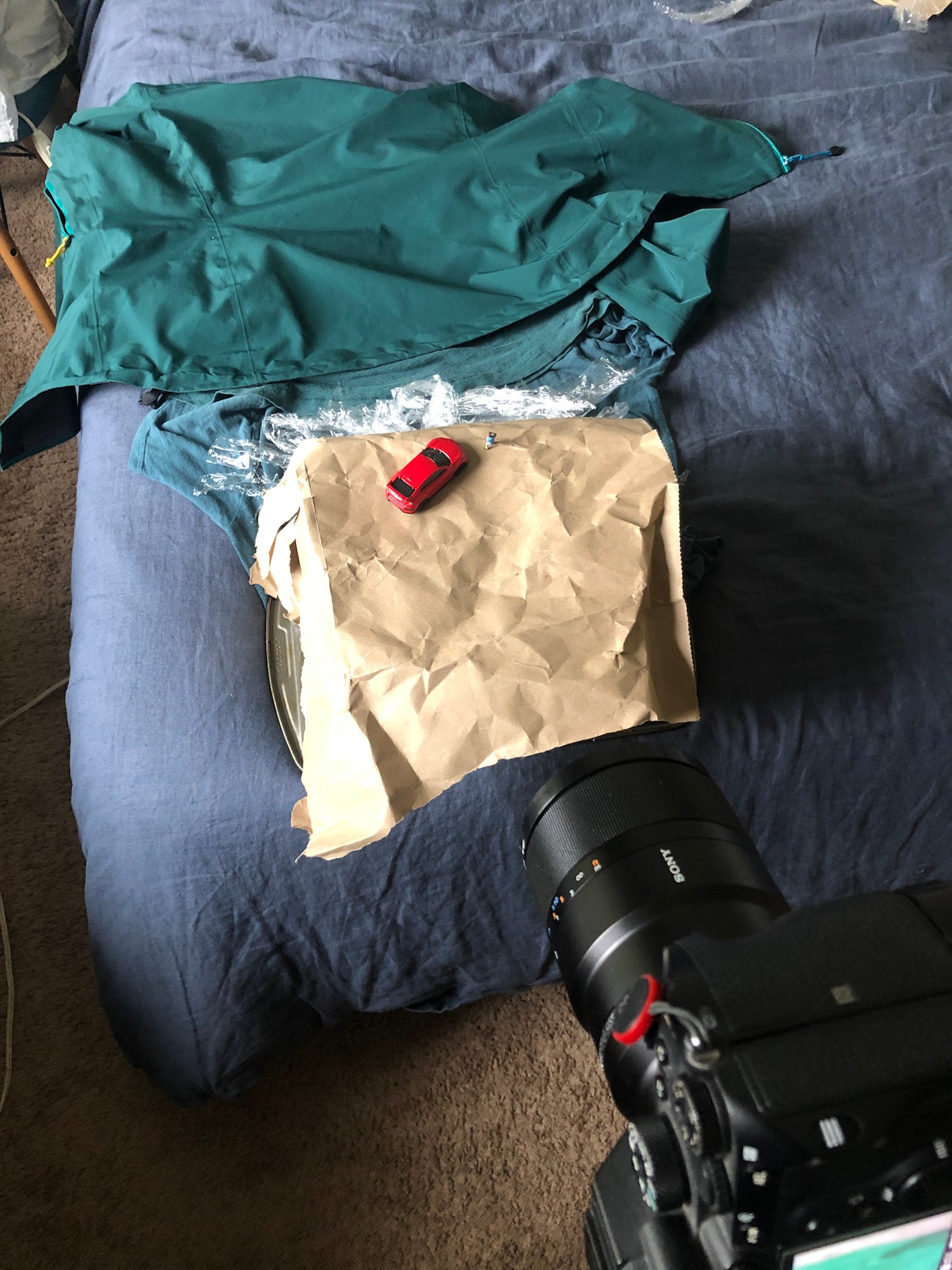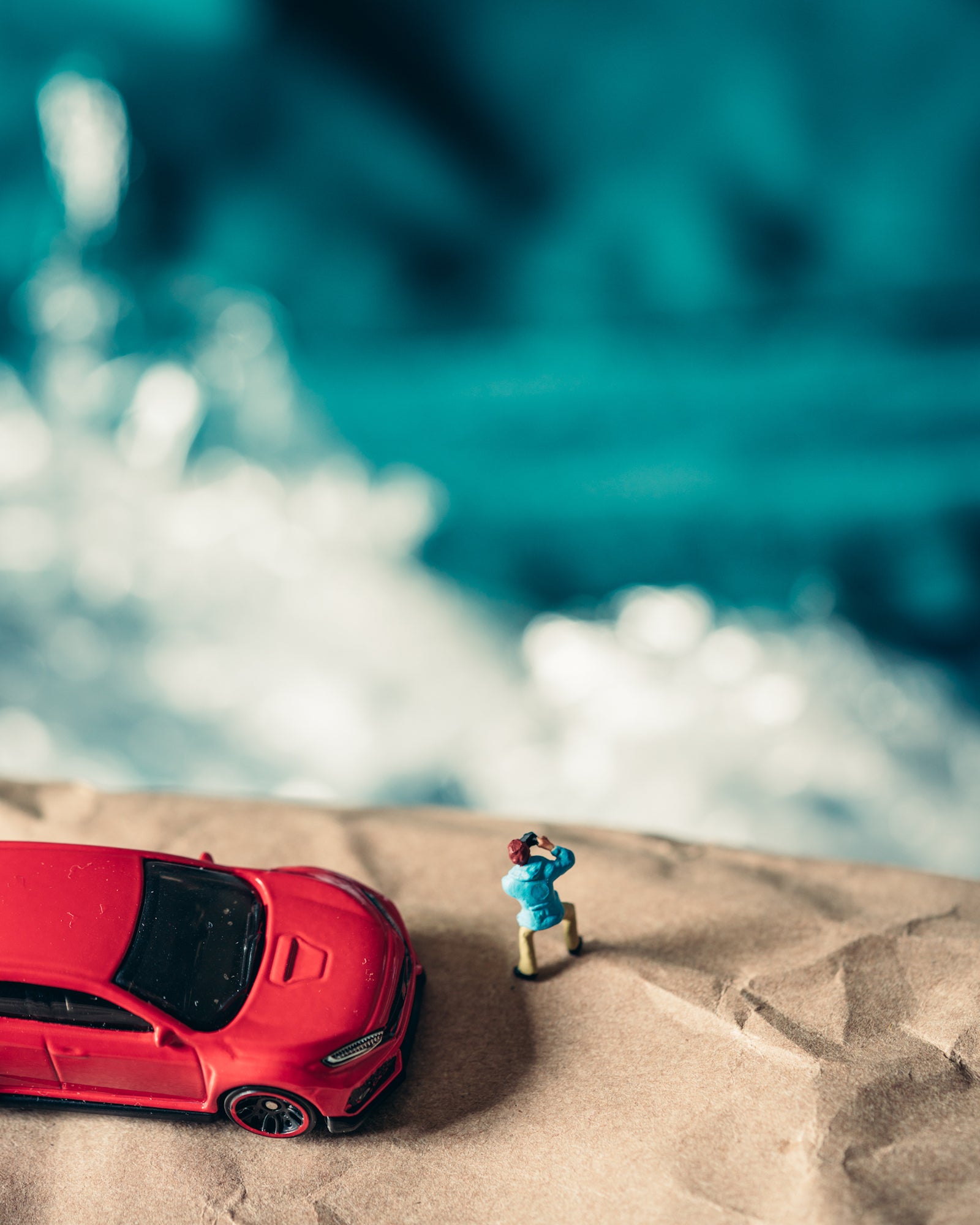 Sony α7R III. Sony 90mm f/2.8 Macro G. ⅕-sec., f/4, ISO 200
"The Sony α7R III is my main camera and what I use for everything. I've been using the Sony 90mm f/2.8 Macro G lens for most of the series, and it just works well because I'm able to punch in so much and get that detail at such a small scale. I'm usually shooting at f/8 or higher because I want to make it look real. If I go lower than f/8, I start getting a lot of bokeh. It can be really nice if that's what you're going for, but I'm trying to give a nod to realism."
Sullivan also used the Sony 24-70mm f/2.8 G Master to get that depth of field for one of the setups where she wanted to include the car and the figurine looking at the sunset in the distance. In this photo, the "trees" are made of parsley, and the "sunset" is a desk lamp laying down and a sheet draped over a chair, with the lampshade creating the circle effect.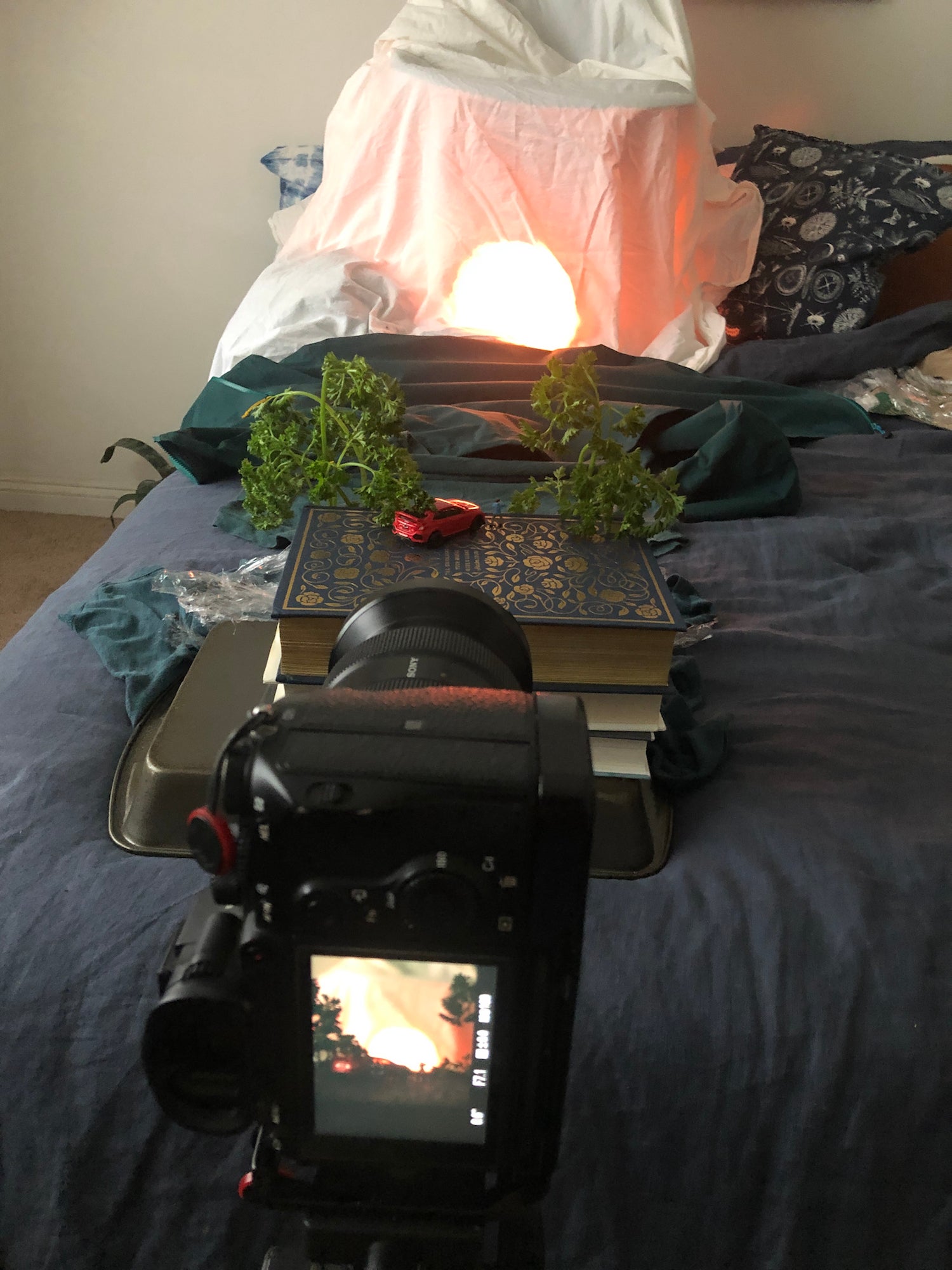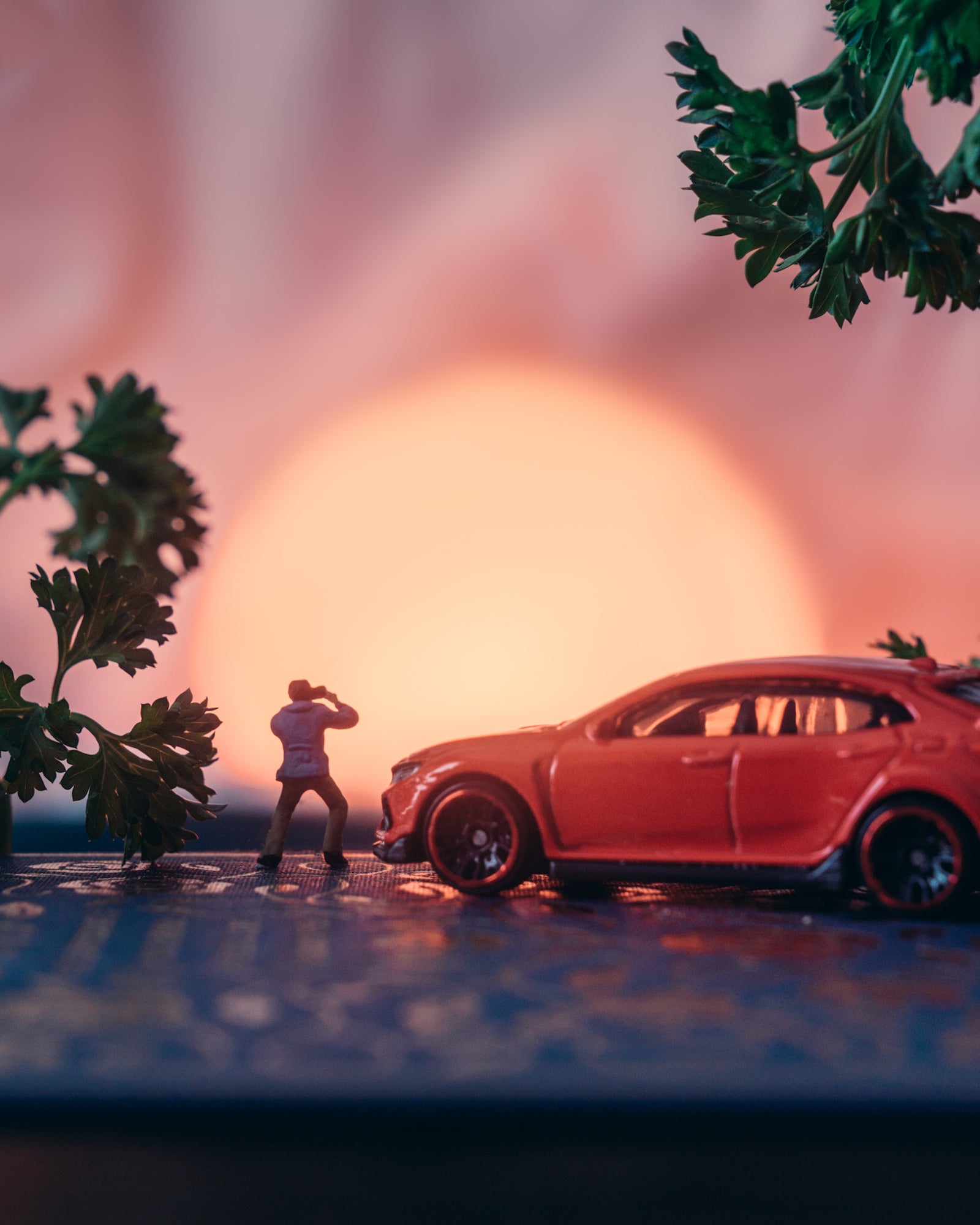 Sony α7R III. Sony 24-70mm f/2.8 G Master. 1/2-sec., f/7.1, ISO 160
With the series, Sullivan wants to remind people to not be afraid to experiment and learn as you go. She always starts with an idea in her head and accomplishes some of it, but things always have to be adjusted before she's happy with the result.
"This series for me, was meant to encourage myself and others to stay home because that's what was asked of us at the time," explains Sullivan, "and then also to stay connected to the outdoors and to stay creative. I think this challenge has helped me and hopefully others gain momentum in their creativity which has been great. It's also been fun to feel like a kid again setting up figurines and toy cars. It's introduced a different way to play into my current workflow."